Have you ever browsed the internet for coupon codes only to come up with expired or non-working codes? It often leaves you frustrated and paying full price anyway, right?
CouponFollow is a website and browser extension meant to help you save money and stop endlessly searching for coupon codes that don't work.
The website and browser extension are free and offer legit codes and cashback opportunities to save money on purchases!
What Is CouponFollow?
CouponFollow is an online coupon aggregator helping shoppers save at 4,000+ stores.
You'll find coupons for your favorite retailers like DSW, American Eagle, Kohl's, and Walmart. They also work for popular food delivery sites like Uber Eats, DoorDash, and Edible Arrangements.
CouponFollow makes it easy for consumers to get the latest coupons by doing all the legwork for you. They follow brands' social media feeds, blogs, and other media to bring consumers the hottest promo codes and deals.
CouponFollow shares the coupon codes on its website or through its free browser extension, Cently, to help you save money.
How Long Has CouponFollow Existed?
CouponFollow was founded by Marc Mezzacca in 2010 to help consumers access coupon codes shared by social media sites like Twitter.
Since the codes disappeared so quickly from Twitter, Marc wanted consumers to have a way to easily locate codes they'd seen but had yet to use.
How Does CouponFollow Work?
To find a coupon on CouponFollow, bookmark the website or download the free Cently browser extension.
On the coupon website, you can locate coupons by searching for a specific store or browsing the latest deals posted. CouponFollow works with 4,000+ merchants and offers cashback opportunities, so you can search by store, browse the coupon listing, or search for stores offering cashback.
On the Chrome extension, Cently, you can shop online like normal, and the extension will automatically apply any applicable coupons in the CouponFollow database. This makes it even easier to save money since you don't have to take the time to search for codes; everything is done for you.
Features & Benefits
CouponFollow.com offers many features and benefits to help users save as much money as possible, including the following.
Coupons
Browse the featured coupons and click on your favorites. When you click on a coupon, CouponFollow provides you with a list of all applicable coupons for that store to help you save the most money. Simply click on 'show code' for the coupons you want to use.
Browse by Stores
To make it easier to find the coupons you need, you can browse coupons by store. Just click on the store you want to shop at and get the latest coupons.
Cashback
Earn cashback at 1,000+ stores on CouponFollow. Search by store or category to find the best cashback deals.
Savings Guides
Who better to get savings ideas from than a coupon website? The Savings Guides on CouponFollow offer more tips and tricks to save more money.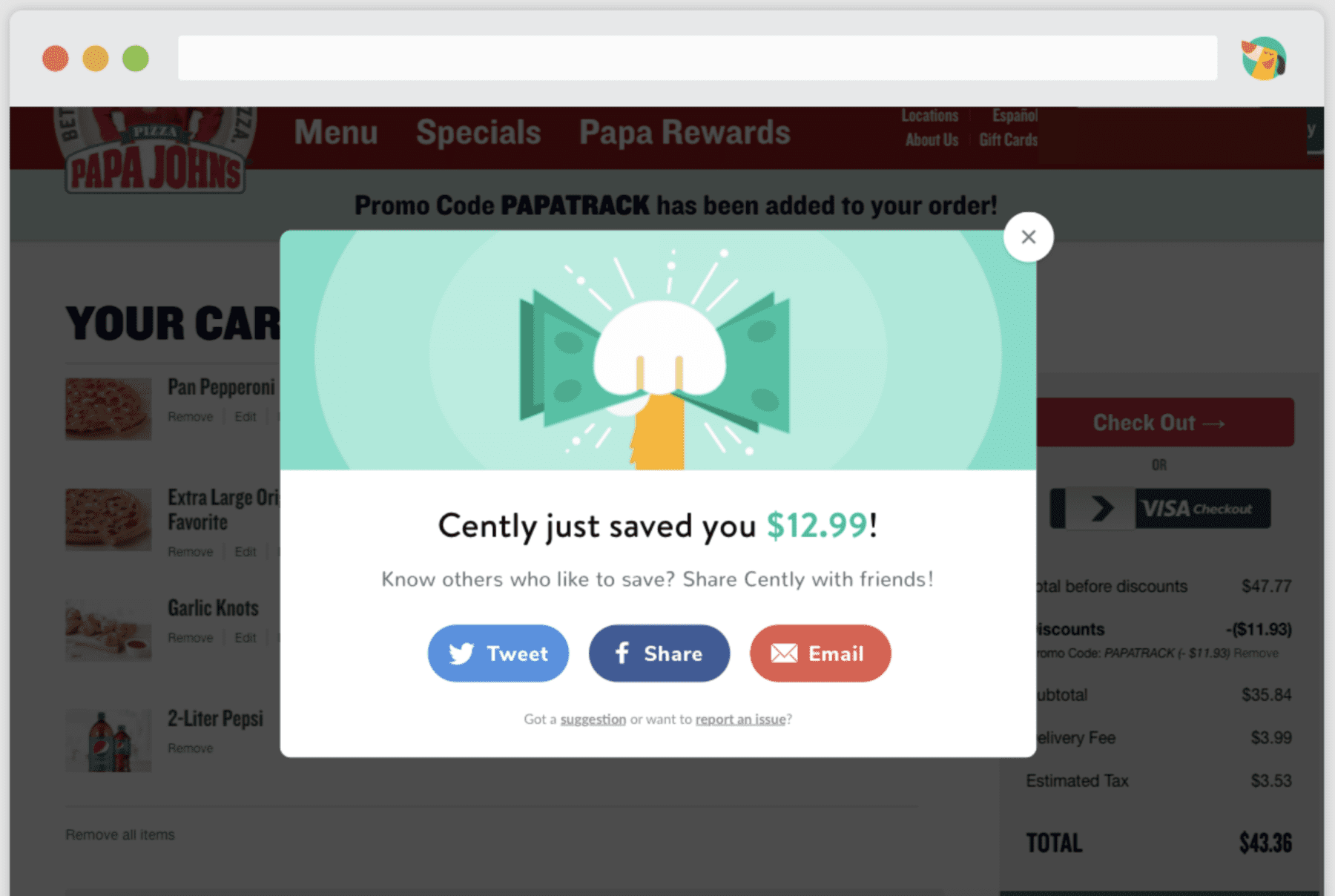 Pros and Cons
A service's pros and cons can help you determine if it's right for you. Since CouponFollow is free, there are a lot of benefits because you don't have much to lose. Here are the pros and cons to consider.
Pros
Saving Money: The largest benefit of CouponFollow is the money you save. If you use Cently, the savings are automatic, or you can search CouponFollow yourself and find applicable codes to save money on purchases. You'll save time by not having to scour the internet and still get the best deals.
CashBack: 1,000+ stores work with CouponFollow, paying a small commission for sending buyers their way. CouponFollow shares the commission with its followers, allowing you to get paid for shopping on a free website.
Real-Time Search Engine: CouponFollow staff works around the clock to get the latest deals. They always recommend checking back often for the latest deals because they can change daily and sometimes even multiple times a day. Still, with CouponFollow, you always have the latest information.
Valuable Tools: CouponFollow offers many ways to save or make money. The valuable tools help you maximize your opportunities and save money.
Exclusive Codes: Thousands of retailers have exclusive codes only for CouponFollow members, so you may save more money than you would with any other site.
Stack Deals: You can stack CouponFollow coupon codes and cashback opportunities to double up on your savings.
Free Sign-up Bonus: Even though CouponFollow is a free website, you can get a $5 sign-up bonus for becoming a new member. That increases your savings before you even shop!
Great Customer Support: CouponFollow takes customer support seriously. They aim to answer any support questions, especially for cashback customers, within one business day, but they often answer questions within a few hours.
Cons
No Mobile App: CouponFollow doesn't currently have a mobile app, but their website does work on mobile devices. Some people prefer apps, which may be considered a negative.
Coupon Codes Change: Users must check the CouponFollow site frequently when they are ready to shop. For example, if you found a code a few days ago but didn't make the purchase, it's important to check the site again because the code may have changed.
CouponFollow Customer Reviews and Ratings
In the Google Chrome Extension Store, CouponFollow has 5/5 stars, with many happy reviewers raving about how Cently saves them money with little to no effort on their part.
Check out what real users say below:
This is an AMAZING extension!! At first, I was researching for hours and this extension automatically finds the best deal it can for you. It just now saved me over $54 and all I had to do was allow it to search coupons for me and BAM!! Thank you Cently!!!

Indigo Child Google Chrome Extension Review
Coupon Follow is the Best hands down! CouponFollow is THE BEST site I have come across for codes!:) ❤ I have saved a great deal of money through this site and I couldn't be happier. Definitely a go-to for me!

Leticia Spain Google Chrome Extension Review
Very user friendly and consistent I've consistently had a great experience with Cently. Many sites don't have coupons (ie Apple), so I don't expect it every time, but it does pleasantly surprise me when I'm about to checkout and notifies me of savings when I wouldn't have thought to look otherwise. I also really appreciate how Cently doesn't spam me on shopping sites like Rakuten, Honey, and every other extension does.

Aaron Google Chrome Extension Review
Signing Up for CouponFollow.com
To sign up for CouponFollow.com, click here and provide your email address. You can also join with an existing Google or Facebook account.
The account is free, and you can start saving money with coupons and earning cashback immediately.
How to Use CouponFollow Codes
To use CouponFollow codes, click on 'Show Coupon Code.' You can copy the code using the copy button or enter it yourself. If the code is something they can automatically apply, the retailer's website will open up, and you can shop directly on the site.
Don't forget many codes you find on CouponFollow are exclusive for CouponFollow members, so you may get deals you won't find elsewhere.
Customer Service
CouponFollow offers many options for customer support, including a robust help center with common topics and questions already answered. Members can also message customer support by clicking the 'Contact Us' button on the support page.
Frequently Asked Questions
Who Is CouponFollow Best For?
CouponFollow is for anyone who loves to save money! CouponFollow helps you keep more money in your pocket without any legwork, whether you save money with coupons, deals, or earn cashback.
If you're tired of searching for coupons or coming up with promo codes that no longer work, CouponFollow may help.
Is CouponFollow.com Safe?
CouponFollow takes safety and privacy seriously. They only track information necessary to support the system and create a great user experience. Their engineering team is also always searching for the latest and best ways to protect member information and stay on top of industry standards.
Is CouponFollow.com Legit?
Since its opening, CouponFollow has helped members save $400,000+ through coupon codes and cashback. They are legit and a great way to save money on purchases.
Should I Use CouponFollow?
If you love saving money, then you should use CouponFollow. There's no monthly fee and no catch. You sign up for a free account and immediately start saving money or earning cashback on purchases!
CouponFollow is dedicated to providing the best and most recent coupon codes to ensure you save the most money on your purchases. Whether you use the website or Cently, the browser extension, CouponFollow makes saving money simple.