Ipsos i-Say Review 2021
This article includes links which we may receive compensation for if you click, at no cost to you.
If you're looking at making some extra cash on the side, you might be glad to know there are quite a few ways to do so. What people often tend to overlook is paid surveys—even if they offer a flexible and legitimate way to make money online.
There are many platforms these days that offer you rewards for completing online surveys—but if you're just getting into that, how do you know whether they're legit? And that's a fair point—sometimes it's a little hard to believe you'll be paid actual money for simply telling a company what you like or don't like about their product – or sharing your TV-watching habits.
Well, the truth is – there are plenty of legit survey platforms that allow you to earn money by sharing your honest opinion and feedback, and i-Say – a direct survey provider from Ipsos—is one of them.
In this post, I will look at i-Say more closely and cover its main features, how it differs from other survey platforms, and the best ways to make money on the platform. I'll also point out its pros and cons—so that you can make an informed choice.

What is Ipsos i-Say?
i-Say is an online survey platform and rewards community where you can get paid for sharing your opinion.
It forms part of Ipsos – one of the biggest market research companies worldwide. Ipsos conducts over 70 million interviews every year for 5,000 clients from over 100 countries.
If you're looking to start taking surveys to earn a little extra money (and have your opinion heard), i-Say might be a great platform to start on.
How Does i-Say Work?
To start earning money with i-Say, you will first need to create an account (which is super easy to do on their side).
You will have to answer some qualifying questions about yourself (like your age, gender, occupation, etc.) first – then verify your email address by clicking on a link i-Say will send you. Once that's done – you're in and ready to make money.
One thing to bear in mind is that sometimes similar emails may land in your spam folder – so remember to check that if you don't receive the confirmation email from i-Say. You might also want to whitelist them to make sure you receive future emails without much trouble.
i-Say will send you an email every time there is a survey that you can complete, so be sure to check your inbox frequently not to miss out. On average, i-Say members complete four surveys every month.
You can also search for new surveys to complete on the mobile app, which you can download once you have an account. Each survey you complete will earn you i-Say points. The number of points earned will vary from one survey to the next.
You can expect to receive anywhere between 45 to 200 points for a completed survey and 5 points if you're screened out. Your points do not expire, so you don't need to worry about redeeming them quickly.
Something worth bearing in mind is the screenout rate, which is quite high with i-Say. This means you may only qualify for a small number of surveys because companies are often looking for very specific respondent profiles – but the ones you do qualify for could offer high rewards.
It isn't always easy to tell why you get disqualified from a survey – but you will get 5 points for trying (and there's no limit to that).
Ways to Earn Points
The main way to earn i-Say points is to complete the surveys – but there are many other ways to earn even more points, meaning you can make more money.
They offer a number of contests and also have a great loyalty program. What's more, they are always on the lookout to find new ways to reward their members. Below I've listed the ongoing offers:
Loyalty Program
When taking surveys, you will be rewarded for the number of surveys you complete in a year. There are a few milestones that will give you extra points:
25 points: after completing 5 surveys
50 points: after completing 10 surveys
100 points: after completing 25 surveys
200 points: after completing 50 surveys
250 points: after completing 75 surveys
300 points: after completing 100 surveys
400 points: after completing 125 surveys
500 points: after completing 150 surveys
600 points: after completing 200 surveys
Contests
i-Say also often runs various contests, which can be a great way to earn a few extra points which you can then redeem. Here are some of the contests to get excited about right now:
The Click Draw. Every four months, i-Say draws ten winners from all members taking surveys and awards them with 5,000 points. The more you click, the more chances you have to win.
Poll Predictor. It's like a game where you have to guess what percentage of people answered 'Yes' in a poll. The closer you get to the final result, the bigger your chances of winning a Prize. The prize is drawn every other week and can be anything from Smart TVs to US Airline Gift Cards, i-Say points or prepaid Virtual Visa cards.
Swap to Shop. By swapping only 200 of your i-Say points, you can enter this competition. There are three prizes of $5,000 i-Say Market gift code cards up for grabs and five $1,000 i-Say Market gift code cards.
Invite a Friend
Another easy way to reap the rewards on i-Say is to invite a friend to join. Know anyone who could use a little extra cash? Well, then invite them to become a member.
All you need to do is log in to your i-Say account and send an email invite to your friends that live in the same country as you do.
If they sign up, you will receive an extra 100 points (so make sure you send it to someone who will actually be interested). Simple!
How Can the Points Be Redeemed?
Once you have collected enough points to redeem, you can choose a reward that is the best for you. In most cases, 100 points are equal to $1.
To redeem your points, go to the rewards page on their website. Here, you will find all of the different options for points redemption.
Cash to PayPal
One of the options available for redeeming your points is a PayPal transfer. You will need to have at least 1,530 points in your account to be able to redeem points this way.
This amount of points will give you $15, and it might take 1-3 weeks for the funds to reach your PayPal account.
Just Released
Best Side Hustles for 2022
If you're looking for how to get started earning cash on top your 9-5, you're in luck! We just published our completed guide "The Best Side Hustles for 2022." It features our top 23 side hustles that can earn anything from a little extra spending money to thousands of dollars per month! Just enter your e-mail below and we'll send you the full guide!
Thank you! Please check your e-mail inbox now to receive the The Best Side Hustles for 2022 guide!
Gift Cards
With as little as 500 points, you can choose a free gift card. i-Say offers many different vouchers from Starbucks, Target, Amazon, and many more.
500 points are usually equal to $5, and if you choose the digital voucher option, it will arrive in your email inbox within minutes.
You can also get a $10 Virtual Visa Prepaid Card for 1,000 points.
Charity
If the most important part of completing the surveys for you is to be heard and influence the market, this might be a generous choice that rewards you in more ways than one.
Instead of redeeming points for cash or gift cards, you can send the money you earned straight to a charity from the provided list. The list includes organizations like the American Heart Association, Doctors without Borders, American Red Cross, and others.
Getting Started
To sign up, all you need to is follow four simple steps:
Sign-up to the i-Say platform
Complete surveys
Get points
Redeem preferable rewards
i-Say will reward you with points that can be redeemed after you complete a survey.
Pros and Cons
i-Say seems to be a very straightforward platform, but as with all survey and rewards sites, there are both pros and cons.
Though I could list more pros, here's a list of both sides so you can decide whether i-Say is the right platform for you to use:
Pros
Clean layout, easy-to-use website (which is also mobile-friendly)
Pays you up on average $0.90 per survey, which is pretty good
Many promotions and special offers for extra ways to make money
An online community of likeminded individuals
Very easy to open an account
You stay on-site for all surveys (rather than get redirected to different sites) – which creates a better user experience
Cons
You might be asked to answer the same questions over and over again
It can take up to 3 weeks for the earnings to reach your PayPal account
A high disqualification rate means you might not get any surveys for a while
Is i-Say Survey Legit?
i-Say is powered by Ipsos, which is a solid company that has been in operation for over 30 years. This gives i-Say a lot of credibility, and you can definitely trust it.
Besides this, their website is very easy-to-use, and all the necessary information can be found there. They don't seem to be hiding anything away, and if you go through their terms and conditions, you'll have a good picture of how they work. With all that said, we can confidently say that i-Say Survey is legit and worth your time.
i-Say is a legit survey platform, and a great side hustle if you're looking at making a bit of extra cash on the side without investing any money. It might take a bit of time to get the big earnings, but it can also be rewarding in itself to have your opinion heard, and know you're helping companies make big decisions to improve their products.
The rewards are also quite generous when compared to other online survey platforms making i-Say one of the best choices on the market right now. On top of that, i-Say has many contests going on, and they are always thinking of new ways to reward their members, so it can also be quite fun.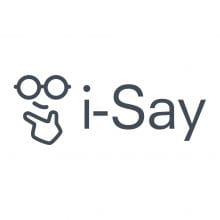 Ipsos i-Say
Bottom Line
iSay is powered by Ipsos, which is a solid company that has been in operation for over 30 years. This gives iSay a lot of credibility, and you can definitely trust it.
Pros
Easy to use platform
Easy to open account
Stay on site for all surveys
Cons
High disqualification rate
Can take up to 3 weeks for payout