Empower, formerly Personal Capital, is a wealth management firm that offers free financial planning tools to all users, as well as a paid advisory service for high-net-worth investors.
The Empower app is widely used by the financial independence retire early community, and is the single most helpful tool that helped me become a millionaire!
In this Empower review, I'll walk through why I think it's the best free performance tracker available, the pros and cons, and how you can use Empower to assist in your wealth-building journey!
Empower (formerly Personal Capital) Overview
Personal Capital is a U.S.-based investment service company headquartered out of Redwood Shores, California, with additional physical branches in San Francisco, Denver, Dallas, and Atlanta. The company was started in 2009 by four individuals: Louie Gasparini, Rob Foregger, Paul Bergholm, and Bill Harris.
These co-founders had a common goal: to provide a more personalized and streamlined investing experience by giving customers access to their full financial picture in one place.
Personal Capital seems well-positioned to capitalize on the growing trend of online-only financial services companies (which is especially popular among millennials).
As of June 30, 2022, Personal Capital revealed it has over 3.3 million users, with more than $21.3 billion in assets under management.
Let's take a closer look at the services that the company offers and how you can use them to get a better handle on your finances.
Products & Services
Personal Capital has products and tools within these 3 specific service areas:
Wealth Management Services
Personal Capital Wealth Management Services can be broken down into 3 tiers:
Investment Services ($100K to $200K Investment)
Wealth Management ($200K to $1M Investment
Private Client ($1M+ Investment Assets)
1. Investment Services
Investment Services is Personal Capital's entry-level wealth management offering for investors with between $100,000 and $200,000. The benefits of the basic investment services account are as follows:
Customer support from their team of financial advisors whenever you might need it
Personal Capital's Robo-advisor will professionally manage your funds
You'll have access to the company's suite of useful investing tools
Your funds will be invested in ETFs only
2. Wealth Management
If you have over $200,000 to invest, you can open a Personal Capital Wealth Management account and enjoy the same benefits as a standard account, as well as the following benefits:
Access to two dedicated financial advisors
Free consultations are available to speak with sector-specific investment specialists, like real estate and options
Ability to invest in individual stocks in addition to ETFs
3. Private Client
Investors with over $1 million will have access to Personal Capital's highest level of wealth management service: Private Client.
In addition to the benefits included in the Investment Services and Wealth Management plans, Private Client account holders receive:
Exclusive access to Personal Capital's Investment Committee
More in-depth estate, tax, legacy, and wealth planning advice
Access to invest in private equity and hedge funds
Private banking services offered only to private clients
Ability to trade individual bonds (in addition to ETFs and individual stocks)
A complete comparison chart of these plans can be found here
Personal Capital's Wealth Management plans give investors access to their Robo-advising service along with personalized advice from the company's certified financial advisors.
Wealth Management Account Holder Notable Features
Smart Weighting limits your risks by making sure your funds aren't overly invested in one sector. This tool helps ensure your portfolio is well-diversified and, therefore, more resilient to potential market shifts.
Dynamic Portfolio Allocation helps meet your evolving financial needs by dynamically making adjustments to your investment account as your financial situation changes.
Tax Optimization lets account holders take advantage of tax-advantaged investing strategies, such as tax-loss harvesting.
Intelligent Rebalancing automates investment management by rebalancing your accounts at the best times without any action on your end.
Socially Responsible Investing
Personal Capital offers Socially Responsible Personal Strategy accounts that aim to invest your funds with companies that align with your values.
In the past, a socially responsible investing strategy might include a blanket rule of "no investing in oil funds."
Personal Capital takes this idea one step further by factoring in what you value the most. For example, if you want to focus on companies that have embraced renewable energy or if you want to avoid investing in conflict minerals, your funds can be routed into assets that align with these values.
Cash Management
Personal Capital also offers a high-yield online savings account called Personal Capital Cash.
This account has no minimum balance requirements, no monthly fees, and offers 2.02% APY and 2.15% APY for Personal Capital Advisory Clients as of August 3, 2022. You also get the peace of mind that comes with having your bank account funds be FDIC-insured (up to $1.25 million, too!).
For most clients, the withdrawal limit is set to $25K per day; however, personal advisory clients can see that raised to $100K per day and wire up to $1,000,000 with no fees. Deposit limits are currently set at $250,000 per transaction. See their site for more details.
Financial Planning Tools
Personal Capital's most popular product is its personal finance software, which offers a variety of free budgeting and retirement planning tools.
You can access a spending tracker with your online account, along with a variety of other tools. However, the easiest way to access these tools is in the Personal Capital app, which has a 4.7-star rating (out of 5) in the App Store and a 4.3-star rating (out of 5) in the Google Play Store.
Here are the main financial tracking services you can use:
Investment Checkup: A tool that automatically monitors the performance of your investment portfolio and suggests opportunities for better allocation when needed. It helped me discover that my Roth IRA held the wrong asset classes and that I need to be invested in a total stock market ETF like VTI.
Retirement Planner: Personal Capital continuously monitors your financial progress as you move toward your stated retirement goal. You'll have real-time access to information that will let you know whether you're spending too much or saving the right amount.
Net Worth Tracker: (One of my favorite features that Personal Capital offers!) On your financial dashboard, you have real-time access to your net worth, which is a tally of all your assets and liabilities from various accounts displayed in a neat, single financial dashboard. Having an automated tool at your fingertips saves a lot of time vs. manually using a net worth calculator.
Fee Analyzer: An interesting feature that tracks the fees you pay within your financial investments and alerts you if the fees are higher than average. The fee analyzer will also help you realize the total impact that certain fees might have throughout the lifetime of your retirement account.
Cash Flow Monitoring: This keeps track of all the incoming and outgoing money in your accounts, giving you insight into your monthly cashflow.
Education Planner: Education Planner helps you determine how much you need to save for any upcoming education expenses.
How Much Does Empower Cost?
One of the coolest things about Personal Capital is that the spending and budgeting tools I mentioned above are all free to use. You only pay money if you have a Wealth Management account.
On that note, Wealth Management account fees operate on a tiered fee structure depending on your account balance ranging from 0.49% to 0.89%.
Fees and Costs
Tiered fees for Personal Capital are:
Personal Capital Tiered Fee Schedule

| Balance | Annual Fee |
| --- | --- |
| $100,000 – $1,000,000 | 0.89% |
| $1 – 3 Million | 0.79% |
| $3 – 5 Million | 0.69% |
| $5 – 10 Million | 0.59% |
| $10 Million+ | 0.49% |
Get Personal Capital's FREE planning tools today.
My Favorite Features
There are a ton of amazing features in the app, but here are my favorites that I use every day and had to highlight within this personal capital review:
The Dashboard
Every morning, I start my day with a cup of coffee and spend 5 minutes checking in on my finances.
It's a routine I've kept up with now for over seven years, and I always start with the Personal Capital dashboard on my phone.
The dashboard has changed a ton over the years and now has several amazing features. Some of these features include the ability to see your net worth (assets-liabilities), cash to invest, and the performance of your investments (the "You Index"). You can also see the amount you owe on your credit cards, the amounts you have in your bank accounts, your monthly cash flow, the amount you've contributed so far this year to your retirement accounts, and your monthly budget that you can customize.
It's an insane amount of information that has been absolutely essential in helping me reach financial independence and become a millennial millionaire.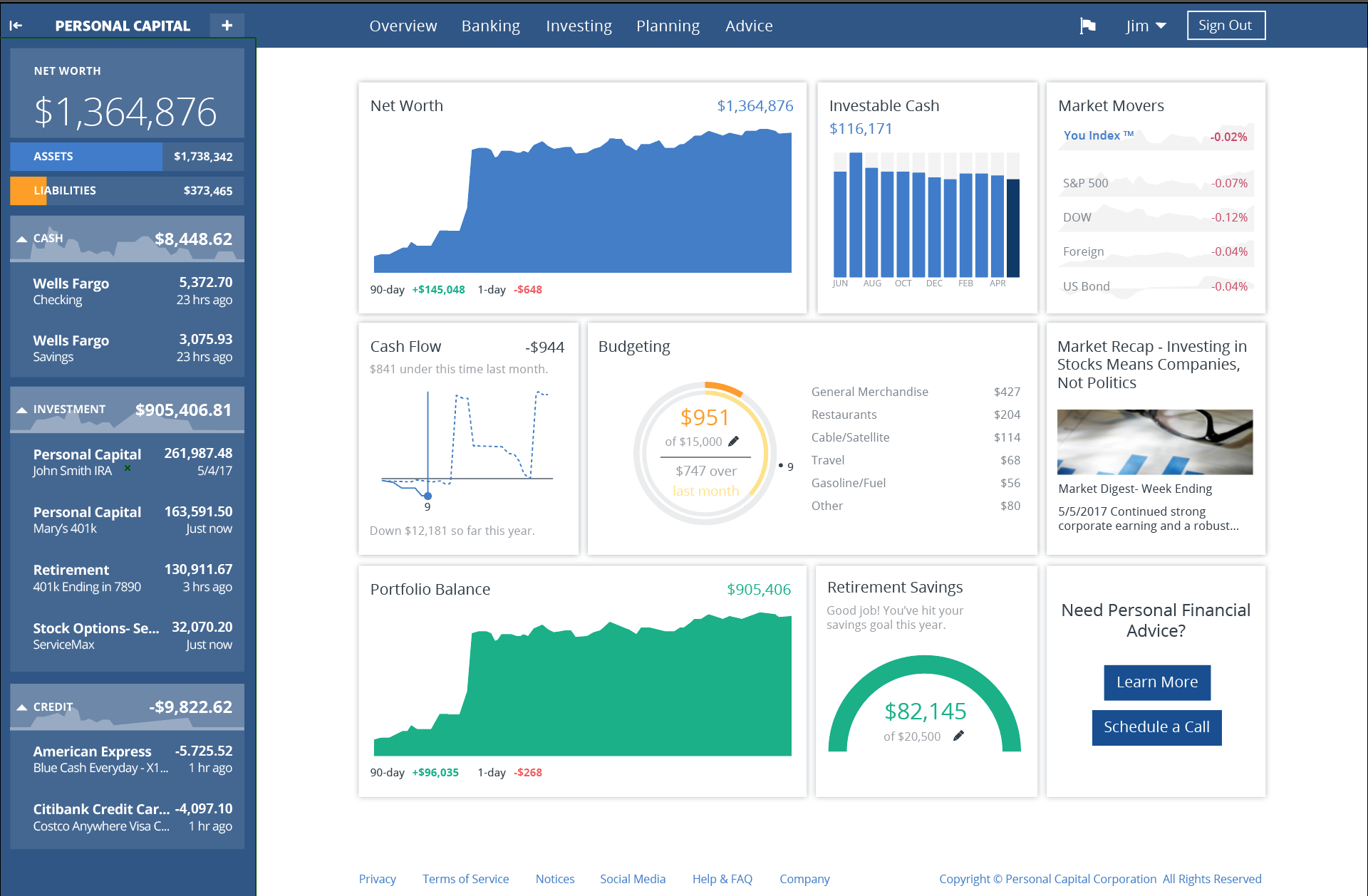 The Retirement Planner
The hands-down beast of the Personal Capital app is the retirement tracker, which is pretty much my favorite online tool to use.
It also helps me keep track of whether I'm maintaining my investing path growth to sustain early retirement and can help you figure out when you can realistically retire, depending on a bunch of variables.
Here's my actual retirement investment path, which I've set to walk away from work at the age of 35 completely. Even though I've already reached financial independence, I'm still making and investing money, but have set my Personal Capital retirement date as 35 for future forecasting purposes.
It says I have an 88% chance that my current investment portfolio will last me 60+ years. This percentage will likely continue to increase as I add even more money to my investments.
I'll take it! I have so much fun playing with this one tool. It's my personal finance dashboard.
Investment Allocation Tracker
Investing growth is the OG passive income, and diversification is a central component of my investment strategy and any solid investing strategy.
One awesome Personal Capital feature that I used early on when setting up my own investing portfolio was the target allocation feature that makes free optimal investment recommendations based on a series of questions you answer when setting up your profile.
It recommended I get more exposure to international stocks, as a way to hedge only US performance. And, it motivated me to study the idea further and eventually buy shares of Vanguard's Total International Stock Index Fund (VGTSX) to diversify my portfolio.
While I am always naturally skeptical of any tool that recommends an ideal investment allocation, none has been more spot-on than Personal Capital. It's definitely worth checking out and comparing it to your current strategy.
The Retirement Fee Analyzer
Did you know that the average investor is paying at least 3-4x more in fees in their retirement accounts?
Yup, it's insane, and over time, the fees you are potentially paying to have your investments managed can add up to you having hundreds of thousands of dollars less in your portfolio once you retire.
That means just your 401k and retirement fees alone can stop you from retiring up to 5-10 years early. Yeah, seriously, these investment management fees really add up.
You can use this feature to identify where you are paying too much in fees, how your fees compare to others, and how much of your investment earnings are being lost to fees (which is most shocking for most people).
Check out how much you are being charged to manage your investments, then you can attempt to reduce your fees as much as possible.
The Monthly, Quarterly, and Annual Review
At the end of every month and quarter, I do a quick analysis of my spending patterns to see what I've spent too much money on, so I can make adjustments over the next period.
Then at the end of the year, I pour a glass of wine and do a massive year-end review, where I analyze my spending patterns across all categories and make adjustments for next year's strategy.
Unfortunately, my spending went a little rogue last year because I got married, and it messed up my previous three years of maintaining my spending target, but so far this year, I've stayed on track.
Here's a snapshot of the Personal Capital cash flow dashboard that you can easily customize to show you how much you've spent in the past week, month, or year.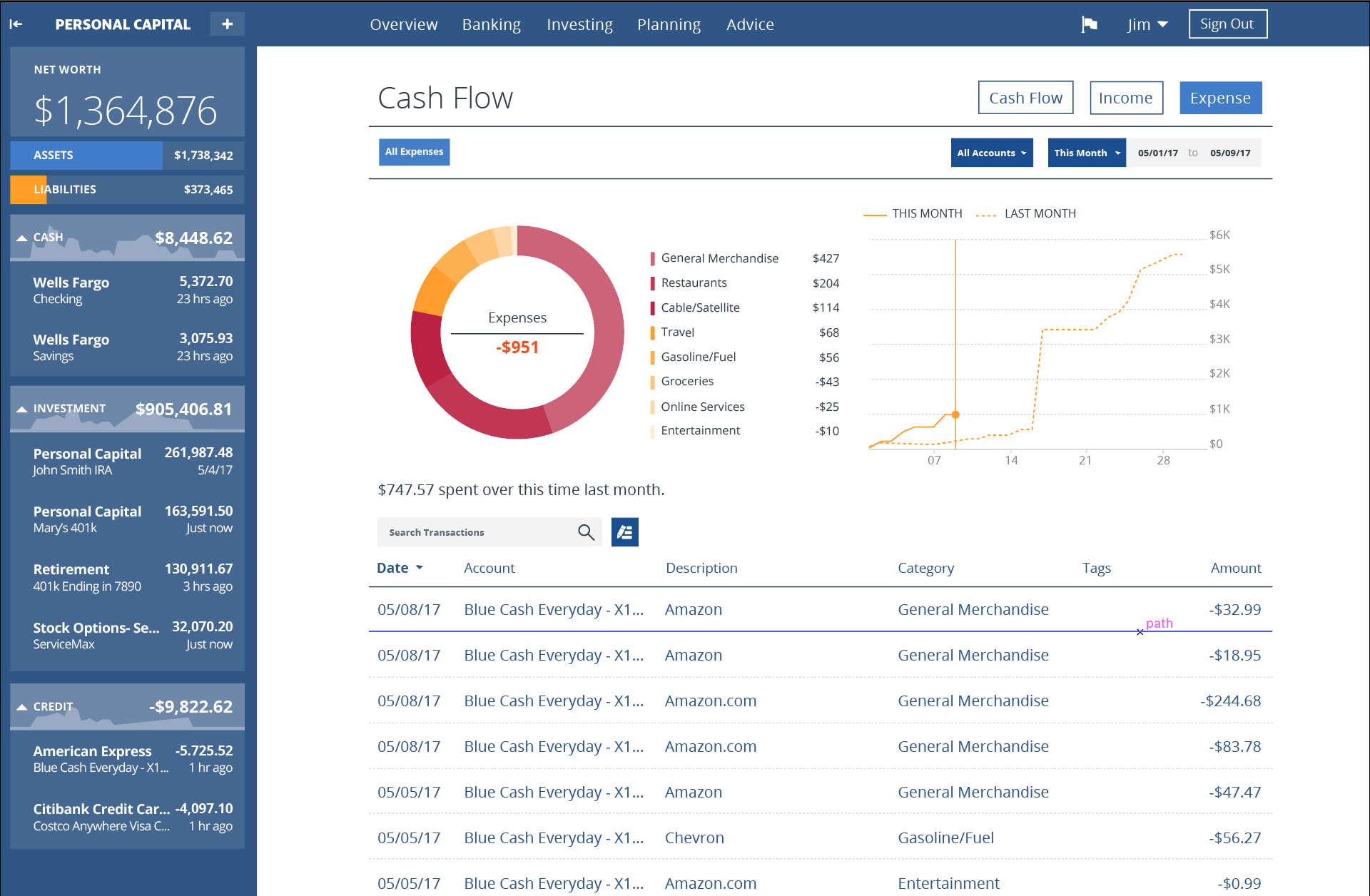 Weekly Cash Flow & Investing Performance Email Updates
Another awesome free feature that I use is the weekly cash flow and investing performance update. These are actually one of my favorite emails that I get all week – haha, I know, I'm such a nerd.
But seriously, the updates are legit and give me a high-level snapshot of how well my investments are doing relative to the market, how much money I've spent compared to last month, as well as how my cash flow compares to last year. That's a ton of info in an email.
Financial Scenario Analysis
The financial scenario analysis is a great new feature that I've just started playing around with that could help you make better financial decisions – or at least understand what impact it will have on your finances.
It can be difficult to predict how making a certain decision can impact your finances, but now you can test/compare multiple incomes or spending scenarios.
I mean, who doesn't like A/B tests for your money? You can compare all kinds of scenarios with the tool – like the impact of selling your home, inheriting money, paying for a wedding, doing a big renovation, or really anything you can come up with. You can also save the scenarios to edit later.
How To Sign Up
Personal Capital has a very slick website and a seamless sign-up process.
To get started, click the Get Started button on the top right-hand corner of your browser.
You'll then land on an easy sign-up form where you'll be instructed to enter your email, password, and phone number to create an account.
Once that's done, you'll be presented with a neat questionnaire asking for your personal details.
Next, you will be prompted to search for and link your external financial accounts. This is how Personal Capital will access and populate your financial data.
Security Measures
Security is Personal Capital's top priority, and they utilize multiple layers of security protocols to keep your account and data safe. For starters, they have a dedicated security team that's constantly testing the system for vulnerabilities. The company also uses leading-edge encryption, user verification, and fraud detection technology.
Personal Capital does not sell user data, either. Learn more about their extensive security protocols here.
Customer Support
Personal Capital offers self-service support to free account holders. You can also submit requests on this online form.
Phone & Contact Information
Only Wealth Management clients have access to phone support. If you're interested in becoming a Wealth Management customer, call this number: 1-855-855-8005.
Aside from its headquarters, the company has branches located in Denver, Atlanta, San Francisco, and Dallas.
Pros and Cons
Pros:
One of the best spending trackers on the market (and it's free!)
Fantastic budgeting tool and financial planner tools (and they're free, too!)
Personalized Wealth Management services are available
Cons:
Very high buy-in for Wealth Management or Robo-advising account ($100,000 to start)
Wealth Management and Robo-advising fees are higher than most competitors
You'll still have to keep track of some of your finances by hand
Other Wealth Tracker Apps
Here are the main alternatives to Personal Capital for wealth-tracking apps:
Of these listed services, it's going to be hard to find one that beats the ease-of-use and user-friendly dashboard that Personal Capital offers.
Mint vs. Personal Capital
I'm also a huge Mint fan as well and use it too, but it doesn't come anywhere close to the functionality of Personal Capital, which has way more features and gets updated a lot more frequently.
Check out my full comparison of Personal Capital vs Mint.
Frequently Asked Questions
Let's take a second to answer some of the most common questions I hear about Personal Capital.
How does Empower work?
Empower's financial planning and retirement tool combines all your financial institution account balances under one roof — including your checking account, savings account, 401k account, IRA accounts, brokerage accounts, credit card accounts, student loan accounts, mutual funds, etc.
This results in a clear overview of your entire financial life.
For example, if you're interested in tracking your investment strategy, you can easily see your expense ratios or assess your risk tolerance based on your asset allocation. You can also see where you're spending money and how effectively you're saving it. It's also easier to determine where you can cut back on spending to save more.
Is Empower trustworthy?
Absolutely. All data is secured using AES-256 encryption, using U.S. military standards, and Personal Capital's login requires two-factor authentication and biometric ID.
They've been in business since 2009, have over 3 million customers, and manages over $21.3 billion in assets. What's more, their bank account is FDIC-insured.
We've also written an extensive post about their security measures you can check out here: Is Personal Capital Safe To Use?
Is Empower worth the fee?
First of all, there is no fee to use Personal Capital's app, retirement planner, or budgeting tool. You will only pay a fee if you have over $100,000 to invest with their Wealth Management division.
That being said, if you prefer to take a hands-off investment approach, but also want the benefit of having access to a certified financial advisor, the advisory fees (0.89%, decreasing with higher account balances) might be worth it to you. If that seems steep, I recommend researching the other best Robo-advisors.
How does Empower make money?
Personal Capital makes money by charging advisory fees on Wealth Management accounts. They currently manage $21.3 billion—not exactly a small number. If you sign up for a free account, be ready to get ads that encourage you to enroll in a Wealth Management account.
Can Empower be hacked?
Personal Capital is no more or less likely to be hacked than any leading online financial company. With that in mind, the company does seem to have a very robust security platform.
Who owns Empower?
In June 2020, Personal Capital was acquired by Empower Retirement, the nation's second-largest retirement services provider. Empower Retirement was founded in 1891 and is headquartered in Greenwood Village, CO.
Is Empower A Good Tool For Investing?
If you want to get a better handle on your finances and don't mind sharing your data, a Personal Capital account is a no-brainer. Having access to all of your financial accounts in one place might make it easier for you to achieve your financial goals.
At the very least, it'll prevent you from having to log in and out of several accounts regularly. There is a reason I log into Personal Capital every day – it helps me track everything I need to know about my money – investment performance, cash flows, budgets, and early retirement trajectory.
When it comes to the Personal Capital Wealth Management division, due to the relatively high fees that they charge, you might want to do your homework there to see if it makes sense for you.
If you're interested in learning more about what funds I recommend, check out my Millennial Money Portfolio post.
Thanks for reading our personal capital review, and if you're interested, check out our full review of other personal finance software (free and paid) that might suit your personal situation.