Updated:

October 24 2019

| Grant Sabatier
This article includes links which we may receive compensation for if you click, at no cost to you.
One of the most frequent reader and media questions I get is "What's your favorite money app?"
I've been using money apps since 2008 when I got my first iPhone and they've been insanely helpful in my early retirement journey.
I estimate that I've tried over 300 of the best money tools since then and without question, one stands out above all the rest – hands down the best is the FREE net-worth, retirement, and spending tracker Personal Capital.
I've been using the free mobile and online versions of Personal Capital for the past 5 years and recommend that anyone pursuing early retirement or financial independence use it. Seriously it's the best free money app in the game.
There's definitely a reason I've logged in every day (at least 1,300 times) over the past 4 years. Trust me, it's legit.
As you may or may not know, I only review apps that I personally use and I've given up a ton of money from companies who want me to review their new money apps. I'm just not going to recommend something I don't use and believe in.
But Personal Capital is next level and the thing I love most about it is that it just keeps getting better. In this Personal Capital review I'll show you my favorite features and how I use them.
They also just recently released a ton of new features to help you track your retirement progress (which I review in detail below).
Alright let's do it.
Personal Capital Review 2019
There are a ton of amazing features in the app, but here are my favorite that I literally use everyday, monthly, and annually.
1. The Dashboard
As you may or may not know, every morning I start my day with a cup of coffee and spend 5 minutes checking in on my finances.
It's a routine I've kept up with now for over 7 years and always start with the Personal Capital dashboard on my phone.
The dashboard has changed a ton of over the years, but now has a number of amazing features, including the ability to see your net worth (assets-liabilities), cash to invest, performance of your investments, known as the "You Index", amount you own on your credit cards, the amounts you have in your bank accounts, the amount you've contributed so far this year to your retirement accounts, and your monthly spending to budget that you can customize.
It's an insane amount of information, that has been absolutely essential in helping me reach financial independence and become a millennial millionaire.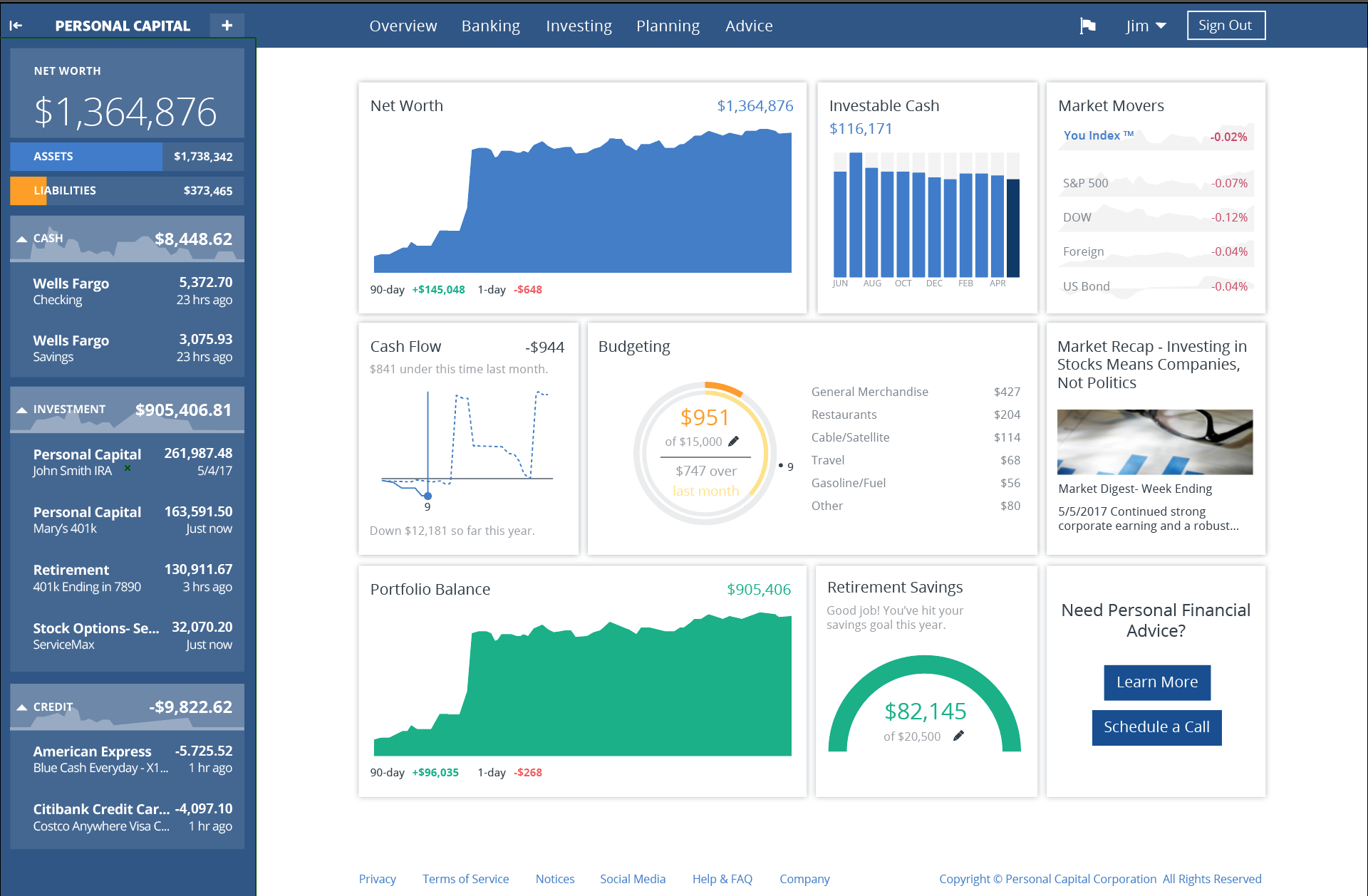 2. The Retirement Forecast
The hands down beast of the Personal Capital app is the retirement tracker, which is pretty much my favorite online tool to use.
It also helps me keep track of whether I'm maintaining my investing path growth to sustain early retirement and can help you figure out when you can realistically retire depending on a bunch of variables.
Here's my actual retirement investment path, which I've set to completely walk away from work at the age of 35. Even though I've already reached financial independence, I'm still making and investing money, but have set my Personal Capital retirement date as 35 for future forecasting purposes.
It says I have an 88% chance that my current investment portfolio will last me 60+ years. This percentage will likely continue to increase as I add even more money to my investments.
I'll take it! I have so much fun playing with this one tool – haha.
3. Investment Allocation Tracker
Investing growth is the OG passive income and diversification is a central component of my investing strategy and any solid investing strategy.
One awesome Personal Capital feature that I used early on when setting up my own investing portfolio was the target allocation feature, that makes free optimal investment recommendations based on a series of questions you answer when setting up your profile.
It actually recommended to be that I get more exposure to international stocks, as a way to hedge only US performance and it motivated me to study the idea further and eventually buy shares of Vanguard's Total International Stock Index Fund (VGTSX) to diversify my own portfolio.
While I am always naturally skeptical of any tool that recommends an ideal investment allocation, none has been more spot on than Personal Capital. It's definitely worth checking out and comparing it to your current strategy.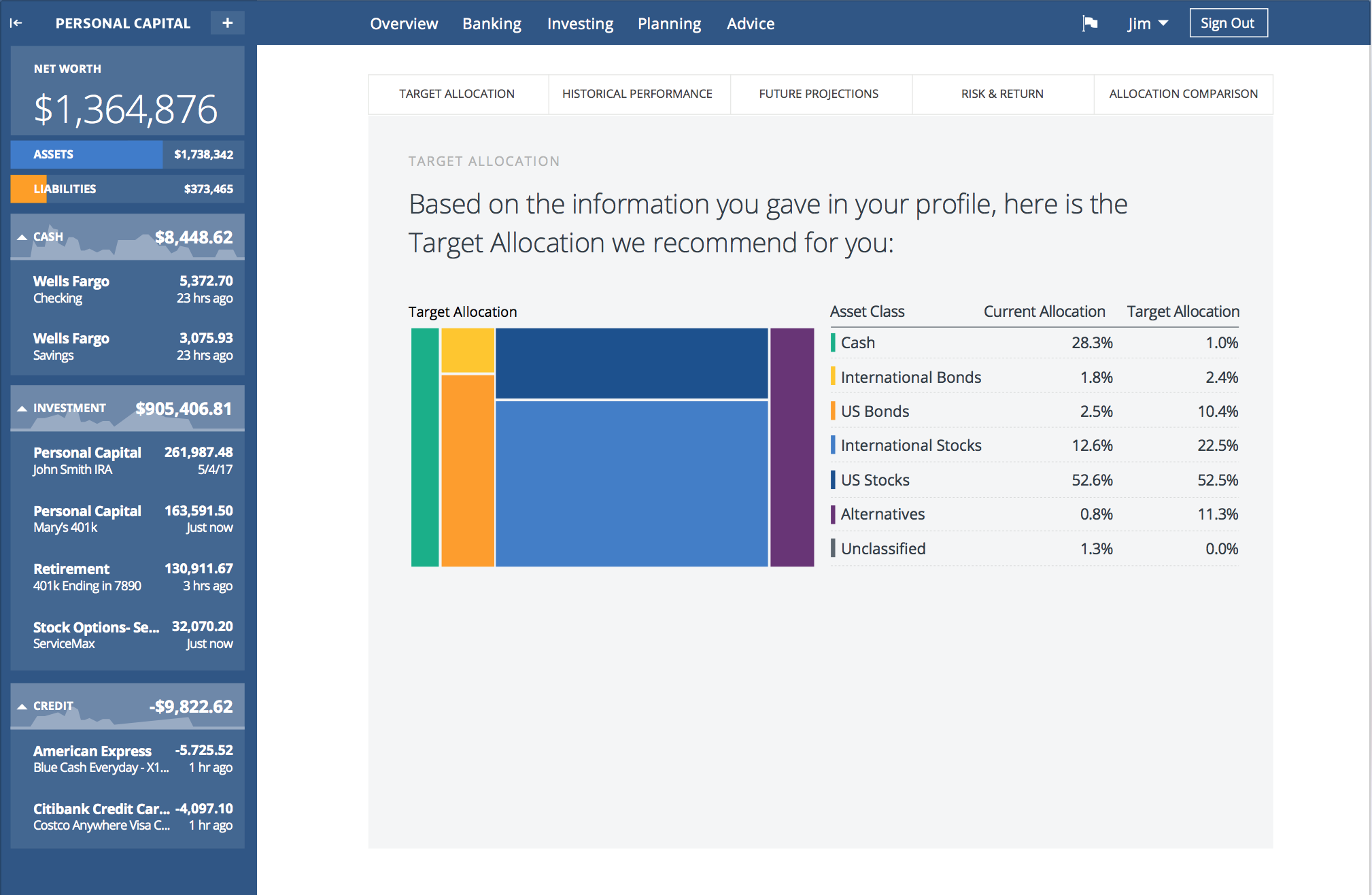 But investments also rise and fall and it can be difficult to determine whether or not you are maintaining your target investing allocation across US stocks, international stocks, US bonds, alternative, and cash.
The Personal Capital app presents a simple tab where you can see whether are you are maintaining your target allocation and if not, what you need to do to optimize it by moving investments from one category to another.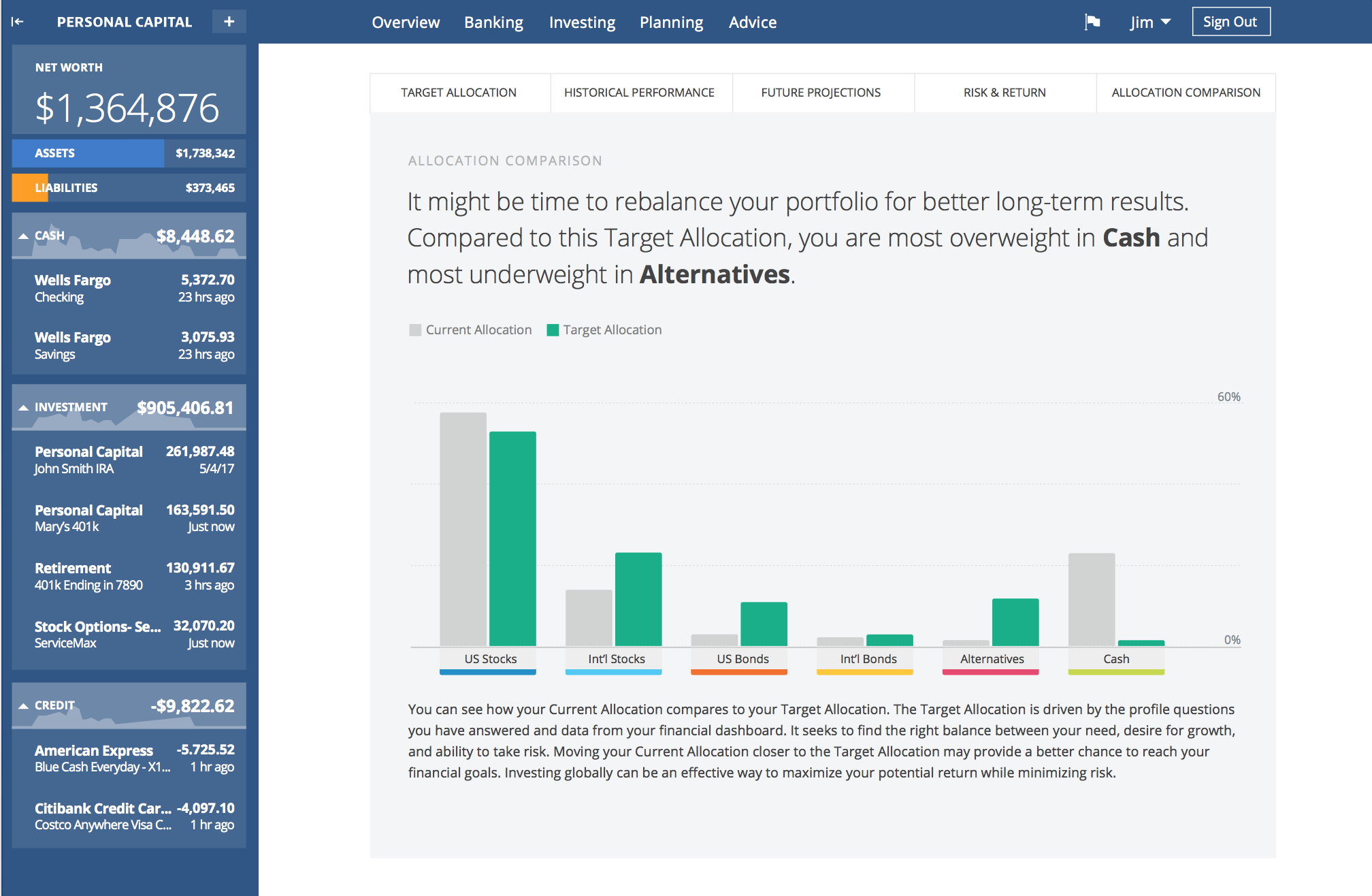 3. The Retirement Fee Analyzer
Did you know that the average investor is paying at least 3-4x more in fees in their retirement accounts?
Yup, it's insane and over time the fees you are potentially paying to have your investments managed can add up to you having hundreds of thousands of dollars less in your portfolio once you retire.
That means just your 401k and retirement fees alone can stop you from retiring up to 5-10 years early.
Yeah, seriously these management fees really add up. This is a relatively new Personal Capital feature that I have recommended to a number of friends.
You can use it to identify where you are paying too much in fees, how your fees compare to others, and how much of your investment earnings are being lost to fees (this is the most shocking for most people).
As you can see from the example below, over 21% of this person's investment gains are being lost to fees. That's a ton of money.Definitely check out how much you are being charged to manage your investments and reduce your fees as much as much as possible.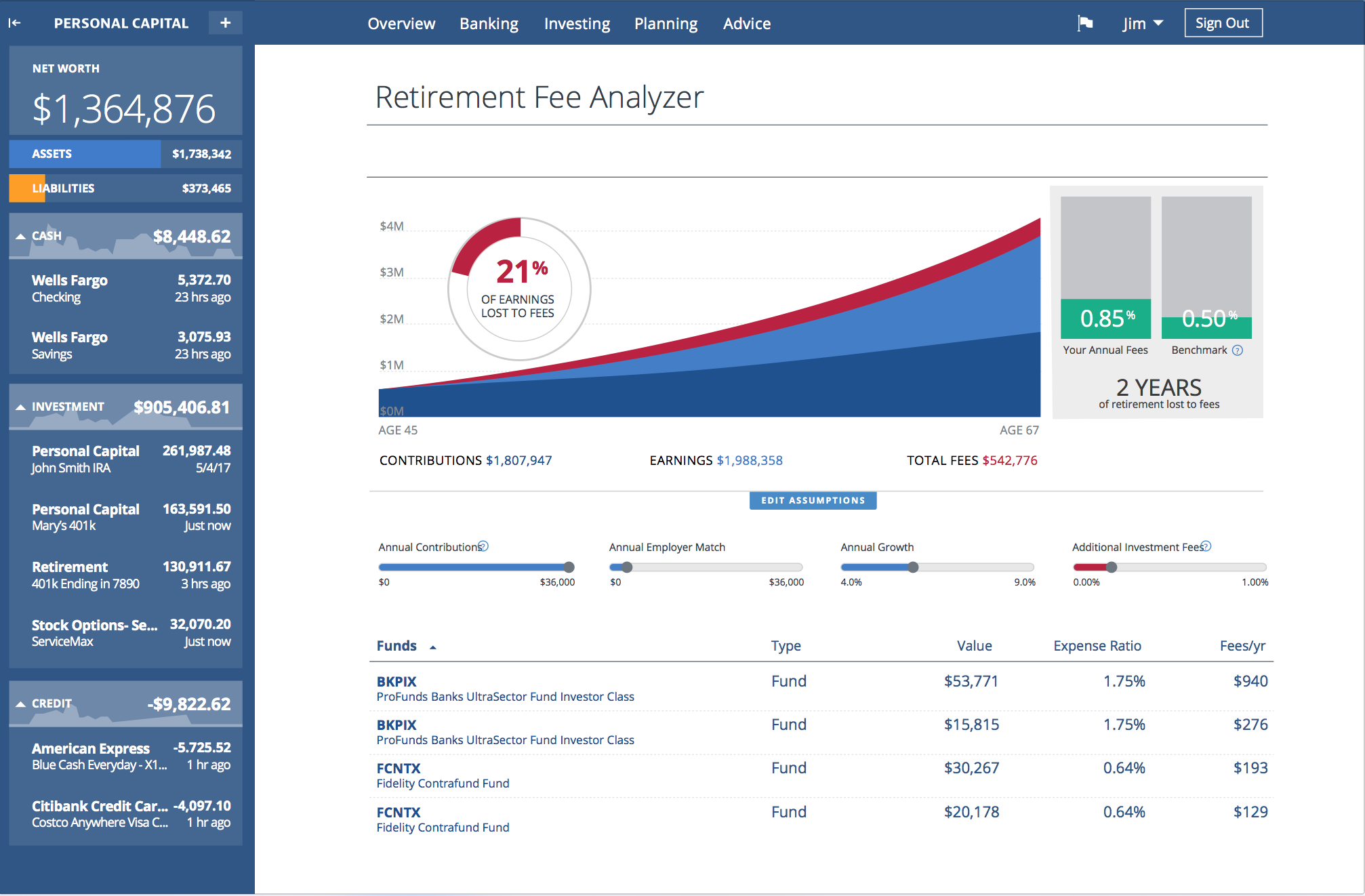 4. The Monthly, Quarterly, and Annual Review
At the end of every month and quarter, I do a quick analysis of my spending patterns to see what I've spent too much money on, so I can make adjustments over the next period.
Then at the end of the year I pour a glass of wine and do a massive year in review, where I analyze my spending patterns across all categories and make adjustments for next year's strategy.
Unfortunately my spending went a little rogue last year because I got married and it messed up my previous 3 years of maintaining my spending target, but so far this year I've stayed on track.
Here's a snapshot of the Personal Capital cash flow dashboard that you can easily customize to show you how much you've spent in the past week, month, or year.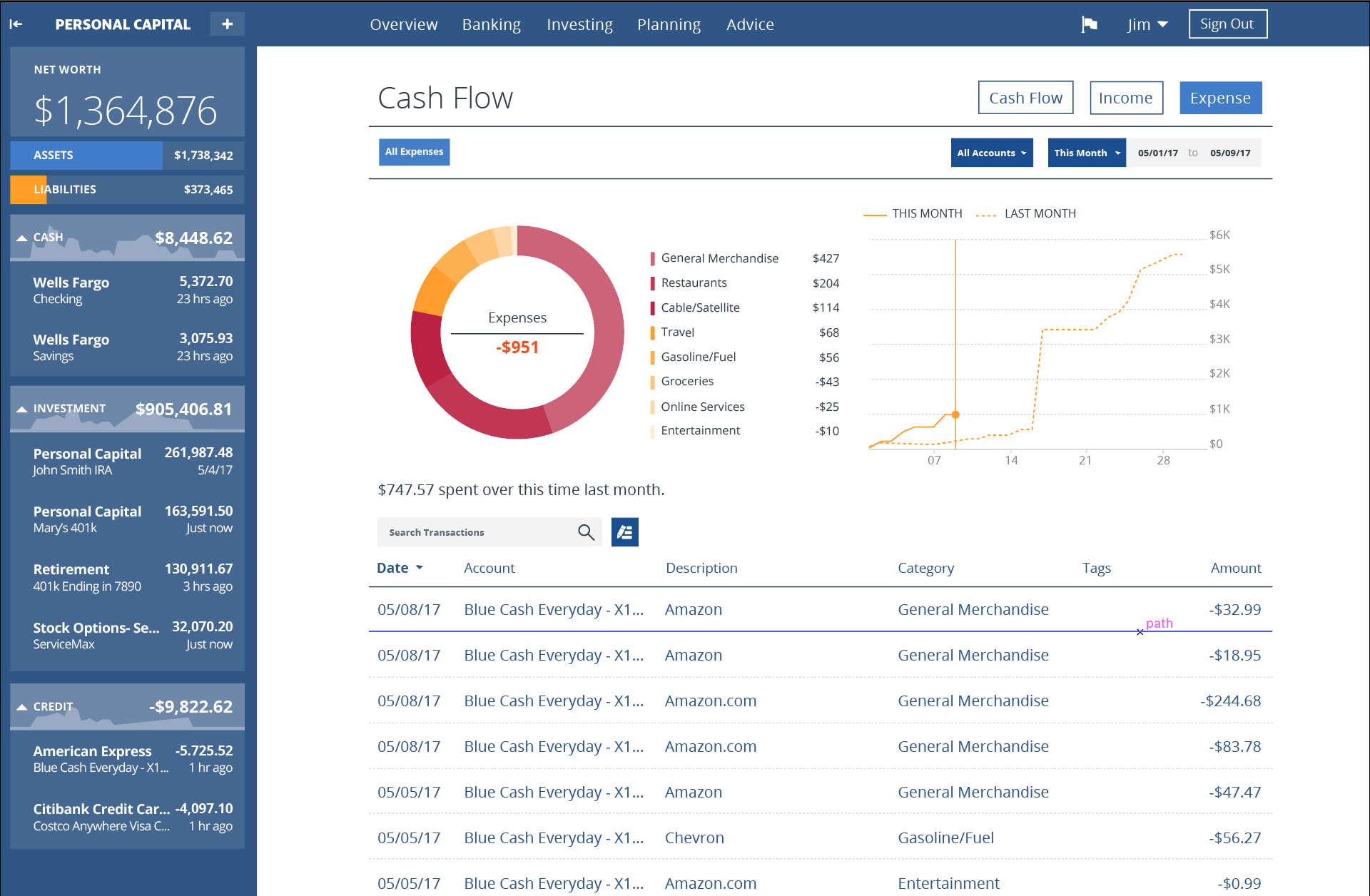 5. Weekly Cash Flow & Investing Performance Email Updates
Another awesome free feature that I use are the weekly cash flow and investing performance updates. These are actually one of my favorite emails that I get all week – ha ha, I know I'm such a nerd.
But seriously, the updates are legit and give me a high level snapshot of how well my investments are doing relative to the market and how much money I've spent compared to last month, as well as how my cash flow compares to last year. That's a ton of info in a simple email.
6. Financial Scenario Analysis
The financial scenario analysis is an awesome new feature that I've just started planning around with and could help you make better financial decisions – or at least understand that impact it will have on your finances.
It can be difficult to predict how making a certain decision can impact your finances, but now you can test /compare multiple income or spending scenarios.
I mean who doesn't like A/B tests for your money? You can compare all kinds of scenarios with the tool – like the impact of selling your home, inheriting money, paying for a wedding, doing a big renovation, or really anything you can come up with. You can also save the scenarios to edit later.
7. Education Planning
Here's another new tool in the retirement planning section that helps you plan for education expenses, like your own or your kid's tuition based on a bunch of different schools and savings scenarios.
It's pretty cool and it's never too early to start saving and planning for your child's education, right?
Mint vs. Personal Capital
If you've made it all the way to the bottom of this review without signing up for Personal Capital, then you are probably asking yourself one last question – what about Mint.com – the most popular free personal finance tracker in the world?
We'll I'm also a huge Mint fan as well and use it too, but it doesn't come anywhere close to the functionality of Personal Capital, which has way more features and gets updated a lot more frequently.
Check out my full review of Personal Capital vs Mint.
Conclusion
There is a reason I log into Personal Capital everyday – it actually helps me track everything I need to know about my money – investment performance, cash flows, budgets, and early retirement trajectory. This is the best money app – period.
It's also free to use, so definitely check it out Personal Capital.
Personal Capital Price: FREE With Personal Capital, you can see your net worth, analyze investments, and discover any hidden fees you weren't aware of before – as well as set spending and saving goals. Get Started Building Wealth
Creator of Millennial Money and Author of
Financial Freedom
(Penguin Random House). Dubbed "The Millennial Millionaire" by CNBC, Grant went from $2.26 to over $1 million in 5 years, reaching financial independence at age 30. Grant has been featured in The New York Times, Wall Street Journal, BBC, NPR, Money Magazine and many others. He uses
Personal Capital
to manage his money in 10 minutes a month.
Latest posts by Grant Sabatier (see all)