Robinhood Review
This article includes links which we may receive compensation for if you click, at no cost to you.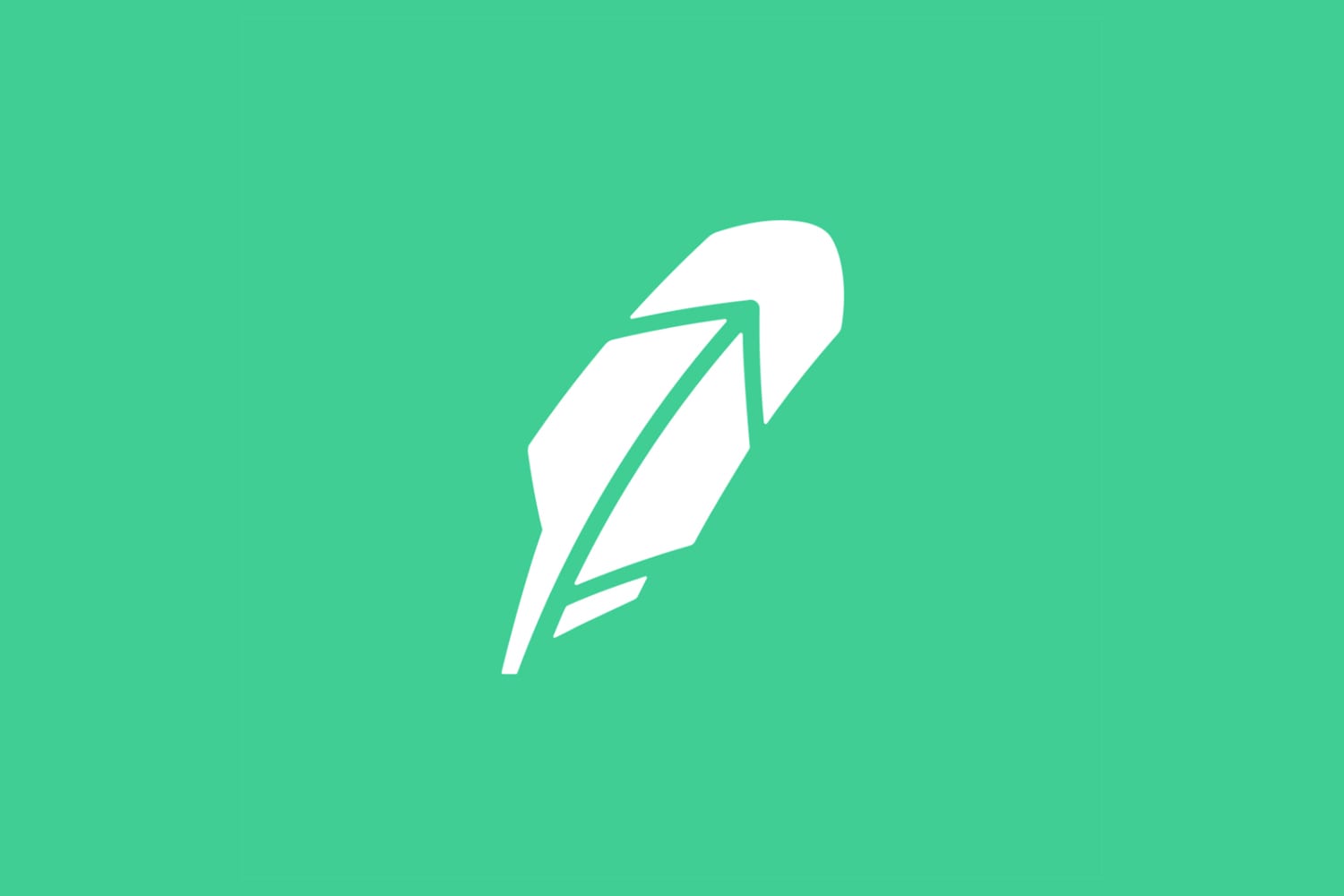 Robinhood
Pros
Commission-free trades on stocks, funds, options
Many investing options
Supporting research
Intuitive easy to use app and website
Free stock when you sign up
Cons
Customer support only via email and chat
No checking or savings accounts
Can't invest in tax-advantaged retirement accounts like IRAs
Bottom Line
Robinhood is an intuitive and popular investing app that offers commission-free stock, ETF, and options trading, as well as helpful research tools to evaluate investing options. In addition to stocks, you can also invest in alternative investments like gold and cryptocurrency. If you want to start investing Robinhood is one of our favorite investing apps and it's free.
Robinhood is an online investment services company that offers commission-free trades on stocks, options, ETFs, and cryptocurrencies.
The company also offers margin trading and has a cash management account (similar to a high-yield savings account) in the pipeline.
If you'd like to learn more about Robinhood, you've come to the right place.
This post covers everything you need to know about this fast-growing company, including the services Robinhood offers, the fees they charge (and don't charge, for that matter), and much more.
What is Robinhood?
Founded in 2013, Robinhood Markets, Inc.—more commonly referred to as Robinhood or Robinhood Financial—is a financial services company headquartered in Menlo Park, California. Robinhood customers can invest in a range of financial products, most of which are 100% commission-free.
Customers can access and move funds on the Robinhood website or within the Robinhood app. It's worth noting that their app has some of the highest ratings that I have seen in the financial sector (more on that later).
This makes sense: Robinhood is a tech-driven startup that largely appeals to millennials. If they couldn't deliver a solid app, chances are we wouldn't be writing this post to begin with.
In this light, Robinhood's website and brand feel more modern than your typical investment services company. The company definitely seems to be catering to the financially savvy younger investor—as opposed to more established, old-school companies, such as Vanguard or Charles Schwab.
Yet despite Robinhood's relatively new presence in the world of online investing, they've managed to gain quite a bit of momentum. In fact, the company was recently valued at $5.6 billion, putting it firmly in the unicorn category in just a few short years. Impressive!
The Robinhood App
Robinhood's app is impeccably designed – smooth, sleek, intuitive, and easy to use. You don't have to take my word for it either; the Robinhood App has high ratings in both the App Store (4.8 stars out of 5, with over 800,000 reviews) and Google Play (4.4 out of 5, with over 96,000 reviews).
Believe it or not, Robinhood is the 10th most popular financial app in the App Store. Wow!
You can use the app to access all of their features, which we will explore below.
Commission-Free Trading with Robinhood
Robinhood's claim to fame is that they allow customers to make an unlimited number of commission-free trades on stocks, ETFs and options.
This might save you big money over the long haul. The money you would typically spend on fees gets reinvested into your account—adding to your compounding returns.
Thanks to companies like Robinhood, commission-free trades are becoming the norm. Recently, financial juggernauts Charles Schwab and Fidelity both announced they would no longer charge fees on trades. Thanks, Robinhood!
Robinhood Options
Robinhood Options enables advanced investors to try their luck on options trading. A huge benefit to the Robinhood options platform is that there are no fees for options trading.
Savvy traders can also use complex options trading techniques such as iron condors, straddles, and strangles using Robinhood. I haven't seen these offered on other platforms.
Now is as good a time as any to say that I'm by no means an expert on complex options strategies. Unless you're a financial wunderkind, you probably should stick to more straightforward investments.
Robinhood Gold
Serious investors might consider upgrading to a Robinhood Gold account, which includes round-the-clock access to over 1,700 Morningstar reports and access to Level 2 market data. (The idea here is that providing access to this information can help you make more informed trading decisions.)
What's more, Robinhood Gold supports margin trading. This is quite different than a traditional investment account, so make sure to do your homework here.
If you opt for a Robinhood Gold account, the first 30 days are free. After the free trial expires, you're looking at a flat fee of $5 each month, which gives you access to $1,000 in margin. If you use over $1,000 in margin, you'll pay a 5% annual interest rate on every dollar above that amount.
Keep in mind that you don't have to trade on margin with Robinhood Gold. Account-holders can simply turn off margin trading and still have access to the premium features that Robinhood Gold offers. For more details on that, check out the fine print.
Last but not least, you need to fund your Robinhood Gold account with at least $ 2,000, as determined by the Financial Industry Regulation Authority (FINRA).
Cash Management
At the time of this writing, Robinhood's Cash Management service appears to be on hold, possibly due to some regulatory issues. But you can sign up for the waitlist. Once the product is live, they promise an impressive 1.8% APY—which is right on par with leading high-yield savings accounts (HYSAs).
Cash management account holders will also get the benefit of having unrestricted access to funds with a Robinhood ATM card, which can be used for purchases anywhere that Mastercard is accepted. You'll also be able to withdraw funds at their network of over 75,000 ATMs.
Pro Tip: As with any investment or savings account, make sure to do your homework. Personally, when it comes to HYSAs, I feel safer trusting companies that are FDIC-insured. It looks like Robinhood plans to offer FDIC insurance on cash management accounts once the program is live, so that's good news.
Robinhood Crypto
Robinhood Crypto is the newest division of the company. This service enables you to trade the most popular cryptocurrencies—like Bitcoin and Ethereum—without paying any commissions.
Due to the various licensing and legal complexities behind digital currency trading, Robinhood Crypto is a separate entity from Robinhood Financial.
But you can easily move your funds from one account to the other if you're so inclined.
Pro Tip: Seasoned crypto traders will surely appreciate the commission-free format behind Robinhood Crypto. With most other platforms, you'll have to pay fees that range from a percentage of the transaction to a fixed dollar amount (depending on the size of the transaction).
Does Robinhood Have Any Fees?
Robinhood is free to sign up. Stocks, options, funds, and crypto trading is also 100% commission-free. What's more, there are no monthly fees or minimum balances, so you can get started with even a small amount of money and grow your account from there.
As discussed earlier, if you upgrade to a Robinhood Gold account, there's a $5 fee each month after the free trial expires. If you trade with margin amounts over $1,000, you'll also pay a 5% yearly interest rate on the amount of margin you use over the initial $1,000.
For the full details about Robinhood's fees, check this out.
At the end of the day, most account holders will never pay a fee, and that's a huge plus for me.
Robinhood Sign Up Process
It's super easy to register a Robinhood account. Simply visit their website and fill out some forms with some basic information. Next, you'll have to confirm your identity and link your external bank account so that you can deposit and remove funds. Once that's done, it's time to submit your application, and you're good to go.
One cool thing about Robinhood is that they give you a free share of stock when you successfully open an account. At the time of this writing, the company was advertising shares of Apple, Ford, or Sprint.
Savvy investors know that a share of Apple is particularly valuable out of that group. But in Robinhood's own words, these shares are "chosen randomly" from their inventory of settled shares. New account holders can expect their free share to be worth anywhere between $2.50 and $200.
Security Features
Robinhood customers can rest assured that their funds and trades are safe and secure. Here are some of the main security benefits that the company offers:
Robinhood is a member of the Financial Industry Regulatory Authority (FINRA).
The company is licensed to transact stocks by the Securities and Exchange Commission.
Robinhood is a member of the Securities Investor Protection Corporation (SIPC). As such, stocks and options accounts up to $500,000 are protected.
Account passwords are encrypted using the latest encryption technology.
A two-factor authentication is an option for those seeking added security.
Customer Service and Support
Robinhood has a slick self-service customer support platform. If you have a question or technical issue, you'll have to send an email to customer support, and an agent will get back to you. As a small company, they probably don't have hundreds of employees stacked in a call center.
While you might not be able to speak with an advisor on the phone, Robinhood has gone the extra mile by offering lots of easily digestible educational content on their website. So, if you have any questions or want some advice, the resources on their site can be particularly helpful.
This section of the website gives me the impression that they are targeting millennials and younger investors. That said, I think it's pretty neat how they've organized this content and I imagine many people will find it useful.
Pros and Cons of Robinhood
Pros
Commission-free trades on stocks, funds, options
Next-level cryptocurrency platform (also commission-free)
Intuitive, easy-to-use website and apps
Enjoyable user experience
They give you a free stock when you open an account
Cons
No customer support over the phone
Not a real bank (no checking or savings accounts)
No tax-advantaged retirement account options (such as a 401k or Roth IRA)
Alternatives to Robinhood
Some of Robinhood's main competitors include:
Keep in mind that each of these companies offers different services from Robinhood, and some of them charge fees. As such, you'll have to do some homework to find the one that best suits your needs.
FAQs
Here are some answers to the most commonly asked questions I hear about Robinhood.
How do I get my money out of Robinhood?
You can easily transfer funds from your Robinhood account to your linked bank account. This process can be initiated on the Robinhood website or right in the mobile app. Per federal regulations, you'll have to wait a few days to withdraw cash after making a trade. Read more about that here.
Is Robinhood safe?
Yes, Robinhood is safe to use. They are a well-established financial services company. At the same time, it bears repeating that all forms of financial investing come with some risk. Still, Robinhood's platform is no riskier than its competitors.
Is Robinhood good for beginners?
Maybe. I would say that Robinhood is a decent trading platform for beginners. However, I do not recommend investing in stocks without doing a fair amount of research first.
The reason that I'm not giving Robinhood my full approval for beginners is that the platform is mostly self-service. So, anyone going in there to make trades has to do their own research beforehand. Trading is hard; if it were easy, we'd all be super-rich.
If you're new to the investing world, don't worry, though. There's tons of info out there about the best ways to get started. You can read up on my investment advice here.
How much does Robinhood charge per trade?
Robinhood charges $0 per trade. It's 100% free to trade stocks, funds, and options with Robinhood. The only time you'll pay a fee is if you trade margins (as explained above).
Is Robinhood Right For You?
If you're a seasoned trader of stocks, funds, options, or cryptocurrencies, Robinhood is worth consideration. The no-fee approach quickly adds up for frequent traders. Also, if you're experienced with margin trading or want to test the waters, you might find value from a Robinhood Gold account.
On the other hand, if you're a passive investor or someone looking to make long-term investments for retirement, you might want to look into a more established company like Vanguard.
Bottom line? It's your choice to decide who to trust with your hard-earned money. I hope this post has made it easier for you to determine if Robinhood is the right fit for your investing needs. Thanks for reading, and here's to a healthier financial future!