Most of us have played Klondike Solitaire before with an actual deck of cards, although I grew up knowing the game simply as "Solitaire." It's a classic solo-player game of clearing cards in the right sequence, moving them from the gameboard back to their four home cells.
In this app version of the game, developed by Aviagames Inc., you can play this one-person game head-on against other players around the world for a shot at great cash prizes.
What is Solitaire Clash?
Solitaire Clash is a free Solitaire game that you can play on your Android, iPhone, or iPad. You can play free matches or Solitaire cash games against other players. The greater the wager, the greater the potential reward.
While many app games are for head-to-matches where one winner takes all, most Solitaire Clash games have 5 to 9 players and there's more than 1 winner. Generally, it's the top 3 finishers who win a cash prize.
You can play free, practice matches where you wager "gems"," or you can enter cash games. There are some prize pools where your entry fee requires a combined payment of both cash and gems.
In addition to winning gems and cash for playing games, you can win daily bonuses (awarded every 4 hours and 30 minutes), lucky wheel spins, or for inviting your friends.
Is Solitaire Clash Legit?
Yes! Solitaire Clash is very legit. You can find the game in the Samsung Galaxy and iTunes app stores where the app has excellent reviews.
The app has an average 4.9 out of 5-star rating in iTunes based on over 96,000 reviews.
The game has a perfect 5-star rating in Samsung Galaxy based on over 8,000 reviews.
How to Earn Money with Solitaire Clash
Here's an overview of how to install the free app and play Solitaire Clash games for cash.
Install the App
You can install the free game app onto your Apple or Android device. It's not available in the Google Play Store, but you can find it in iTunes, Samsung Galaxy, or on the AviaGames website.
There are many other Solitaire cash app games that sound similar. You want to install the right one. Look for:
"Solitaire Clash: Win Real Cash" is listed as the game's title.
In the Apple app store, the game will have this ID 1589643727.
Aviagames, Inc. is listed as the app's developer.
Make sure you're installing Solitaire Clash (clash with an "L" in it).
Create Account
You can create your account in 10 seconds or less. Just open the app and provide a username and player image. If you don't know what to come up with, you can go with the app's default suggestions as I did. At random, I was assigned the profile name "CharlieRobbins12."
To start playing Solitaire Clash, you just need to choose a username and avatar. I went with the game's random suggestions.
Play the Tutorial
The tutorial game is a quick, free refresher on the classic Solitaire game. You can get a feel for the game's flow and how to earn points for playing cards. You'll find out how to submit or turn in your final score once you've won the game or are "stuck" and unable to play any additional cards.
After creating your username in Solitaire Clash, the app will prompt you to play the welcome tutorial game.
The tutorial game in Solitaire Clash is a great walk-through to learn how to score points and submit your final score.
Play Free Games
After the tutorial, you'll be prompted to play a "starter" game. This is a free round for 7 new players. The top three finishers will win a cash prize ($0.50, $0.30, or $0.20).
The first cash game on Solitaire Clash is on the house. You can play it right after you complete the tutorial.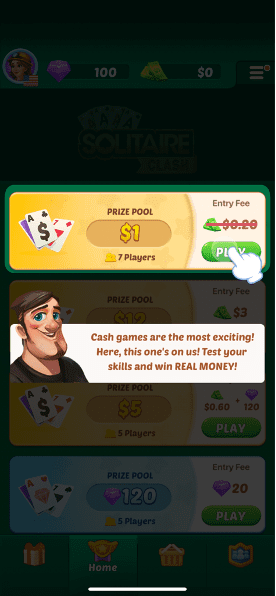 I finished my first Bingo Clash game in first place and won $0.50.
After finishing this free "starter" game, you'll be prompted to play cash games. To start with, you can enter prize pools of $5 to $55. But we recommend you steer away from cash games for a while and play free games to hone your skill and speed.
You can play free games, or rather gem-only games, that require a 20 gem entry fee. You'll start off with 200 to 300 gems, enough to bankroll your first several entry fees. These are 9-player games where the top 3 finishers share a 120 gem prize pool.
1st place: champion wins 70 gems
2nd place: runner-up wins 40 gems
3rd place: contender wins 10 gems
With the starting gems you're awarded, daily gifts, prize wheel spins, and any game winnings, you should have more than enough gems to play free games while you get the hang of Solitaire Clash.
You can win free daily bonuses for logging in. For logging in on the third and seventh consecutive day, you can win cash bonuses.
Fund Your Account
When you feel comfortable with the game, you can play Solitaire Clash for cash. Here's how to fund your account.
Tap on your account balance at the top of the screen. If you have funds, it will show your balance as $0.00.
Select the amount you want to fund your account: $5, $10, $15, $20, $30 or $50.
Fund your account: Using Apple Pay, PayPal, Venmo, or Visa credit card.
Amounts you can deposit may vary, but these were the deposit amounts available when I installed the game and played it earlier today.
You can get a bonus for most deposits. Bonus amounts vary, but when I signed up a 100 gem bonus was offered for a $10 deposit, and cash bonuses were available for deposits of $20 or more.
Play Cash Solitaire Games
Once you've funded your account, you can play cash games. Tap the "Home" icon from the navigation bar at the bottom of the screen.
When starting out, it's a good idea to focus on the smaller prize pots with fewer players. The prize pools with the lowest cash entry fees are:
$5 prize pool: entry fee of $1 for 7 players. (The top three finishers will win $3, $1.50 or $0.50.)
$12 prize pool: entry fee of $3 for 6 players. (The top three finishers will win $6.70, $3.80 or $1.50.)
You'll have the best odds at winning a cash prize in a $12 prize pool game. With only 6 players, you have a 33% chance of finishing in the top two and getting a cash prize greater than your entry fee.
For the $5 prize pools, you have only a 28.6% chance of placing in the top two.
Even though your odds of winning are better in the $12 prize pool, the entry fee is three times higher. When I started playing Solitaire Clash, I played a few $5 cash tournaments to build up some winnings before I switched to the $12 ones.
Here's a screen grab of some of the available tournaments in the Bingo Clash game app.
Cash Out
Once you reach at least $2 in winnings, you can withdraw your earnings. There is a $1 processing fee to cash out until you've reached a balance of at least $10.
You cannot withdraw bonus cash. Bonus cash is the free cash you are rewarded with from time to time (i.e., daily log-in bonuses). It's meant to cover your entry fee for cash tournament games, but bonus cash is not eligible for withdrawals.
If you win money from cash games you've funded with bonus cash, you can still cash out those winnings. Additionally, you can win and cash out any bonus cash that other players have wagered.
Solitaire Clash Earning Potential
You can win extra cash playing this fun, skill-based game — but it's unlikely you'll win thousands of dollars every month. At most, you could probably earn $90 to $150 a month for playing Solitaire Clash — which means you'd need to win an average of $3-$5 a day.
Averaging this figure does seem doable, but it can get harder the more you play.
In multiplayer tournaments, you're matched against other players of similar skill levels to keep things fair. As your skill level improves, you'll find that the competition gets harder.
Still, you can read reviews from many real players stating they earn $1K or more each month from Solitaire Clash. But keep in mind that this gaming experience is not the norm. These players play a lot of practice games — several hours each day. And they lose plenty of money in games too; but overall, they win more than they lose.
If you're looking for a cash app game that is not a scam and that really does pay, Solitaire Clash fits the bill. But if you want a guaranteed $200, $500 or more each month, then there probably isn't any mobile game that's going to fit.
Pros and Cons
As with any game app, Solitaire Clash has its pros and cons.
The "Flip of Fate" is one of Solitaire Clash's pros. I flipped three cards and won $0.25 bonus cash.
The Prize Wheel is another pro, you can spin the prize wheel on Bingo Clash for free tickets and bonus cash.
Pros
It's a fun, competitive way to play the classic Solitaire card game, playing minigames, head-to-head or in multiplayer tournaments.
You can play free games or cash prize pool
You can wager gems (free virtual currency) to play smaller cash prize
Solitaire Clash works on Android or iOS devices, and you can download it from iTunes or the Samsung Galaxy Store.
Lots of ways to earn free cash bonuses — free wheel spins, daily gifts, and making cash deposits.
Withdraw your eligible earnings for free when your balance is $10 or greater. (You can choose to cash out with as little as $2 even, but for amounts under $10 there is a processing fee.)
You can cash out earnings to your PayPal account, a secure, popular, and convenient reward option.
Cons
You can lose money playing Solitaire Clash. When you wager real money, you have to be prepared to lose it. (If you are risk-averse, you'll want to stick with the free games.)
The game is not available to residents in all fifty states. Cash wagering games are prohibited in AZ, AR, CT, DE, LA, MT, SC, SD, TN, and VT. (These residents can play gem-only games.)
Extremely fast-paced. You'll need to be extremely en pointe and move quickly. Speed is everything. A few seconds can determine the difference between first and second place. Even if you complete all your foundation piles, you can still finish dead last if you aren't speedy.
No Amazon gift card reward option! PayPal cash is great (it's cash after all), but sometimes winning a gift card is just more fun. At least then I can feel less frivolous when I shop with my winnings.
Alternatives to Solitaire Clash
In addition to Solitaire Clash, there are many other games you can play to earn cash, PayPal, and free gift card rewards.
You can find many other popular Solitaire games, or cash games of other genres like word games, puzzles, or strategy.
Other Solitaire Apps
Solitaire Smash
Solitaire Fortune
Solitaire Cube
Solitaire King
Pyramid Solitaire Luck 13s
21 Blitz
Gaming App Alternatives
Other games that pay cash include:
Buck Hunter
Wordcash Search
There are also a number of reward sites and apps that will pay you for completing different online activities like trying new deals, taking online surveys, searching the web, and playing new games.
These reward platforms offer plenty of ways to win money playing games, along with an arsenal of ways to earn cash for completing different tasks.
Some of the best apps to make money online include:
Mistplay
Drop
Rewarded Play
Kashkick
Gamehag
Moneywell
Upromise
MyPoints
Frequently Asked Questions
Is Solitaire Clash a Scam?
No! Solitaire Clash is a trusted, popular cash game that works on Android and iOS devices, including iPads.
Solitaire Clash has a nearly perfect rating in iTunes: 4.9 out of 5 stars based on over 96,000 player reviews. This is an exceptional, unusually high score.
The game's developer, Aviagames, Inc., has a number of popular games in iTunes and Samsung Galaxy stores, including Bubble Flow, 8 Ball Strike, Match 'n Flip, and Pocket7Games. Aviagames' newest game release, Bubble Venture, is an arcade-style bubble shooting game.
Does Solitaire Clash Pay Real Money?
Yes! Solitaire Clash pays real money. You can read reviews from thousands of real players who have won money playing cash tournaments. I myself have won and cashed out $8 from playing this game over the course of an evening.
But "win" is a better descriptor than "pay" or "earn" to describe how you get money from Solitaire Clash.
Winning does require some strategy and skill, but ultimately, Solitaire Clash is still a casino game. When you get money for playing, you are "winning" based on skill and luck.
Why Does Solitaire Clash Pay You?
Solitaire Clash is a casino app. As such, the house takes a cut of every pot. Solitaire Clash makes money when it gets players to download the app and wager their money in cash games.
How Can I Make Money Fast?
If you're looking to make money fast, Solitaire Clash — or any cash app game for that matter — is probably not the best option.
Other side hustles and online apps to make money fast: