If you love playing games on your phone, why not use your skills to win real money? There are hundreds of gaming apps that reward players with cash or free gift cards. The hard part is figuring out which games are worth your time.
Keep reading to learn about the most profitable and fun gaming apps on the market today. Soon, you could be earning real cash by having fun with your iPhone or Android device.
29+ Best Game Apps To Win Real Money & Prizes
Here are the best game apps to win real money today:
1. Bingo Cash
About Bingo Cash: Bingo Cash is a free game through the gaming platform Papaya, the same company to bring you games like Solitaire Cash and Bubble Cash.
In Bingo Cash, you will play against dozens of other users simultaneously. You will all see the same balls and cards, so winning isn't based on a computer algorithm.
How Payouts Work: Exporting your winnings is simple, they go straight to your PayPal app if you win! You also won't have any ad walls slowing you down, so you can stop scrolling and start earning!
Availability: Unfortunately, Bingo Cash isn't available nationwide. Cash tournaments are unavailable in Arizona, Arkansas, Indiana, Iowa, Louisiana, Maine, Maryland, Montana, South Carolina, and South Dakota.
See how I liked Bingo Cash when I played it!
Download Now:
---
2. Blackout Bingo
Apple iOS:

4.5

 

/

Galaxy Store:

4.5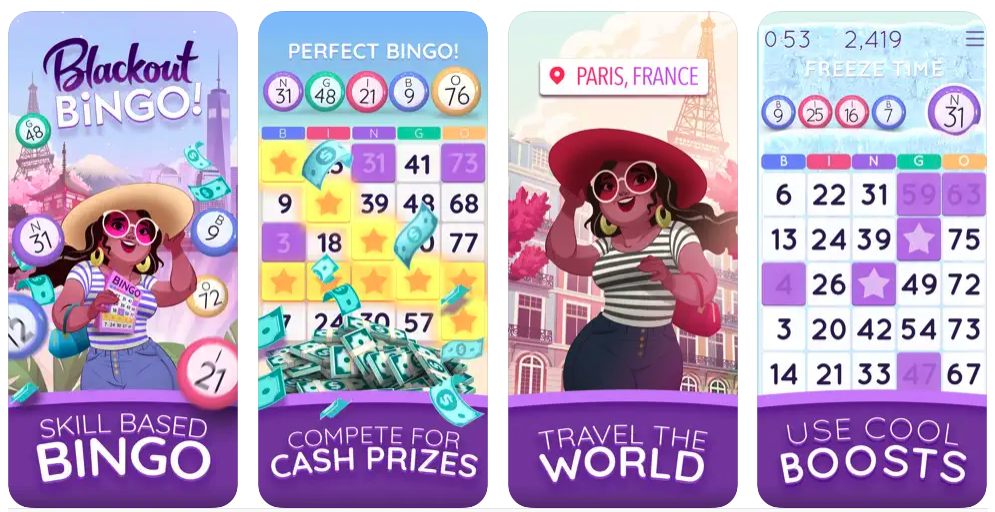 About Blackout Bingo: Blackout Bingo is a fun and different spin on the classic game of bingo. Users can choose to play for real money or play for free. This game takes only about two minutes to play. So you can do it while standing in line at the grocery store or waiting for the bus to arrive.
The game is centered around the globetrotting adventures of a character named Chelsea. It's a unique theme that lets users "travel the world," use cool boosts, and master skill-based bingo.
How Payouts Work: You can withdraw your cash balance any time you would like with no minimum amount required. Though keep in mind if you want to withdraw less than $10, there will be a $1.50 payment processing fee. You will receive your cash the same way you funded your account.
Availability: Blackout Bingo is available for iOS users and those using the Samsung Galaxy Store.
See how I liked Blackout Bingo when I played it!
Download Now:
---
3. Solitaire Cash
Apple iOS:

4.6

 

/

Galaxy Store:

4.5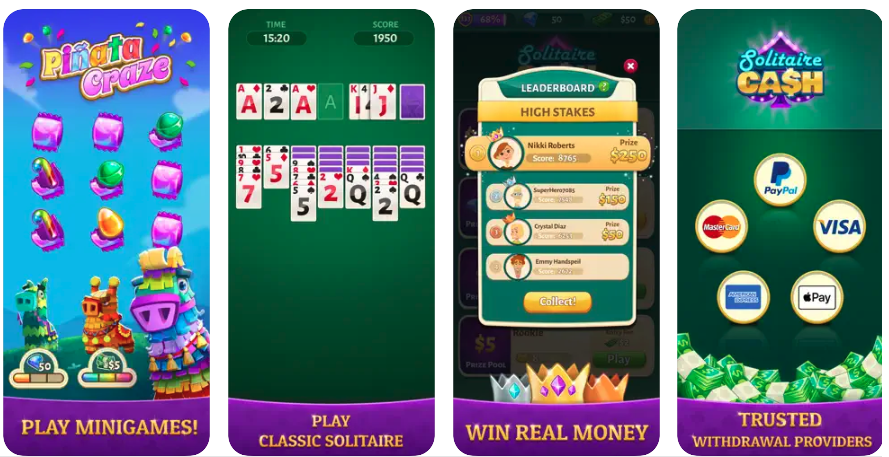 About Solitaire Cash: Solitaire Cash is another gaming app for Solitaire lovers. It is an app developed by Papaya Gaming, the developer of many popular online gaming apps.
Solitaire Cash is a skills-based solitaire gaming experience. Users are matched up with players of similar skill levels and given the same cards. If you finish in the top three, you can win cash prizes. The best thing about Solitaire Cash is that it's completely free to play.
How Payouts Work: The minimum amount required to redeem your cash is $5. You can use either PayPal or Apple Pay
Availability: Solitaire Cash is available for Samsung Galaxy and iOS devices.
See how I liked Solitaire Cash when I played it!
Download Now:
---
4. Bubble Cash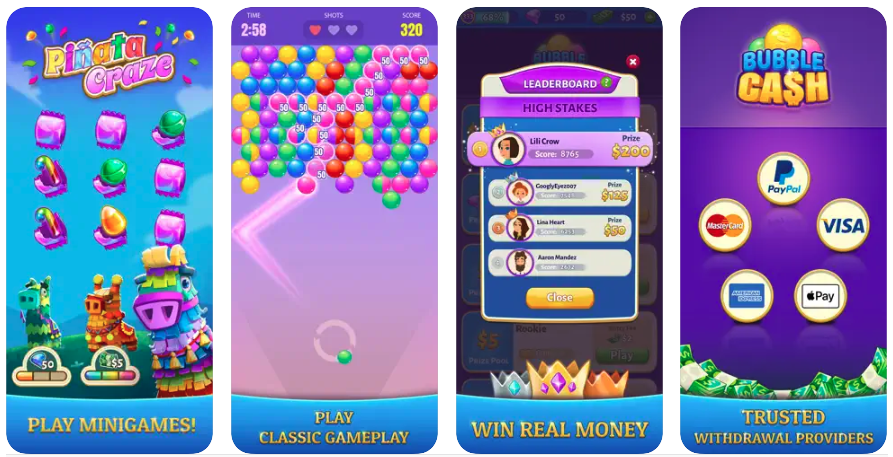 About Bubble Cash: Fans of bubble shooter games who want to earn money will love Bubble Cash! Bubble Cash has free and paid game modes that let you play bubble shooter games to enter real money tournaments using gems.
As you keep advancing in the game more tournament games become available. You won't get rich playing Bubble Cash, but it's an entertaining way to earn money in your free time.
How Payouts Work: Cashing out requires a minimum balance of at least $5, and withdrawals are processed via PayPal.
Availability: Bubble Cash is available for iOS devices only.
See how I liked Bubble Cash when I played it!
Download Now:
---
5. Cash'em All
About Cash'em All: If you're looking for an app that pays real money for playing games, look no further than Cash'em All.
Cash'em All is one of the best game apps if you want to earn free money. They won't impede your gameplay with in-app purchases or ad walls. Instead, they will pay you in their app currency called "coins" for every second you play. They have many top games for you to choose from, so you'll never get bored.
How Payouts Work: Cash'em All doesn't need direct access to your bank account and instead pays you out through PayPal. They have a low payout threshold of $0.50, so it won't take long to reach your goal.
Availability: Cash'em All is available for Android devices.
Read my Review of Cash'em All!
Download Now:
---
6. Cookie Cash
Apple iOS:

4.7

/

Galaxy Store:

4.5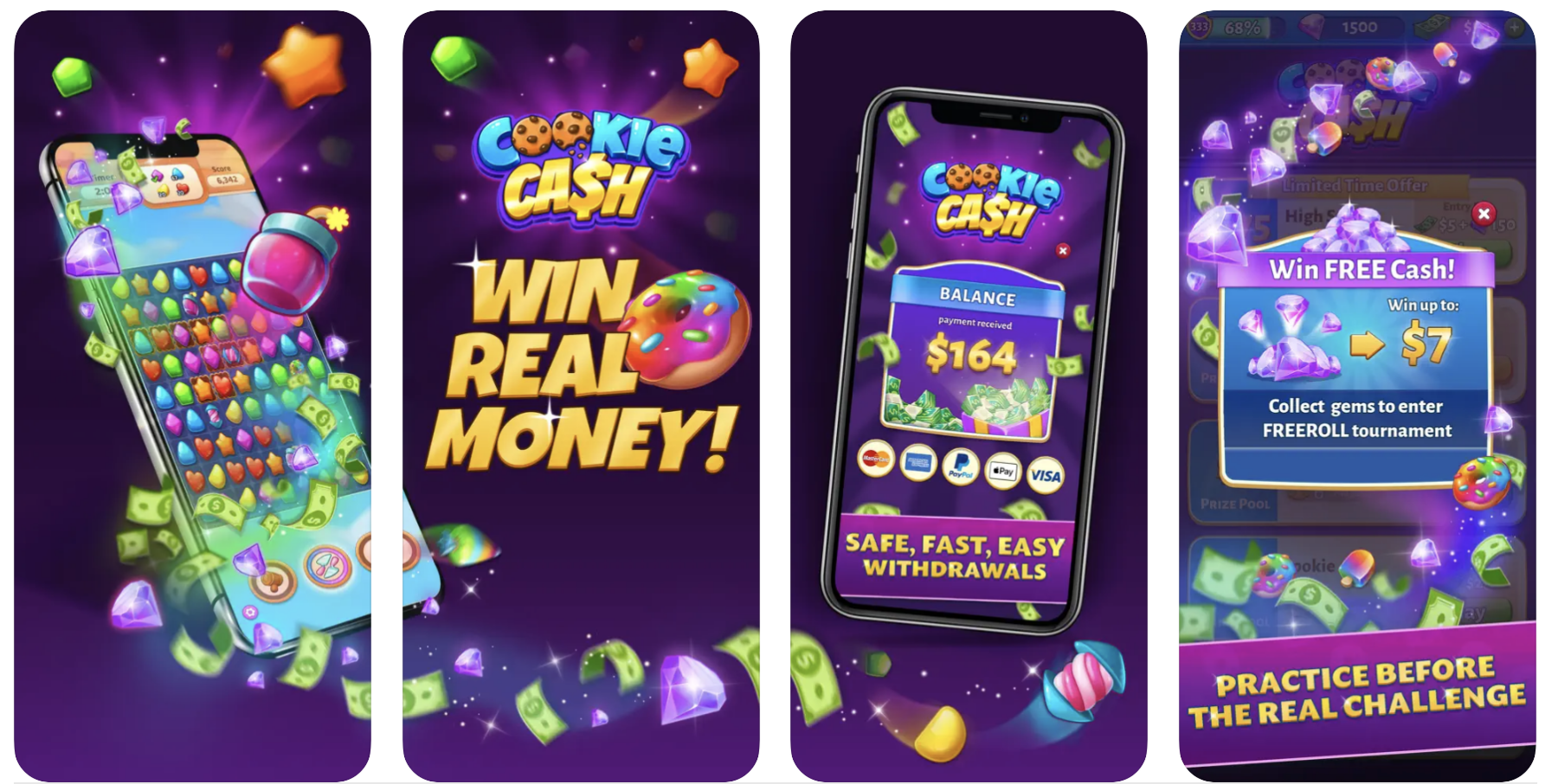 About Cookie Cash: Cookie Cash is a classic Match 3 game from Papaya that gets more complex as you level up. You can play as many free games as you'd like for practice, collecting boosters along the way.
Once you're ready to start earning cash, you can join tournaments. There are also daily bonuses, gifts, and mini-games. Players can also earn a $1 bonus for inviting friends to join.
How Payouts Work: According to Papaya, there's a $5 minimum for withdrawals and a $1 processing fee. You can get paid with Apple Pay or PayPal.
Availability: Cookie Cash is available in the Apple Store and Galaxy Store. You can download the game anywhere, but you won't be able to play for cash in Arizona, Iowa, Louisiana, South Carolina, or Washington.
Download Now:
---
7. Solitaire Cube
Apple iOS:

4.6

/

Google Play:

3.1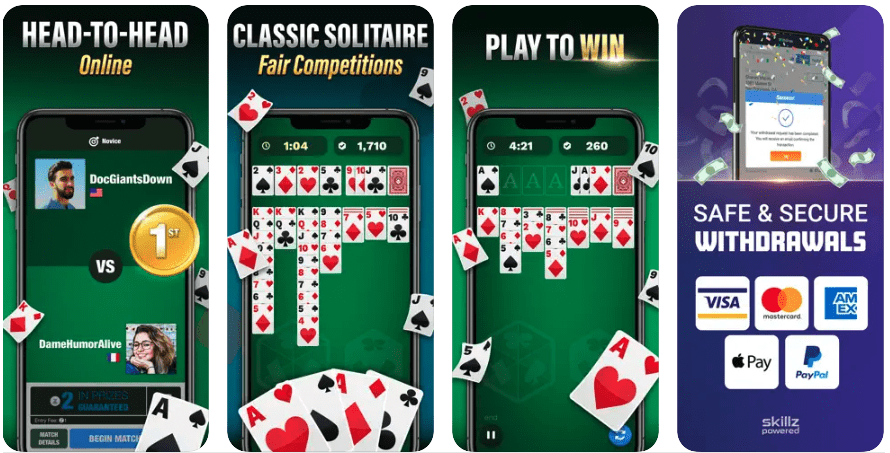 About Solitaire Cube: What's even better than playing Solitaire against others? Playing Solitaire can win you some serious cash.
Solitaire Cube is a gaming app that gives players the chance to win cash as they compete against others. Many users compare it to Klondike Solitaire, but regular players say that the leadership boards, animations, and other fun features make it an even more enjoyable gaming experience.
Solitaire Cube players enter tournaments that pit them against others for substantial cash prizes. Players can win real money anywhere from $1 to thousands from a single contest. One top performer, Katie Nguyen, won over $380,000 by playing Solitaire Cube!
How Payouts Work: Once you have at least $5 in earnings, you can redeem your earnings via PayPal or Apple Pay – using whichever method you used to fund your account.
Availability: Solitaire Cube is available for Android and iOS devices.
See how I liked Solitaire Cube when I played it!
Download Now:
---
8. Money Well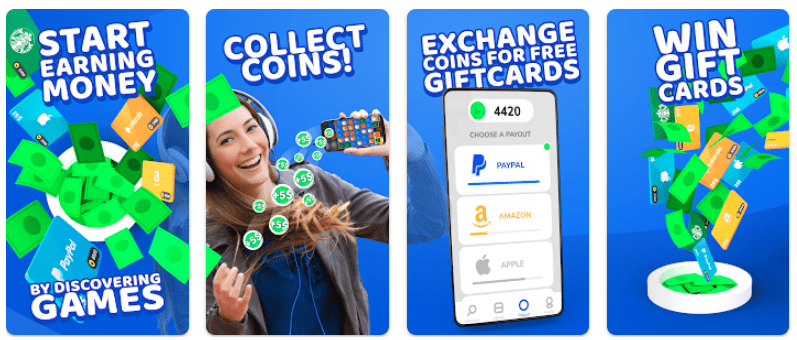 If you're familiar with the get-paid-to (GPT) model of cash games, Money Well is a great app that lets you play real money games for free.
Money Well is a GPT app that lets you play bingo, arcade, strategic, and adventure games in exchange for rewards. Game developers are eager to learn what consumers like and don't like about their games, so they pay Money Well to reward players for playing and potentially providing feedback.
Money Well lets you exchange your in-app points for cash via PayPal or gift cards. To reach the withdrawal threshold more quickly, you can refer friends or family to the app in exchange for a welcome bonus.
See how I liked Money Well when I played it!
Available for Android devices.
Download Now:
---
9. 21 Blitz
Apple iOS:

4.6

 

/

Google Play:

3.7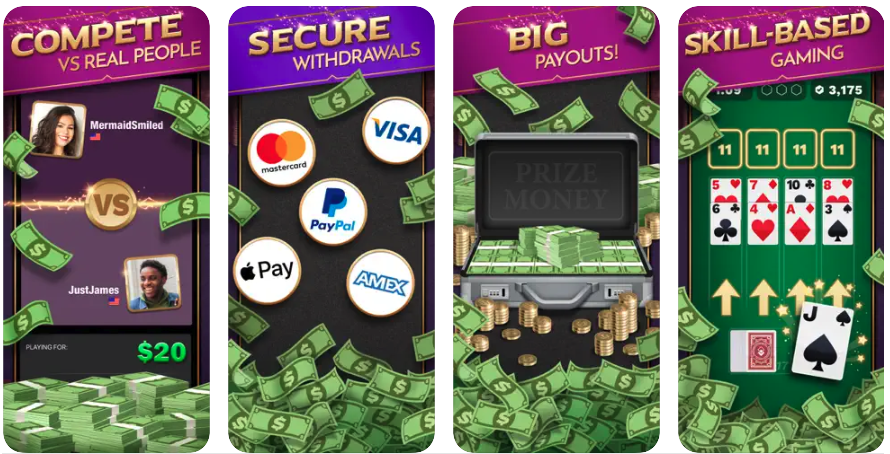 21 Blitz is a free online game that will appeal to lovers of Solitaire and Blackjack.
It takes some elements of these popular games but puts a quirky spin on them to make it way more fun than playing against a traditional dealer.
In 21 Blitz,  players are pitted against each other, and the player with the highest score in three minutes wins the round.
You can choose to play this in a heads-up challenge or in a tournament style where you move up a bracket system as you win. Either way, you can stand to win real money if you play often.
This game was created by Tether Studios, a part of the Skillz gaming platform. Skillz is a famous esports company that lets users win money and virtual currency through various games and apps.
Available for Android and iOS devices.
Download Now:
---
10. Bingo Clash
Apple iOS:

4.4

 

/

Galaxy Store:

4.5
Bingo Clash is a popular casino app game that allows players to play in tournaments for the chance to win real money.
There are two different types of game modes in Bingo Clash: free games and pay-to-play tournaments. In both
You can play in the free tournaments by using tickets that you win from playing other games, or you can play just for fun. Pay-to-play tournaments are where you can stand to win some real money.
If you decide to play in tournament-style events, you will play against several players who are similar in skill. If you win in enough paying tournaments, you can withdraw your winnings to your PayPal account.
See how I liked Bingo Clash when I played it.
Download Now:
---
11. Solitaire Clash
Apple iOS:

4.9

 

/

Google Play:

4.3
Are you a fan of the classic solo card game Solitaire? You can stand to earn some cash by playing through Solitaire Clash.
Solitaire Clash is a gaming app created by AviaGames, the developer that brought you Fruit Frenzy and Bubble Shot. If you're familiar with classic Solitaire, Solitaire Clash will be easy to learn. The app takes classic elements of Klondike Solitaire and adapts them for a fun gaming experience.
Competing for cash in Solitaire Clash requires that you pony up some money first. You need to pay a cash fee in order to enter cash games or tournaments. You will be pitted against multiple players of similar skill levels to compete for a prize pool. If you win, you can cash out to a PayPal account, Apple Pay digital wallet, Visa credit card, or Venmo account.
While you won't get rich playing Solitaire Clash, it is a fun way to pass the time and potentially win some money on the side.
Download Now:
---
12. Mistplay
Mistplay is another app that rewards players. Here's how it works: You install the app and get access to a selection of games that are specifically curated for you. Mistplay picks the games based on your preferences and habits.
The more you play, the more points you can earn. These points can be redeemed for gift cards you can use at Amazon, Visa, Google Play, and other online stores.
Currently, Mistplay is only for Android. However, there's an iOS version currently in the works.
Download Now:
---
13. Pool Payday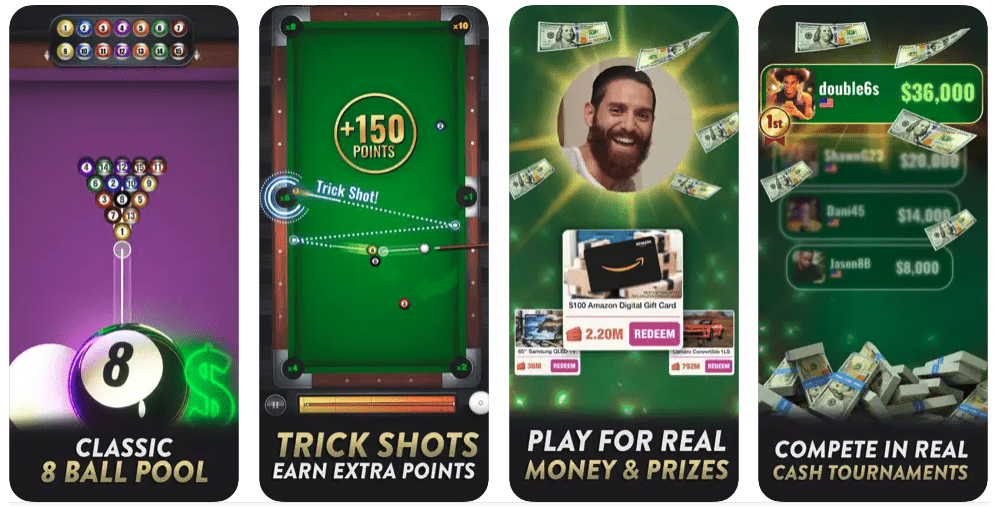 If you love playing pool, you'll love earning real cash prizes through Pool Payday. This app lets users compete in live game tournaments with friends or other online members.
There are two modes to choose from in this game, including real-time or turn-based. The winner takes home a cash prize, which can be accessed anytime through PayPal.
Cash Tournament Availability: Everywhere except AZ, AR, CT, DE, IL, IN, LA, ME, MT, SC, SD, and TN.
Download Now:
---
14. Dominoes Gold
Apple iOS:

4.7

 

/

Galaxy Store:

4.5
There's nothing better than playing a classic game anywhere on your phone. Except maybe earning cash by playing your childhood favorites from your phone.
Dominoes Gold is a gaming app that lets you earn Ticketz by beating other players or the computer in a game of Dominoes. Each round you play earns you Ticketz, which can be traded for real prizes.
While Dominoes Gold is free to download, you may need to pay to play and increase your odds of winning Ticketz.
You can play by going head-to-head with other players, playing tournament style, or even competing in real-time matches. Each type of gameplay is a lot of fun and boosts your chances of earning Ticketz and real prizes.
See how I liked Dominoes Gold when I played it!
Available for Android and iOS devices.
Download Now:
---
15. Rewarded Play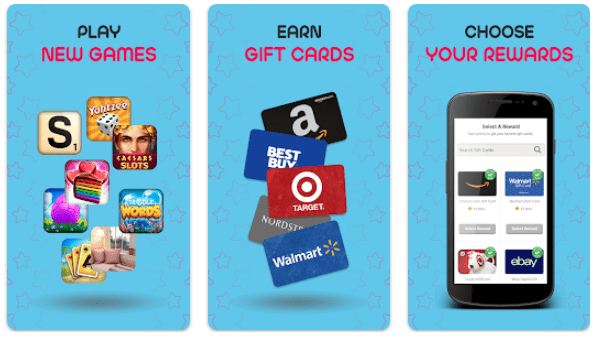 Do you get bored of playing the same game? Rewarded Play lets you get rewarded by playing various games that can help you earn gift cards.
Rewarded Play is a gaming app for Android users that lets gamers earn points as they play games through the app. The more points you earn, the more you can cash out later.
Users of Rewarded Play can play popular games like Wheel of Fortune, Bingo Blitz, Harry Potter – Puzzles and Spells, Words with Friends, and more. It's surprisingly easy to earn through Rewarded Play, and users report earning their first reward within two days of downloading the app.
Playing the games isn't the only way to earn gift cards through Rewarded Play. The game makers are even offering $5 gift cards when you invite friends to the platform, which is a great way to earn extra gift cards and get more friends to play with you. 
Available for Android devices only.
Download Now:
---
16. Blitz – Win Cash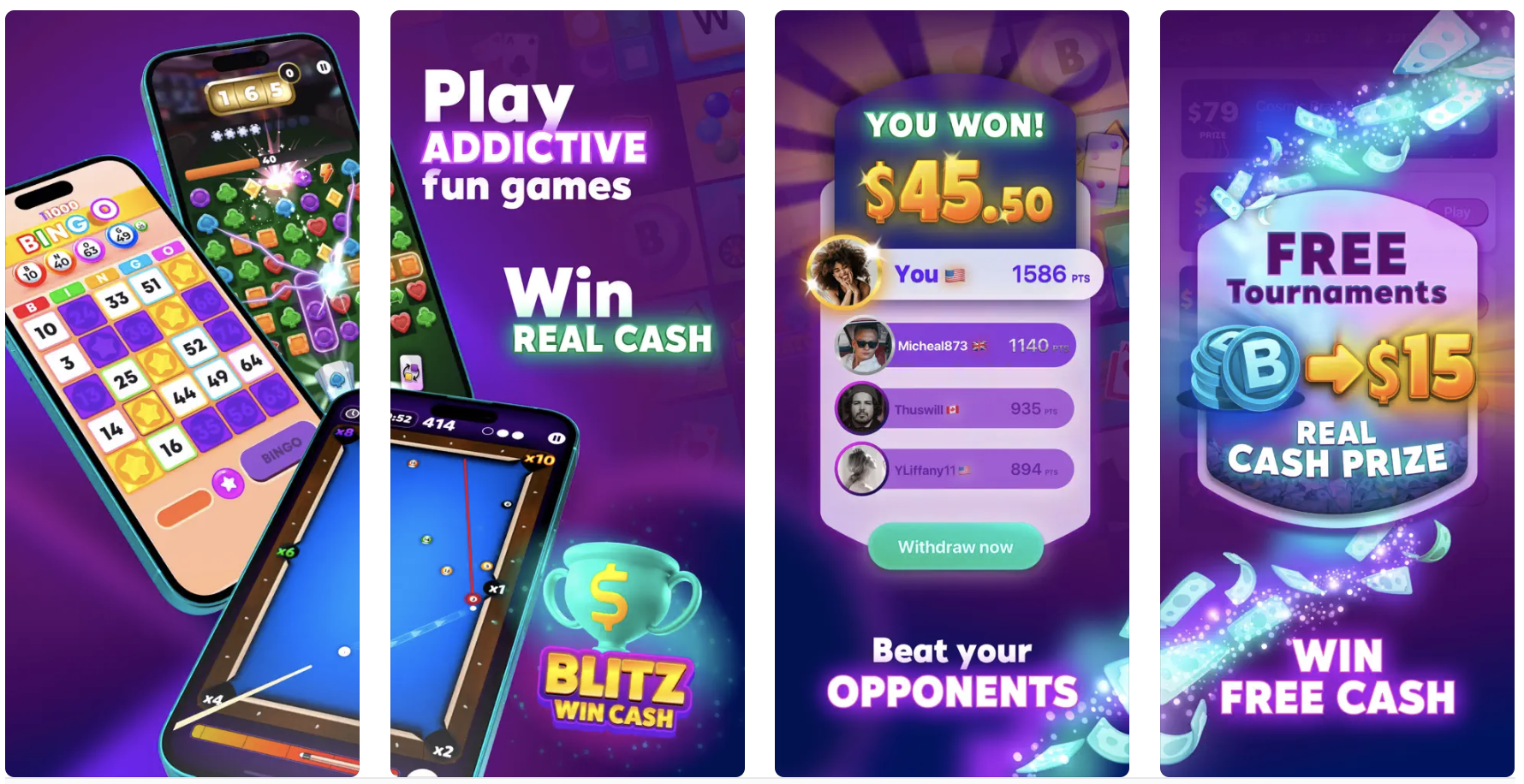 With the Blitz app, you can make money playing over ten games, including Bingo, Solitaire, Pool, 21 Black Jack, and Bubble Shooter.
To get started, you need to deposit cash to compete against other players for money. You can also play free practice games with coins and earn bonus cash and daily rewards that can be used to pay your entry fee for cash prizes.
Users can also earn bonus cash by referring friends to the app.
You can withdraw your cash balance, minus bonus cash, at any time. Blitz usually processes payments in less than a week and pays out withdrawals to your original payment method.
Blitz is currently only available to Apple users, but it's coming to the Google Play Store soon. It has over 132,000 reviews in the Apple Store, with thousands of positive reviews from players.
Download Now:
---
17. Bubble Cube 2
Apple iOS:

4.7

 

/

Google Play:

3.6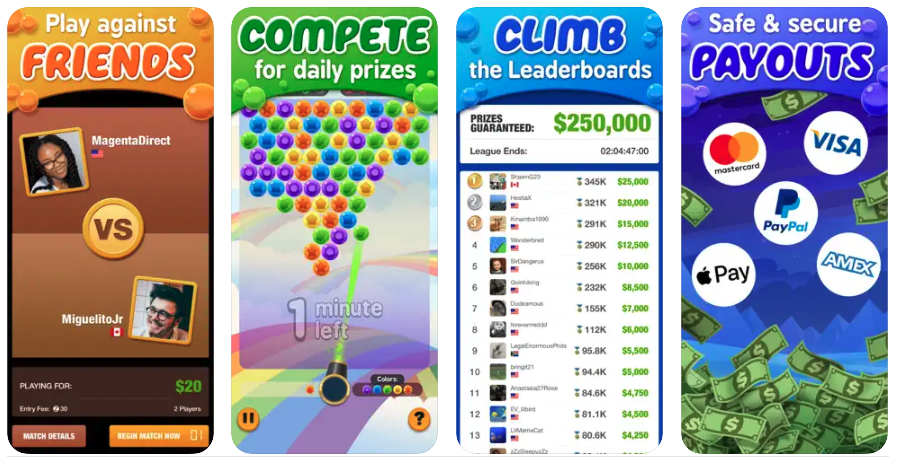 Do you find match three-style or bubble-popping games satisfying? Then Bubble Cube 2 is the next game you should download to your mobile device.
Bubble Cube 2 is a puzzle game available for download from the App Store and the Google Play Store.
As the name implies, Bubble Cube 2 requires players to shoot bubbles at other bubbles of the same color. The bubbles disappear when you get three or more in a row, allowing you to clear the board. It was created by Tether Studios, LLC, which also developed Solitaire Cube and 21 Blitz.
Bubble Cube 2 has different game modes that allow you to play for free or in tournaments for free money. The game is the same across all game modes, but you can only win cash prizes in modes that require a cash balance to play against other players. This includes head-to-head battles, challenges, brackets, and tournaments.
Available for Android and iOS devices.
Download Now:
---
18. Cashyy
Cashyy is a fun way to play new games and earn Amazon gift cards at the same time.
It's similar to other multi-game apps like Mistplay in which you can play different games in exchange for rewards. Through the app, you can win free gift cards by playing bingo games, trivia games, casino games, and more. You can download Cashyy for free and start playing immediately to earn free gift cards to popular retailers like Amazon.
Unfortunately, iPhone users won't be able to join in on the Cashyy fun. Cashyy is currently only available for Android device users and is available for download on the Google Play store. But don't fret, there are many other great iOS games for money you can start playing today.
Available for Android devices.
Download Now:
---
19. Spades Blitz
Apple iOS:

4.6

 

/

Galaxy Store:

4.0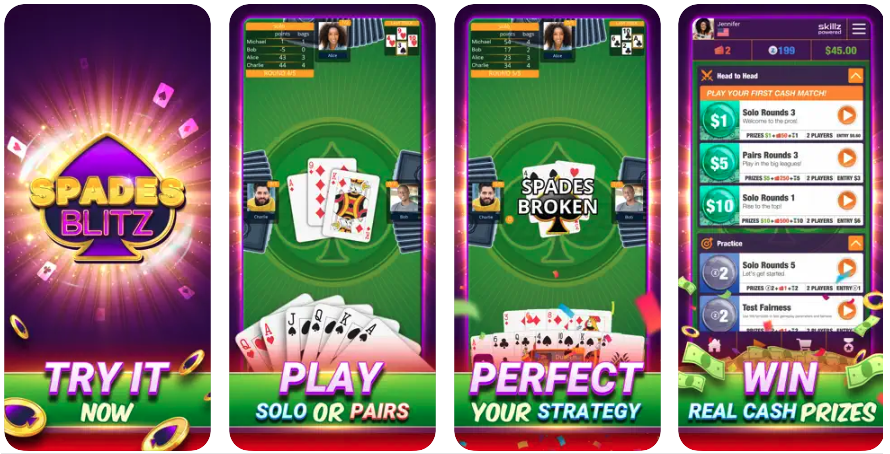 Spades are one of the most popular card games, and Spade Blitz is a way to turn a fun game into a side hustle.
Spade Blitz is a free app where users can play spades in exchange for free money. You can compete with players from across the globe according to their skill level. As you get better, you will move up the ladder and have the opportunity to sharpen your skills and earn more in cash tournaments.
While Spade Blitz is free to download and play, you must have a cash balance and pay an entry fee to be eligible for cash prize sweepstakes. If you win, you will be able to cash out through a secure withdrawal, PayPal, or mailed check.
Available for Samsung Galaxy and iOS devices.
Download Now:
---
20. Swagbucks LIVE 💰 $10 Bonus💰
Apple iOS:

4.8

 

/

Google Play:

4.3
Swagbucks now offers Swagbucks LIVE, a real-time trivia app that users can play to win rewards. The Android app gives you ten seconds to pick the right answer, and large cash prizes are given out to those who do so correctly.
As with all Swagbucks programs, Swagbucks LIVE rewards are distributed via Swagbucks points and redeemable via PayPal or gift cards.
In addition to Swagbucks LIVE, you can also earn money by playing games in the Swagbucks marketplace.
Some of the most popular games include Solitaire and Alu's Revenge. Swagbucks has a great selection that true gamers will love — and you might be able to make some free money online because of it.
21. InboxDollars 💰 $5 Bonus 💰
Apple iOS:

4.5

 

/

Google Play:

4.0
InboxDollars is an app that lets users earn real cash and gift card prizes by playing games online. Here's the best part: It doesn't cost a dime to participate.
InboxDollars connects users to game companies that want more players. These companies are willing to pay users just to play their games. It might sound like a scam, but InboxDollars is totally legit.
There are many fun and addictive games to try. So whether you're into arcade games, strategy games, action games, or word games, you can earn cash and prizes.
22. Swagbucks 💰$10 Bonus💰
Apple iOS:

4.4

 

/

Google Play:

4.3
Plenty of people want to earn money online in their spare time. One of the most popular ways of doing this is by taking surveys, playing games, and searching for products on Swagbucks.
Swagbucks is a website that rewards people for performing activities that market research companies need, such as taking surveys and playing games.
Swagbucks will reward you with SB points when you finish a task, which can be traded for gift cards and cash.
While you're not going to get rich by using Swagbucks, it's undoubtedly an excellent way to earn extra cash or a Starbucks gift card while binging your latest Netflix series.
Available online and for Android and iOS devices.
23. Bingo Win Cash
Apple iOS:

4.6

 

/

Google Play:

3.7
If you're looking for a game with a thriving community of players, look no further than Bingo Win Cash.
Bingo Win Cash is a mobile bingo app for Apple and Samsung Android devices with over 75,000 ratings. It is free to download and provides an uninterrupted gaming experience with zero ads.
To play, you will select a bingo match that pairs you against another player or multiple players. You will earn rewards as you win bingo rounds. You can withdraw your cash rewards to a PayPal account if you make enough money.
Available for Android and iOS devices.
Download Now:
---
24. FanDuel Fantasy Sports
Apple iOS:

4.8

 

/

Google Play:

4.7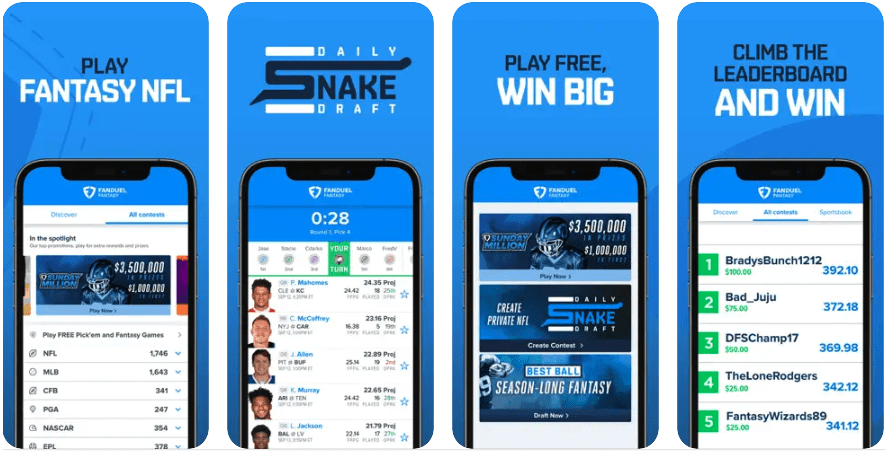 Are you a Fantasy Football fanatic? Or perhaps even just a sports betting enthusiast? If so, FanDuel is the site for you!
Founded in 2009, FanDuel is a fantasy sports-style betting site that allows fans to buy in on sports bets to win real money. They are so confident in their users' ability to earn that they offer players up to $1,000 in free bets if they lose their first wager.
FanDuel is easy to start and is available in most U.S. states. The only drawbacks are that it can be difficult to cash out, and there are no shared wallet options.
Available online and for Android and iOS devices.
Download Now:
---
25. AppStation
Do you love getting rewarded for trying out new free games? If so, AppStation should be your next download!
AppStation is an entirely free app and only available for Android users. It lets you win real money by downloading and trying out new mobile games.
This app rewards you for getting far in the games you test. For example, you will earn more if you play each game for more time and reach higher levels. After all, it pays to be an expert!
Available for Android devices only.
Download Now:
---
26. Spades Cash
Apple iOS:

4.6

 

/

Galaxy Store:

4.5
Brought to you by the maker of 21 Blitz and Bingo Cash, Spades Cash is a mobile game that pits players against each other in head-to-head tournaments to win real money.
Spades, like Solitaire, is a solo game, so Spades Cash plays people against each other by dealing the same set of cards and tracking points as people play. Whoever wins the round is rewarded with points that can be traded for cash later.
Available for Samsung Galaxy and iOS devices.
Download Now:
---
27. Bubble Shooter
Who knew you could earn cash from such a simple and fun game?
Bubble Shooter is a bubble shooting game only available for iOS users. The game aims to pop clusters of bubbles of the same color and earn points. Although it sounds like a straightforward game, you need to be strategic to earn the most points.
Bubble Shooter offers multiplayer tournaments that pit players of similar skill levels against each other. Whoever earns the most points in three minutes wins and has the chance to earn real cash!
Even though you won't get rich playing, Bubble Shooter is an addictive game in its own right. What better way to have fun and make extra cash, right?
Available for iOS devices only.
Download Now:
---
28. Lucktastic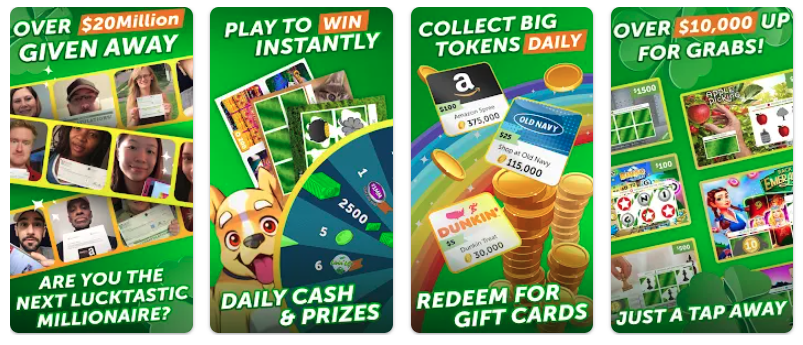 Are you the type of person who just can't get enough scratch-off tickets? If so, you're in luck. Thanks to some awesome game developers, you can now play scratch-offs online using a clean and efficient mobile app.
Lucktastic is an app that provides fun and easy scratch games. Simply "scratch" the cards and win cash prizes and in-app rewards (e.g., a gift card). The best part? It's free.
And while you probably won't win millions of dollars, you can still win great rewards and tokens while also entering sweepstakes and contests. For example, you could win a getaway weekend. Add it all up, and it definitely makes sense to participate if you're the kind of person who enjoys playing games.
Download Now:
---
29. Publishers Clearing House PCH+ App
Apple iOS:

4.6

 

/

Google Play:

4.3
Publishers Clearing House (PCH) has an app that offers daily prizes for tuning in and playing games. According to the company, PCH has issued more than $485 million in prizes since 1967.
Participants have the opportunity to earn cash prizes, gift cards, and brand-name merchandise. This is available through scratch cards and instant-win games.
The company claims you can win $2,500 with just one play. You can also unlock Treasure Chest Rewards and enter sweepstakes opportunities too. This app has many ways to win, so it's not something to pass up.
Download Now:
---
30. Big Buck Hunter
Apple iOS:

4.7

 

/

Galaxy Store:

4.5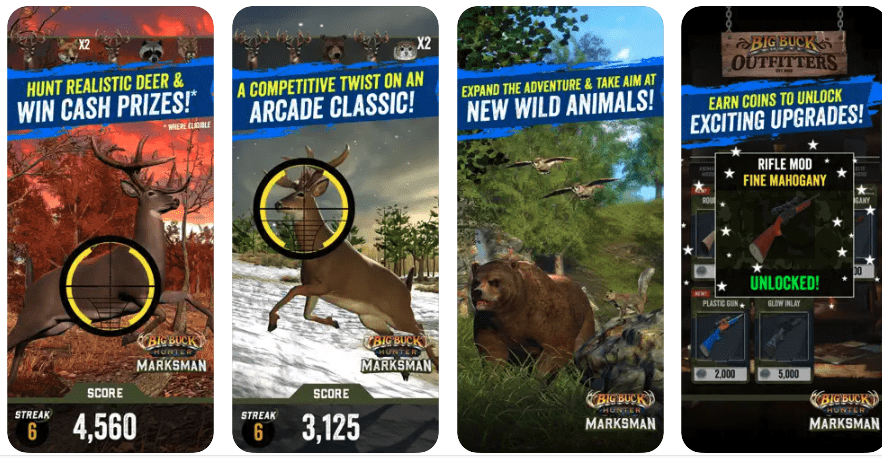 Whether you hunt bucks in an arcade or IRL, Big Buck Hunter appeals to anyone who wants to test their marksmanship and win extra money.
Big Buck Hunter is a mobile app adapted from the popular hunting arcade game. Like the arcade version, Big Buck Hunter lets you compete with other players to see who can score the most points by shooting virtual deer in virtual locations. It was created by Play Mechanix, which has developed other popular games like Minecraft Dungeons Arcade and Jurassic Park Arcade.
Big Buck Hunter rewards the most skilled players with in-game currency, known as Z coins, or real cash. You can also earn sign-up bonuses for encouraging friends and family to download the app.
Available for Samsung Galaxy and iOS devices.
Download Now:
---
Tips for Making Real Money With Game Apps
As you can see, there's no shortage of fun and great mobile games to take part in on your phone. With the right tools in your arsenal, the more you play, the more you earn.
With that in mind, here are some tips to help you get the most out of your mobile gaming experience.
1. Watch Your Usage
Many of these apps operate in the gray area between gaming and gambling. Whenever money is on the table, there's a fine line between the two. And this is where things can be problematic.
If you're thinking about playing games to win money, you need to watch your spending and make sure that you don't go overboard — especially if you use a pay-to-play app.
For the best results, stick with free games whenever possible and watch out for apps that offer paid card games and similar activities.
Remember: If you're going to gamble, it makes much more sense to do it in the stock market, where the odds are in your favor and you have some level of visibility and control. Gambling with online games can be risky and damaging to your health — especially if you get addicted and start gaming around the clock.
2. Grow Your Earnings
Most gaming apps don't offer substantial rewards. Sure, you can make a couple of bucks here and there, but it's probably not going to pay your rent or mortgage.
The trick is to be smart about how you manage your earnings so that you maximize revenue. Put your money into savings and investment accounts so you can turn $5 and $10 payments into more. Think of each payment as a seed that you need to grow and nurture through smart financial decisions.
Your best bet is to open a high-yield savings account, as well as a taxable or tax-friendly brokerage or retirement account.
3. Watch out for Taxes
When you're making money from game apps, you still need to pay Uncle Sam.
So set money aside for taxes to ensure you don't get blindsided by a fat tax bill due to side hustle revenue.
People are often surprised to learn they need to pay taxes on side hustle income and wind up getting slammed when taxes are due.
To make sure you're in good standing, talk to a tax advisor and tell them how much you're bringing in through side hustles. They may recommend paying estimated taxes if you're bringing in a lot in addition to your full-time job.
Alternative Side Hustles to Consider
Interested in making money outside of playing games? Here are some similar side hustles to look into.
Getting Paid to Drive
At the end of a busy day, you can always jump in the car and get paid to drive for a service like DoorDash, Uber, or Lyft.
These rideshare and food delivery services are an excellent option for people who want to bring in extra cash by picking people up or orders and simply dropping them off somewhere.
If you like driving and meeting people, why not give it a whirl?
Walking Dogs
If you want to bring in some more money on the side, look into walking dogs. This can lead to higher payments than you'd get from games — and you get to work with animals at the same time.
Dog-walking opportunities are available through the Rover app.
You can also test your personal network and look for people in your area who need help with their pets. Chances are, your friends and family need help walking dogs. You've just got to ask around.
Managing Social Media
There are countless organizations in your area that potentially need help with social media. If you're interested in social media, why not offer to help local companies by taking over their social media feeds and engaging with local consumers?
As an added bonus, this is something you can do from the comfort of your own home.
Frequently Asked Questions
Here are answers to some common questions about playing games for money.
Can you win real money with game apps?
It's important to read the terms and conditions of each gaming app before getting started. Some apps compensate users with only prizes, while other apps pay actual cash. At the same time, some apps offer both for customers.
In short, you absolutely can win real money with game apps. And even if you only get free gift cards, you can still potentially cash those in by trading them through a third-party service.
Learn More:
Are casino games a good idea?
Casino games can be a great way to unwind and possibly make a few bucks. But if you're eyeing a casino app as a serious revenue stream, you should be very careful. That's an easy way to lose money and get hooked on gambling.
There's a difference between playing cards and having a little side hustle and treating cards like a full-time job. If you think you may have a gambling problem, help is available.
Can I make money with online surveys?
Many sites that offer fun games, like Swagbucks, also enable users to make extra money by taking surveys. In other words, you can get paid just for offering your opinions about popular and emerging products and services.
Surveys also help brands improve their products. By taking surveys, you can provide critical feedback that helps companies make informed decisions and better overall solutions.
This is your chance to tell brands what you really think and get paid for the experience — a true win-win outcome.
The Bottom Line
At the end of the day, playing game apps on your mobile phone won't impact your personal financial situation all that much. While you might be able to make some money playing games, chances are you won't be able to make tons of cash pursuing this route.
That said, some free apps do issue big payouts via cash rewards, prepaid cards, and other giveaways. If you're a gamer looking to make some extra money while having fun, maybe it's time to start playing.
Who knows? You might hit the jackpot before you know it.
I'm rooting for you!
Our Methodology
To give you the most accurate recommendations for gaming apps that pay real money, we tested dozens of apps and evaluated thousands of customer reviews.
In our evaluation of each app, we factored in some of the metrics below:
Playability: We looked at each app's variety of gaming options, along with the app's interface and usability.
Customer ratings: We also compared customer reviews and factored in each app's average ratings.
Availability: Similarly, we looked into how easy each app is to access, honing in on apps that are available in the Google Play or Apple App stores.
Payment processing: We factored in how long each app takes to process payments, favoring apps with quick turnaround times.
Payout options: We also evaluated each platform based on how it pays out players, prioritizing ones that offer direct deposits and PayPal cashouts.
Bonuses: Additionally, we considered whether each app offers any bonus incentives that help you earn extra cash.