Whether it's a generous sign-up bonus or the opportunity to win real money in cash tournaments, there are plenty of fun game apps that pay instantly to PayPal.
There aren't any cash game apps that will make you rich — despite what those video ads say — but you can have a lot of fun and earn some money while you're at it too.
Game Apps that Pay Instantly to PayPal
Here are some great fun game apps that you can cash out to PayPal cash.
TIP: Not interested in playing games for cash instantly? Here are some other great apps that pay you real money instantly that aren't solely playing games.
1. Bingo Cash
Bingo Cash is another fun bingo game app that puts a fun, competitive twist on a classic, old-school game.
You'll win prizes for beating other players. For fairness, you are pitted against other players of similar ability. Everyone has the same game board, but you earn points for quick daubs and using bonus boosters.
The ultimate goal is to get a coverall board, but to win you just have to score the most points. Tournament games pay out prizes as high as $50 — or even more.
Download Now:
---
2. Blackout Bingo
Apple iOS:

4.5

 

/

Galaxy Store:

4.5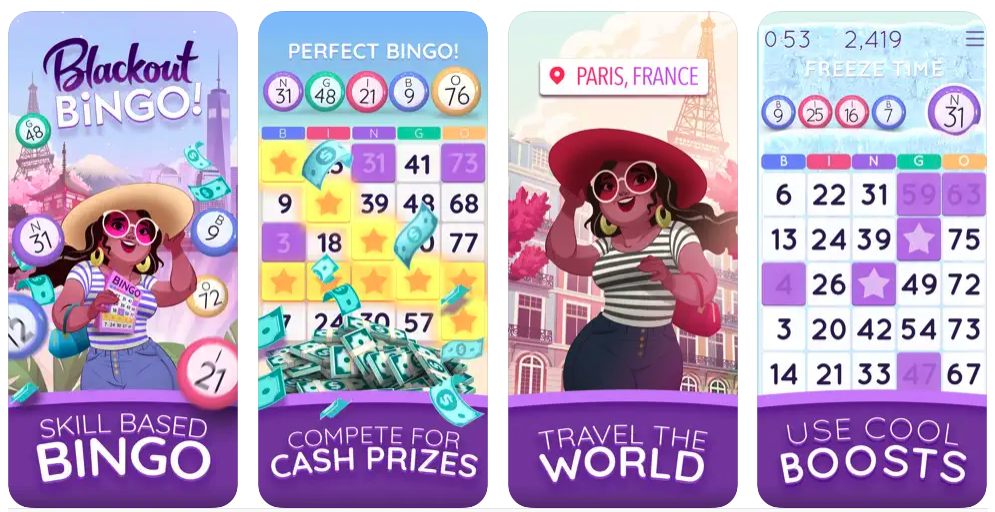 Blackout Bingo is one of my favorite apps because it has all the charm of old-school Bingo. But this popular app offers an exciting modern twist: the ability to play head-to-head with other players in a bid for cash prizes.
Blackout Bingo is available for both Android and iOS devices. Each fast-paced round (game) lasts about 90 seconds to 2 minutes. You and the other player both have the same card to ensure fairness. You win points for speed, skillful daubs, and deploying special in-app boosters like free number covers or extra time.
There are paid tournament games or free games for points and tickets. It's a fun way to add some exciting stakes to an otherwise tame game.
Download Now:
---
3. Solitaire Cash
Apple iOS:

4.6

 

/

Galaxy Store:

4.5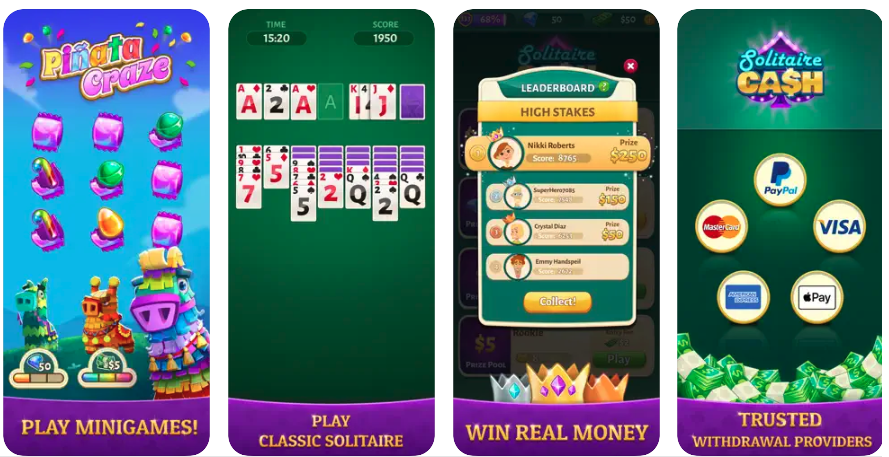 Solitaire Cash is a popular card game app that lets you compete against other players for a shot at cash prizes. It's a fun, competitive take on the classic 18th-century game. This app takes a game built for one and transforms it into a multiplayer tournament.
Papaya Gaming is the app's creator. Papaya is known for its global blockbuster titles like Bubble Cash, Bingo Cash, and Whirl Tour.
It's free to download and play Solitaire Cash. You don't have to wager or pay any money in order to play. There are many free games, including practice rounds and tournaments with no cash entry fee.
To ensure fairness, all players in the competition are given the same starting board and play a deck with cards in the same order. The ultimate goal is to clear all but the cards into their home cells, but you also earn points for accuracy and speed.
You're matched against players of a similar skill level, and the top three finishers with the most points win a prize.
Download Now:
---
4. Bubble Cash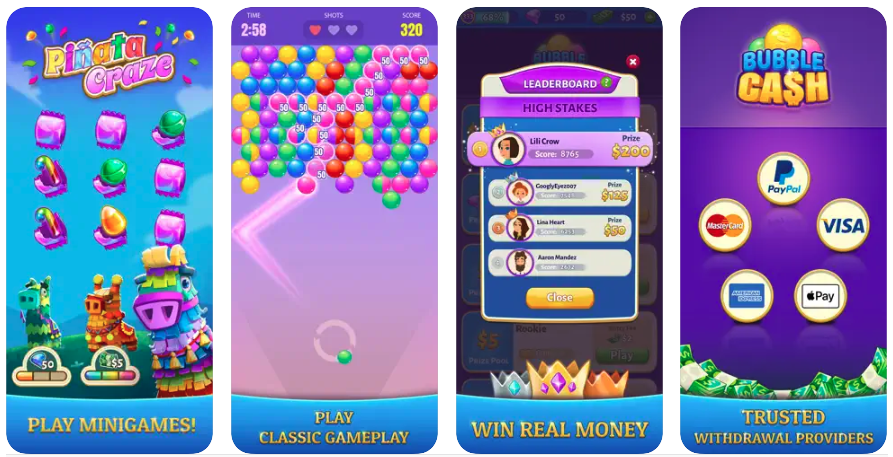 Bubble Cash is a classic twist on the fun bubble-popping game and one of the most popular (and addictive) games in the app store.
Battle it out head-to-head against other players in free games or cash competition matches. The goal is simple: out-pop your opponents to get the highest score.
Download Now:
---
5. Solitaire Cube
Apple iOS:

4.6

/

Google Play:

3.1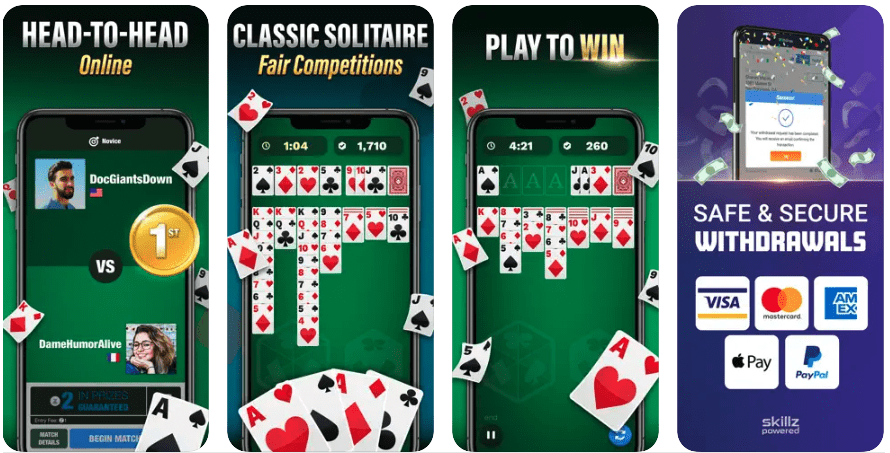 Solitaire Cube is a fun card game app that has found a way to make Solitaire exciting and competitive.
Powered by Skillz rewards, Solitaire Cube is featured in the iOS Apple and Samsung Galaxy stores. (Solitaire Cube is not in Google Play.)
Within the app, you can play free (practice games) or enter Pro League competition games for a shot at a cash prize. With either style of gameplay, all players have the same starting board and deck of cards to ensure fairness. Earn points for speed, accuracy, and each card you clear into its home cell. The player with the most points wins.
Cash out your earnings for PayPal once you've reached at least $10.
Download Now:
---
6. Money Well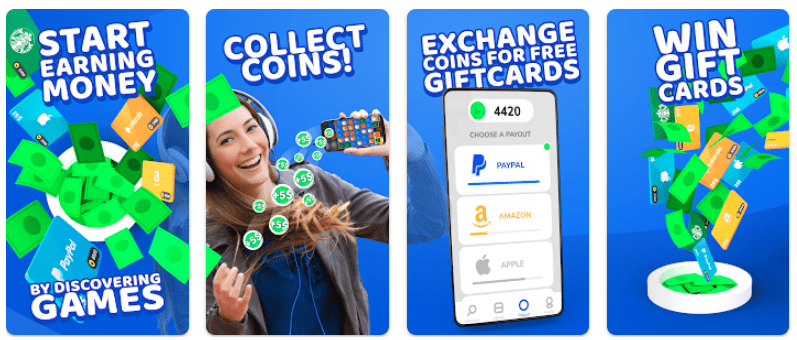 Money Well is a popular Android app that allows players to earn cash and PayPal rewards for downloading and playing popular new games featured in the Money Well library.
The list of apps is continually updated. It includes titles like Color & Friends, Farm Heroes Saga, Wheel of Fortune, and Pet Master. It even has many non-game apps like Amazon Shopper Panel.
You'll earn tickets for installing featured apps and for time spent playing any of the games — roughly 70 to 150 tickets per minute. Tickets can be redeemed for PayPal and you can cash out once you've reached at least $0.50 in earnings. Compared to other apps, this is an exceptionally low, minimal cashout requirement.
Download Now:
---
7. Kashkick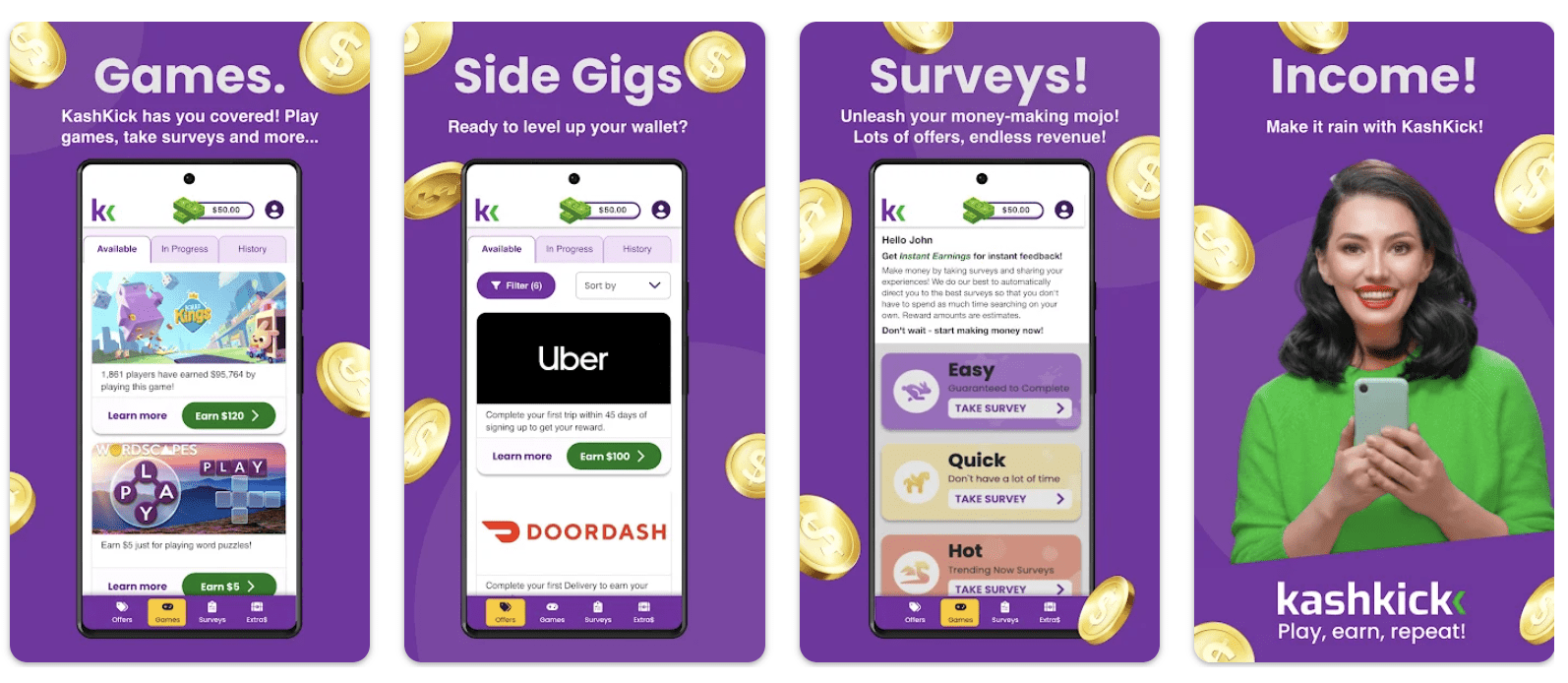 Kashkick offers users a way to earn cash for playing games and for a variety of other different tasks like taking cash surveys, shopping online, downloading other apps, or referring friends.
Tasks can pay anywhere from $0.25 to $125 or more. Kashkick's offers and list of games are continually changing. Featured game apps include Yahtzee, Dice Dreams, Club Vegas Slots, Scrabble Go, and Board Kings. You'll find games across every category though.
Kashkick's cash rewards for playing games are particularly generous. Earn bonuses of $20 to $125 for any of the featured games. To earn the associated reward, you typically need to install the game and complete a certain level of the app within a certain number of days.
I have earned several hundred dollars in cash rewards through collecting these types of game bonuses.
Once you reach at least $10 in KashKick earnings, you can cash out through PayPal or an eGiftcard.
Download Now:
---
8. Mistplay

Similar to Money Well featured earlier on this list, MistPlay connects players with a library of games across all different genres.
Worldwide, MistPlay has millions of users and over 100K positive reviews. Mistplay boasts the hottest, most well-known titles on the market. Its exciting list of games includes Candy Crush Saga, Pokemon Go, Super Mario Run, Fruit Ninja, and Wordscapes.
Earn units for each game you download, your total minutes of gameplay, and any in-app purchases that you make. Cash out via PayPal once you reach at least $10 in earnings. With alternate payout methods, you may be able to cash out sooner.
Download Now:
---
9. Rewarded Play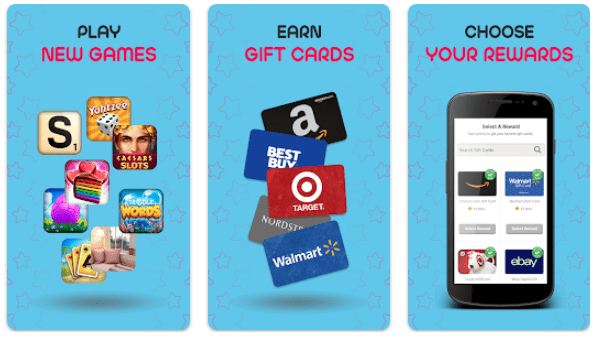 Rewarded Play is a popular cash game app similar to Money Well or Mist Play.
You can win free gift cards for downloading and playing different featured games. Featured game titles include Scrabble Go, Toon Blast, and Wheel of Fortune.
Rewarded Play is only available for users in the United States and Canada.
While you can't earn PayPal through Rewarded Play, the gift card reward options include Amazon, Walmart, and Target — options just as good as PayPal cash. And you can cash out with a minimum of just $5.
Download Now:
---
10. Blitz – Win Cash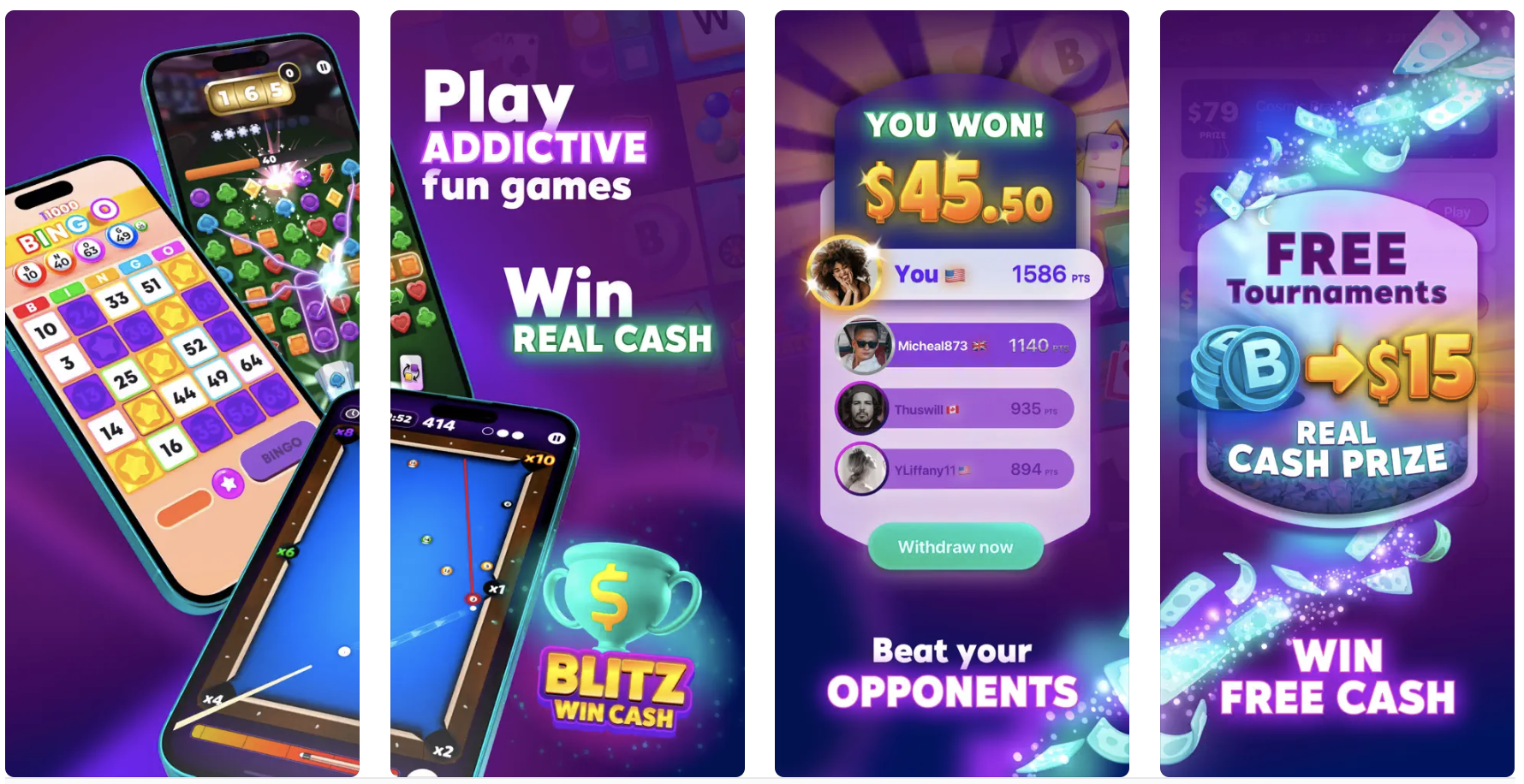 Blitz is the ultimate real cash app for gamers. Play your favorite game apps like Mahjong, Spider Solitaire, or Ball Blast and compete for real cash money prizes.
Pit your skills against other players from around the globe. You can play daily challenges, weekly contests, and head-to-head or multiplayer tournaments.
Cash out your cash earnings via PayPal, Venmo, or Apple Pay, or directly to your bank account.
Download Now:
---
11. CashPirate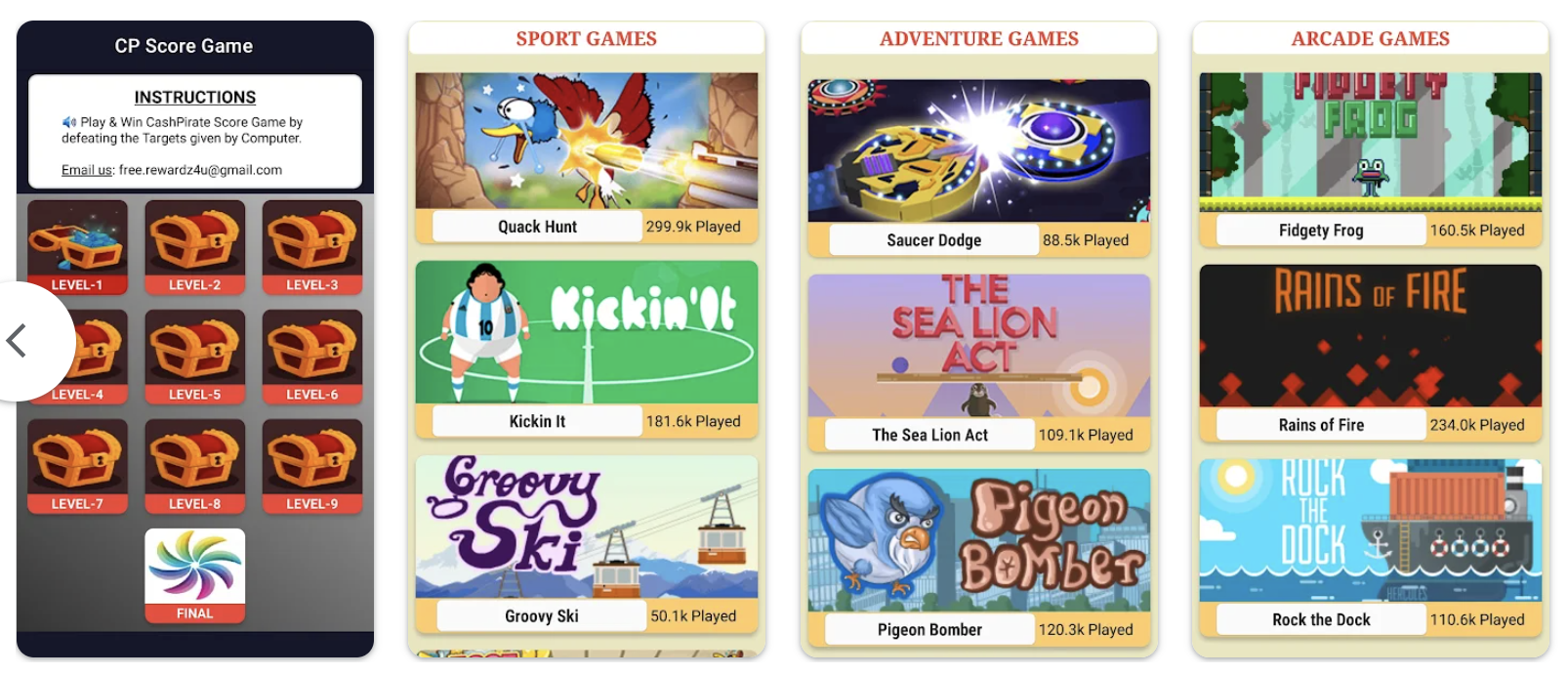 CashPirate connects users with a collection of fun, free games, quizzes, and tasks. App users can earn free cash for completing featured activities.
Tasks featured in the app include paid surveys, watching free trailers, and signing up for free product samples or product trials.
Earn virtual coins in CashPirate for playing games and completing these tasks. Once you reach at least 2,500 coins — equivalent to $2.50 — you can out your earnings. Reward options include Amazon gift cards, prepaid Visa cards, prepaid mobile cards, or PayPal.
Download Now:
---
12. Gamehag
Gamehag is similar to CashPirate and Mistplay. This game-centric website rewards you for playing games and completing a range of different tasks, including leaving reviews.
To quote many Gamehag players in community forums, Gamehag has an "insane" large selection of games including many popular gamer titles like Grand Theft Auto, Fallout, War of Thunder, Rift, Magic: The Gathering Arena, Star Trek Online, Rise of Kingdoms, and Guild Wars.
Unlike many other apps on this list, users can play games for Gamehag on their computer or laptop too. As you play any Gamehag games, you'll earn soul gems (the app's form of reward currency). Redeem soul gems for free Steam games, gift cards, and other featured prizes.
Gamehag does not pay directly via PayPal, but you can cash out a prepaid Visa card from this rewards app which is just as good.
Download Now:
---
13. Cashyy

Cashyy is another app to pay real money for playing a variety of featured mobile games. You'll earn in-app coins for installing and playing different sponsored games and for completing specific missions within the games. The longer you play a game and the further you progress, the more coins you'll earn.
Cashyy's selection of games isn't as extensive as Gamehag or Mistplay, but it is a quicker way to make money online and cash out. You can cash out via PayPal with as little as $0.20 in earnings (or 2,000 coins), although you probably want to build up your points toward a larger prize.
Beyond PayPal cash, you can redeem game coins for Steam codes, Google Play credits or gift cards, or Amazon gift cards.
Download Now:
---
14. Drop
Drop is a popular cash-back app that pays you for shopping at your favorite stores. It's a bit similar to Rakuten or Honey. Use the Drop app online on your laptop, or on your iPhone or Android device.
While cash-back shopping isn't the same thing as playing games, the Drop app does gamify the shopping experience. And if you already shop online, you might as well claim free cash back awards that Drop offers.
Additionally, Drop has its own small (growing) selection of apps that you can play to earn rewards, like Mahjong, card, or puzzle games. You can earn $5 to $15 (or more) for downloading featured game apps and playing until you reach a certain level.
Drop doesn't offer PayPal right now, but you can earn gift cards for top brands like Amazon, Target, Costco, or dozens of other stores.
Download Now:
---
15. appKarma
appKarma is a free rewards app that pays you PayPal cash and gift cards for completing various online tasks like installing new apps, watching videos, earning scratch cards, completing in-app offers, or earning location rewards.
appKarma doesn't have the largest selection of game apps, but it does have a large variety of genres and games, including Dominoes BIG, Cash Tornado, Guns of Glory, and Coin Master.
You'll know upfront how much you'll earn for each game and what you'll need to do to earn the reward. Commonly, you'll need to play a minimum number of minutes of the game, reach a streak (i.e., play a set number of days in a row), or reach a specific accomplishment within the app.
You can redeem your rewards for free PayPal cash. The minimum payout is only $3, so it doesn't take long to cash out.
Download Now:
---
16. AppStation

AppStation is a top-rated game app that will pay you cash prizes and gift cards for playing popular games like Wordle, Globle, or Wordly, on Android devices.
In exchange for playing games, you can earn virtual game coins that are redeemable for PayPal cash or gift cards. The longer you play a game, the more coins you'll earn. Some games pay out more coins per minute than others.
While the earning potential is low, it is completely free to play, has an easy, sign-up process, and a user-friendly dashboard.
Once you've reached at least $5 in earnings you can cash out. Redemption offers include gift cards or PayPal.
Download Now:
---
17. 21 Blitz
Apple iOS:

4.6

 

/

Google Play:

3.7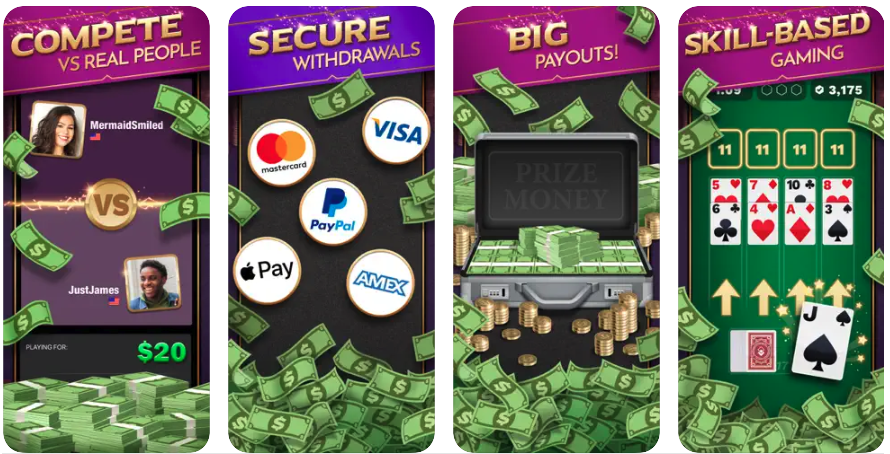 21 Blitz is a popular app game that is a blend of Solitaire and Blackjack. Train your brain, practice card counting, and earn instant PayPal money. A Tether Studios app game, the reward features are powered by Skillz.
With each game round, the goal is to make 21. Fast-paced, you complete most game rounds within 3 minutes.
In addition to cash or tournament games, you can play free games too in order to win tickets, Z points, and move up the top of game leaderboards.
Cash out your earnings once you reach at least $10. Payout options include Apple Pay, prepaid credit cards, or PayPal.
Download Now:
---
18. Pool Payday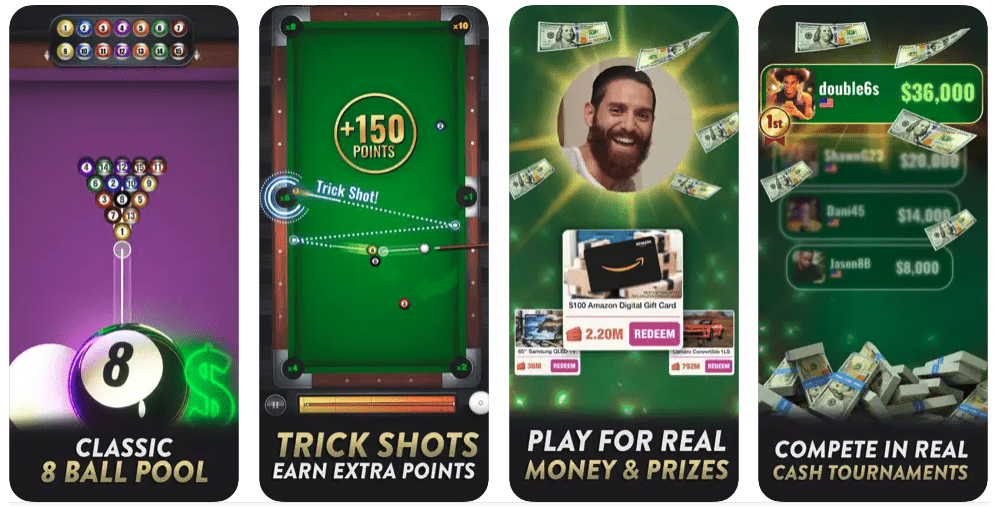 This popular billiards game app is a popular way to earn cash and other daily rewards. This app works for Android and iOS and is easy to install and play on your phone.
You can play free games (to win ticketz for real-world prizes) or enter cash tournaments. Cash tournaments pay both ticketz and cash awards.
Download Now:
---
19. Quick Rewards
Quick Rewards is mainly known as a survey app, however, it offers users in the U.S., U.K., or Canada more than 50 different ways to earn PayPal and other prizes.
Earn rewards for watching videos, shopping online, completing offers, or playing games. The list of games isn't as long as Mistplay or Gamehag's, but it does include a vast collection of titles like Wealth Words, Mahjongg, or Match 3.
Since 2002, Quick Rewards has paid out $7 million in rewards to its users. Redeem your earnings for PayPal cash or gift cards to over 50 popular retailers, including Amazon, Gamestop, Disney, or Home Depot.
Download Now:
---
20. Brain Battle
Apple iOS:

4.7

 

/

Google Play:

4.5
Brain Battle is a great app for brainiacs in the making. Play math games, build your skills, and earn rewards. Brain Battle is offered for both Android and iPhone game players.
In the iTunes Store, Brain Battle has a 4.7-star rating out of 5 stars. In Google Play, Brain Battle has a 4.5-star rating out of 5 stars.
As you play math quizzes and games, you'll earn tickets for cash prizes or PayPal. Cash out once you reach at least $5 in earnings.
Download Now:
Frequently Asked Questions
Here are some popular FAQs about game apps that pay PayPal or cash rewards.
Can I really make money with PayPal for playing games?
Yes, you can! We've shared a list of different games that will pay you PayPal, gift cards, and other prizes for playing different apps or online games. Many game apps offer you other ways to earn rewards too, like referral bonuses for inviting friends, answering surveys, or installing other non-game mobile apps.
How do you get your money on PayPal from playing games?
The process is quite simple. Link your PayPal account to a game app when you sign up or when you cash out. You just need to enter your username and your password for the payment to get processed.
Our Methodology
To give you the most accurate recommendations for gaming apps that pay real money, we tested dozens of apps and evaluated thousands of customer reviews.
In our evaluation of each app, we factored in some of the metrics below:
Playability: We looked at each app's variety of gaming options, along with the app's interface and usability.
Customer ratings: We also compared customer reviews and factored in each app's average ratings.
Availability: Similarly, we looked into how easy each app is to access, honing in on apps that are available in the Google Play or Apple App stores.
Payment processing: We factored in how long each app takes to process payments, favoring apps with quick turnaround times.
Payout options: We also evaluated each platform based on how it pays out players, prioritizing ones that offer direct deposits and PayPal cashouts.
Bonuses: Additionally, we considered whether each app offers any bonus incentives that help you earn extra cash.