Bubble shooter games — where you line up three or more bubbles in a cluster and make them go "Pop!" — are just so satisfying. It's a blend of strategy and old-school arcade fun, and just a relaxing, mindless way to fidget with your phone while watching TV.
Bubble shooter games are popularly found in arcades and in web-based gaming libraries. But there are a number of cash app versions out there too, like Bubble Cash.
What is Bubble Cash?
Bubble Cash is a popular cash game app available in the Samsung Galaxy and iTunes App stores. You need strategy, skill, and speed to win this game. Aim for and pop bubbles on your screen, out-popping your opponents to get the most points.
Papaya Gaming, based out of Tel Aviv, Israel, is the app's developer and creator. Papaya is a popular and trusted game-maker, known for its chart-topping apps like Bingo Cash, 21 Cash, and Solitaire Cash.
By and large, Papaya's games are classic games re-imagined. They offer players the chance to pit their skills against other players around the globe, and the opportunity to win real cash prizes.
Is Bubble Cash Legit?
Apple iOS:

4.6

 

/

Galaxy Store:

4.5
Yes! Bubble Cash is an extremely legit game that's featured in both iTunes and the Samsung Galaxy Store.
In iTunes, Bubble Cash is currently ranked number 5 in the Casino app category. Bubble Cash is also featured in the Samsung Galaxy Store with excellent ratings.
You can play paid games or free practice games.
How to Earn Money with Bubble Cash
Here's how to get started playing Bubble Cash for cash prizes.
1. Install the App
Install the Bubble Cash app in iTunes or the Samsung Galaxy Store. There are many other bubble shooter games with similar names and images in the listing. Make sure you see Papaya Gaming listed as the developer.
In iTunes, you can also search for the game by its app ID number: 1475514684.
2. Set Up Your Player Profile
Choose a player name and upload a picture. Bubble Cash will recommend a default player name and avatar. You can go with their suggestions, or get creative. Not feeling very witty or original, I just went with the default name choice: DefeatedPin684.
(While the name, fortunately, did not prove to be prophetic I found it funny that their name generator would recommend a name with the word "Defeated" in it.)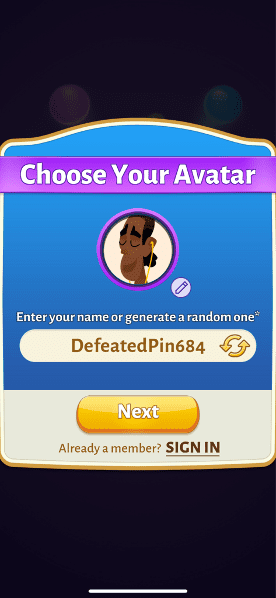 3. Play the Tutorial
After setting up your game ID, you'll be guided through a quick tutorial of how the game works. It was short and sweet: shoot at bubbles, matching them by color. When there are three or more grouped together, you can clear the cluster of colors.
4. Play Free Games
After the tutorial, I was directed to my first real game against other players. I came in first and won $0.70. (The second and third-place finishers won $0.50 and $0.30.) At first, I found this confusing because I had not wagered any cash — or even funded my account.
After the Bubble Cash tutorial, you can play a free cash game for a shot at the $1.50 prize pool.
I played the free cash game Bubble Cash offers players after doing the tutorial. I came in first and won $0.70.
But these were bonus cash prizes. Occasionally, you can win free cash in Bubble Cash for activities other than winning a cash game.
I suspect Bubble Cash has a free, cash prize tournament upfront to show you how exciting it is to win and to encourage you to fund your account so you can play more cash games. Especially since $0.70 isn't enough to pay the entry for any cash prize pools; you need at least $1.
How the Free Games Work
Even after playing the tutorial and free cash match, we recommend you stick with free games. These are called "Gems Factory" matches and require an entry fee of 20 gems.
Gems are Bubble Cash's in-app, virtual currency. Gems are mainly used to pay your entry fee (20 gems) for non-cash Gems Factory games. Here, you are competing against five other players for a shot at a prize pool of 120 gems.
The top three finishers win a prize: 60 gems, 40 gems or 10 gems. Use these gems to fund additional Gems Factory matches or to enter freeroll tournaments.
Freeroll tournaments are cash prize tournaments that are free. There's no cash entry fee required, but there is a virtual currency entry fee of 1.2K gems. It takes a lot of smaller wins to amass enough gems to enter—and win—Freeroll games.
Here's a view of some of the different types of tournaments you can play in Bubble Cash. This includes free Gem Factory games and free cash "Freeroll" games.
5. Fund Your Account
When you're ready to start playing for cash, add funds to your account. Just tap your account balance in the upper right corner of the screen. Even if you don't have any money, it will still show a balance of $0.00.
You can fund your account with $3, $5, $15 or $25. (These amounts can and do vary, but these were the featured deposit amounts when I wrote the article.)
Available payment methods are Apple Pay, PayPal or credit card (Visa, Mastercard, American Express).
A cash bonus was offered for deposits of $15 or greater. A $2 cash bonus was awarded for a $15 deposit or a $3 cash bonus for a deposit of $25. (Cash bonus rewards are always changing; these particular bonus amounts are relatively stingy.)
6. Play Cash Games
Play Bubble Cash games for a shot at prize pools ranging from $5 to $113. Pools for $5 are always available, but prize amounts for larger pools (greater than $70) fluctuate with changing promotions.
Most cash tournaments are for 6 to 7 players with the top 3 finishers sharing the prize. The first and second-place finishers will win a prize greater than their entry fee. The third-place finisher will win a small consolation prize less than the entry fee.
For example, this is the structure of a $12 High Stakes game:
1st place: wins $6.70
2nd place: wins $3.80
3rd place: wins $1.50
It's a 6-player game with each player paying a $3 entry fee. A total of $18 is paid into the pot. The house, Bubble Cash, keeps $6 of the pot and the remaining $12 is distributed in prize earnings to the top three players.
The other cash games have a similar structure. For some larger prize pools (that are open to more players), the 4th place finisher will win a small prize too.
Here's a screen grab of some of the cash tournament games available in Bubble Clash. These particular games are tied to the game's spring "Easter Delights" promotion.
Bubble Cash has a "Diamonds" Cash game with a $10 prize pool. The entry fee is a hybrid payment of $1 in cash and 600 virtual gems.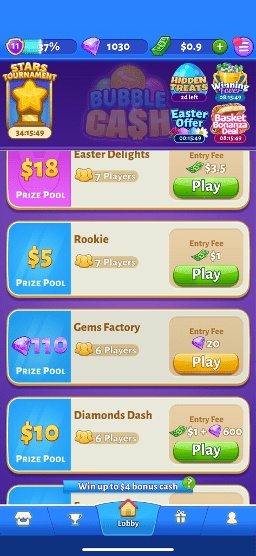 Earning Potential
You can win small, and sometimes large, cash prizes for playing Bubble Cash, but you can't "earn" money. This classic bubble shooter game does require speed and skill to win, but it's still gambling.
Clearing $3 to $5 a day is probably doable for most players — with a decent skill level and enough discipline to play every day. This shakes out to an extra $90 to $150 a month, which is a decent chunk of extra cash for popping colored bubbles from your phone.
But figures beyond that are very challenging to achieve. It does happen for a small percentage of players, but they may spend several hours a day practicing to give them an edge.
How to Cash Out on Bubble Cash
You can withdraw your winnings via PayPal. To cash out on Bubble Cash, you'll need to first register your account.
Tap on the "Account" icon in the lower right corner of the screen.
Register your account by providing some basic contact info.
Enter the 6-digit code sent to your cell phone via SMS.
Select the eligible amount you want to withdraw.
Cashing out requires a minimum balance of at least $5, and withdrawals are processed via PayPal. According to the Bubble Cash payment help article, it can take 2 to 14 days to process your payment, and there is a $1 fee for any payment request.
When you cash out on Bubble Cash, you'll need to register your account and provide contact information.
Bonus cash is not eligible for withdrawal. If you deposit or earn money from paid game modes, you can withdraw it from your cash balance. Bonus cash can't be withdrawn.
Bonus cash is the free cash players may be gifted for different activities (i.e., making a deposit) and can be used to fund your cash entry for tournaments, but it is ineligible for withdrawal. Only the money that you deposit or win in cash games may be cashed out.
Any cash-out or withdrawal request comes with a $1 handling fee.
Withdrawing available funds is as easy as selecting "Withdraw" from your account menu and selecting how much you want to take out. You must enter a valid PayPal email to receive funds. You'll usually receive your money in three to five business days, but it could take up to 14 days.
Pros and Cons
As with any app game, Bubble Cash has its pros and cons.
Pros
Bubble Cash is no scam; it's a fun, legit game that gives players a chance to pop bubbles and win extra money.
You can play Bubble Cash from your Android, iPhone or iPad.
The game is popular and trusted by players with an average rating of 4.5 stars (out of 5) on Samsung Galaxy and 4.6 stars (out of 5) on iTunes. App reviews are overwhelmingly positive.
Play Bubble Cash for free. You can play free games and win virtual gems that you can use to play and win more free games, or to play freeroll
You can use free bonus cash to pay your entry fee for cash games.
You don't have to pay any money to enter cash tournaments and win money. You can win gems from playing free games and use those gems to fund your entry into cash games.
High cash prizes. You can enter cash tournaments for prize pools of up to $113, or occasionally an even higher amount of money.
Games are multiplayer versus heads-up (1:1). Most games are for 6-7 players and there are multiple winners. Instead of one winner taking all, 3 players share the prize pot. The top three highest scores
Easy to cash out funds to your PayPal account.
Earn $1 referral bonuses for inviting friends via text, email or social media. Get $1 in free bonus cash for every friend who signs up.
The support team is very responsive, replying to emails, reviews and other inquiries very quickly.
Cons
Bubble Cash is a skill-based game, but it is still a casino game. Players wager money, and you can lose just as easily as you can win. If (the thought of) losing any of your own money is unacceptable, you'll want to steer clear of any of the cash games.
The game is not available on Google Play. (Android players, however, can download this game to their devices from the Samsung Galaxy Store.) This is to do with Google Play's (arguably inconsistent) policy on cash-wagering apps.
Bubble Cash gets increasingly harder. The more you play, the more your skill level As you're matched against players of the same skill level, your competitors get better as you get better. It gets harder, not easier, to win. (You are playing against real human players, not bots, but it's still challenging.)
The game is more exciting and fast-paced (it is timed) than slow and relaxing. For some people, this may be more of a pro than a con.
There is a $1 processing fee to cash out.
Alternatives to Bubble Cash
If Bubble Cash isn't really your thing, there are other games and side hustles you can check out to make money online.
Other Mobile Games
There are loads of popular, mobile app games that pay cash prizes:
Other Cash Apps
There are a number of other cash apps and reward apps that you can use to earn cash and free gift cards.
Frequently Asked Questions
Here are some of the most frequently asked questions about the Bubble Cash app.
Does Bubble Cash Really Pay?
Yes! Bubble Cash is a legitimate cash game app that pays members via PayPal. You can read review after review from players (in the app store) who have earned real cash for playing this game.
Like these reviews from players Mzmaribelle and jjsimmer94 in iTunes:
"I just won $12 yesterday Sunday and today Monday it was already in my PayPal account." — Mzmaribelle
"I put about $9 into it of my own [money] and I have almost $25 from tournaments." — jjsimmer94
How Much Does Bubble Cash App Cost?
It's free to download and play the Bubble Cash app. If you want to play in cash tournaments, you will need to deposit cash ($3 to $5 is the minimum deposit). The entry fee for cash wager games starts at $1.
Additionally, you can play free games to win virtual gems that you can use to compete in special freeroll games for a shot at cash rewards.
What is the Key to Winning Bubble Cash?
Based on installing and playing the game myself, and reading other player reviews, there are a few key things to do to win at Bubble Cash.
Amass as many gems as possible. Beyond winning free games (with a 120 gem prize pool), take advantage of the daily bonuses, watching optional videos (ads) to win up to 50 gems per day, and various free gem giveaways.
Use free gems to play and win free cash games (freeroll tournaments).
Play as quickly as possible, in a distraction-free setting. You earn bonus points for speed.
Pop as many bubbles as possible at a time. Focus on clearing higher rows to clear out multiple bottom rows below.
When you are near the end of the game with just a few bubbles left, keep adding more bubbles (rotating every other for color). Then clear out the top row bubble(s) when there are at least 20 seconds left. You'll get a bonus for clearing out that row and knocking out extra bubbles while you're at it.
Is Bubble Cash Worth It?
If you're looking for an enjoyable game to play—and the thrill of a little cash on the line–Bubble Cash is a great choice for you.
If you can't stomach the thought of losing any cash, stick with the free rounds.
And if you're in need of a more regular monthly stream of money, you'll need to find a hustle. Luckily though, we've got you covered with this great list of side hustle ideas.