Ibotta is an app that pays you cash back on both in-store and online purchases.
When you shop at major retailers like Walmart, Target, or Sam's Club, you can pay for items right within the Ibotta app. You can also upload your receipts to the app and receive cash back within 24 hours.
This post is going to walk you through how Ibotta works, which stores you can use it at, and how much money you can make using the app.
What is Ibotta?
Ibotta is a cash back shopping app and browser extension that you can use to earn cash back on your everyday purchases.
While Ibotta is heavily associated with cash back at grocery stores, you can also earn cash back on non-grocery purchases as well at pharmacies, restaurants, gas stations, and more.
Ibotta currently works in over 300 in-store retailers including Target, Walmart, Food Lion, and QuickTrip just to name a few.
But 300 in-store retailers is not where it ends, with the mobile app you can earn cash back in-store and online shopping at over 500,000 locations.
To date, the app has more than 40 million users and has paid out over $1.2 billion in cash to its members.
Is Ibotta Legit?
Yes, the Ibotta app is a legitimate cash back rewards site and free app. The company was founded in 2012 by Bryan Leach, and the company is headquartered in Denver, CO
Ibotta has a 4.8 out 5 star rating in the App Store with over 1.5 million customer ratings and a 4.5 out of 5 stars on the Google Play Store with over 607,000 customer reviews.
Trustpilot has scored Ibotta a 4.2 out of 5 with over 1,200 customer reviews with over 60% of those being Excellent ratings.

How Does Ibotta Work?
Ibotta can be used to earn cash back both at retailer locations and while shopping online. Here's how it works.
Online Shopping with Launch from Ibotta
You can easily activate cash back offers when you launch your online shopping trip from the Ibotta app or web browser. They are partnered with over 2,000 online retailers (and yes, Amazon is one of them!) so there are tons of opportunities to earn cash back online with Ibotta.
Ibotta makes this very easy for you. Simply open Ibotta on your computer and use the search bar for the online store you are about to shop with or browse all available online stores and click "Shop" on the retailer of your choice.
Let's say you were going to shop at Walmart.com, after you click on "Shop" you will be sent to the Walmart.com site with your cash back activated and ready to start earning.
Shop In-Store with the Ibotta App
To earn cash back at your favorite retailer, let's use Walmart as an example, open up the app and click the Find Offers button.
Next, add the offers you're interested in into your account. Since you plan to go grocery shopping at Walmart, you can filter any offers specific to that brand. In some instances, you may have to answer a quick survey about the product you're adding. The app might also display a recipe related to the product.
Once you've identified the offers that you're interested in, it's time to go shopping. Just go to your neighborhood Walmart store and make your purchases like you normally would.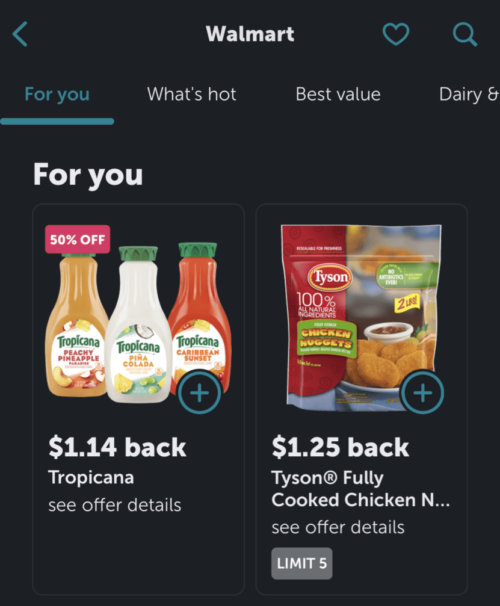 Once you're done, you then need to upload your Walmart receipt using the app's camera function to submit a photo of your receipt and earn cash back.
When a receipt is uploaded by scanning the barcode, Ibotta automatically cross-references the offers you previously selected before you went shopping with the completed purchases on your receipt.
When it finds a match, you'll be asked if you want to redeem the offer for cash back. If everything looks good, you can process the receipt, and you're all set!
Connecting Loyalty Accounts
If you want to skip the step of having to submit your receipt by taking a picture in the app, you can connect your store loyalty accounts.
Ibotta has relationships with most major retailers. As such, it's also linked with these retailers' loyalty accounts.
To link a loyalty account, open the app and select the retailer you plan to visit. Next, click the Link Account button at the top of the app, which will enable you to submit your existing loyalty account information or sign up for a new one.
Once the process is complete, Ibotta automatically gives you cash back for purchases made at that store—provided that you use your loyalty card when finalizing the transaction.
Refer Friends and Family
In addition to rebates on in-store and online purchases, you can earn cash back by sharing your unique link with your friends and family. When they sign up using your code, you and your friend get an extra $10 in cash back!
Pay with Ibotta Gift Cards
Ibotta is partnered with over 150 nationwide stores and restaurant chains. When you use the gift cards with the Ibotta feature, you'll instantly earn cash back and discounts on in-person purchases right from the Ibotta app. You can also save up to 10% instantly—all without having to use any coupons.
For gift cards, you first have to add your debit or credit card to your Ibotta account (under the Payments section). You'll then make your purchases and display the Pay with Ibotta gift card code to the cashier at checkout. Once the cashier scans this code, you'll pay for your items and instantly earn cash back.
If you frequently dine at Chipotle, Applebee's, Olive Garden, Steak and Shake, Peet's Coffee, Starbucks, or Texas Roadhouse, you might find this feature especially appetizing.
How Do You Get Your Money from Ibotta?
You can get your free money from Ibotta in three different ways, direct deposit to your bank, cash sent to your PayPal account, or free gift cards.
Send to my Bank: If your bank is partnered with Ibotta, you can have your cash back direct deposited into your bank account.
Send to my PayPal: You can have your cash back sent to your PayPal cash account.
Free Gift Cards: You can also choose to redeem your cash back in the form of free gift cards from numerous retailers.
To transfer your funds to your bank account or to PayPal, you first need to earn $20 worth of cash back.
To redeem gift cards, depending on the gift card you want, you may need to accumulate $25 worth of cash back first. You can then transfer the funds over to a gift card.
Sign Up
You can sign up for Ibotta online by entering your first name, email address, password, date of birth, zip code, and gender. You can also enter an Ibotta referral code.
In order to actually use Ibotta, however, you need to download the app or browser extension and start earning cash back at your favorite stores.
Is Ibotta Safe?
Ibotta is a safe and secure app to use. The company likely has a lot of IT staff working in-house to protect your data. They also use advanced security protocols like 256-bit data encryption.
If you're the type of person who's very concerned about data privacy, you might want to consider the fact that Ibotta does sell your data to third parties. That's how the company makes money. Quite frankly, it's impossible to know what they do with your data, where it goes, and how safe it is once it's passed to third parties.
On that note, according to their privacy policy, Ibotta and its partners use your information to:
Infer the location of the places you visit most often, determine your frequency or the amount of time spent at these locations, and send notifications when you arrive at or leave those places; and
Provide advertisements and marketing solicitations to you through the Services, email messages, text messages, push notifications, applications, or other methods of communication.
Customer Service
Ibotta offers a self-help customer support portal, where you can search many common questions that might help answer your question. If you do not see what you are looking for, you can use their chatbot feature.
Simply click the question mark in the bottom right corner of the screen and start typing in your question to see if that can help.
The company does have a contact us page, but I do not see any helpful information on it. I did find this email address on SiteJabber: [email protected].
Pros and Cons
Nothing is perfect in life, and the same goes for cash back apps, so let's cover some of the pros and cons of Ibotta:
Pros:
The app is 100% free to use
Cash back is available at most national retailers
Easy way to save money on everyday purchases
Cons:
Customer support seems to be lacking
The app tracks your location while you are in stores
Only links with major retailers and huge brands
Alternatives
If you're looking for similar shopping rewards sites, here are some of the more popular you can download today:
Capital One Shopping compensates us when you sign up for Capital One Shopping using the links we provide.
Disclaimer: Capital One Shopping compensates us when you sign up for Capital One Shopping using the links we provide.
Frequently Asked Questions
Can you really make money with Ibotta?
Yes, you can make money by earning cash back on purchases you were already going to make. To get money from Ibotta, you first have to spend money by shopping at major retailers. You will then earn cash back, which can be redeemed for cash to your bank account, PayPal, or for free gift cards.
Is Ibotta legitimate?
Yes, Ibotta is a legitimate app where you can earn real cash back from your favorite stores.
Is Ibotta a scam?
Ibotta is a legit cash back site with great ratings on the App Store, Google Play Store, and Trustpilot. It is not a scam.
Is Ibotta free?
Ibotta is 100% free to download and use. There are no upsells or membership fees of any kind. To get cash back, however, you have to spend money at retailers. Since you're most likely going to shop anyway, it's a no-brainer to use the app and get cash back.
Just be careful that you don't overspend or buy anything you normally wouldn't. As the saying goes, a penny saved is a penny earned. But if you wind up spending more money shopping with Ibotta than you normally would, you're not getting ahead.
Is Ibotta or eBates better?
That's a matter of personal opinion. If you like apps, Ibotta is probably a better choice. Ibotta is also easier to use at more brick-and-mortar locations since you can upload receipts right to the app, which then gives you cash back.
On the other hand, eBates has been around longer and has more relationships with online retailers.
Does Ibotta have a mobile app?
Yes, you can download the Ibotta app in the App Store for Apple iOS users, and in the Google Play Store for Android users.
Can you use multiple cash back apps?
Yes, and you should! Why not earn more extra cash by using multiple cash back apps? If you love scanning receipts try downloading the Fetch app and let those points rack up and start redeeming them for free Amazon gift cards!
Is Ibotta Worth It?
Ibotta is a great cash back app to easily earn money back on purchases that you were going to make anyways.
Are you a coupon and savings fanatic? Do you love to shop at major retailers like Walmart, or Target, and dine at chain restaurants like Applebee's and Olive Garden? If so, you will most likely love the Ibotta app.
However, if you're the type that prefers to get your coffee at a locally-owned shop or eat at a local deli, you might not be able to take full advantage of Ibotta's services.
Remember, the road to financial freedom does not include frequent shopping sprees. However, if you're going to shop at those stores responsibly, it won't hurt to earn some cash back on your necessary daily supplies.