You've seen ads for Solitaire Cash everywhere and wondered what the craze is about. Cash for playing a solitaire game? Isn't that a game for one?
Solitaire Cash is a free, fun cash app game where you can win real money for playing solo Solitaire against other players.
It's a fun, competitive take on the classic solo-player card game that people have played for centuries. Play in tournaments against other players at the same skill level. The player with the most points wins. Earn points for every card you clear, your overall speed, and an additional bonus for clearing the entire deck.
Created by Papaya Gaming, Solitaire Cash is ranked number one in the app store for all "Casino" style games.
What is Solitaire Cash?
Solitaire Cash is a gaming app that offers players a way to earn money for playing Solitaire. Play free games for gems (virtual currency) or paid games with cash prizes.
If you have enough gems, you can play free games for a shot at a $7 cash prize — enough to fund at least seven $1 cash games.
In paid games or free games, you play in brackets against 3 to 9 other players. Usually, the top 3 finishers win a reward. For some games, you can finish in the top 4 and win a cash prize. There are some 1 on 1 cash game options, too.
The goal is to clear the entire deck, Solitaire style, to the 4 home cells. Get points for every card you clear, with bonuses for speed or winning the hand. Even if you don't clear the deck and win, you can still finish first by winning the most points.
For cash games, you can fund your account with PayPal, Apple Pay, Visa, Mastercard, or American Express. (Cash App is not available at this time.)
With most deposits, you can earn extra free money in the form of a "cash bonus." For example, if you deposit $35, you will get a $7 bonus and have $42 to wage in cash tournaments.
Cash games are not available in every state. Residents of Arizona, Arkansas, Connecticut, Delaware, Louisiana, Montana, South Carolina, South Dakota, Tennessee, and Vermont cannot play Solitaire Cash's paid cash games. Free or non-cash games are available to players in all 50 states.
Learn More:
Is Solitaire Cash Legit?
Apple iOS:

4.6

 

/

Galaxy Store:

4.5
Yes, Solitaire Cash is a legitimate game offering players a way to win extra cash straight from their phone.
App reviews for Solitaire are mixed. Some blog reviewers are critical of the low revenue potential for playing this game.
However, Millennial Money does not ever recommend you play games for a reliable revenue source. Cash games offer players a fun and casual way to play games for the possibility of winning real cash rewards.
Players themselves are extremely satisfied with the game experience. In the app store, iPhone players rate Solitaire Cash 4.6 stars (out of 5) based on over 242k reviews.
I've played several rounds of Solitaire Cash myself, in both paid and freeroll tournaments, and can attest that the game is legitimate. I started with a $5 deposit and made up to $7.
How to Earn Money with Solitaire Cash
To start earning money with Solitaire Cash, the process is simple.
Install the game and register, a process that takes about 30 seconds. Look over the site and play a free tutorial round.
Next, play some free games to get familiar with the feel of the game. You can win free gems (virtual points) if you're one of the top 3 finishers.
When you're ready to try to play for cash, deposit at least $5 in your account.
Finish in the top 3 (sometimes 4) of any cash tournament you enter and win a cash prize. To come out ahead (and win a prize larger than your wager), you'll need to finish in the top 2. There are also head-to-head games.
For cash games, you can win anywhere from $5 to $139. Occasionally, the prize pools are higher.
You're put into brackets against players of similar skill. As you play (and win) more games, the competition will grow harder.
You can also earn money for:
Cash Deposit Bonuses
You'll get 20 free gems for every $1 you deposit, and free cash bonuses of up to $7 with any deposit.
With a starting deposit of $7 on Solitaire Cash, you'll get a free $3 bonus cash reward and 1,400 gems (virtual reward points). With the cash bonus, you've got $10 to wager in cash games. After your first game deposit, there are other bonus cash rewards but they usually aren't as generous.
Daily Rewards
Log in 3 days in a row to earn a $0.10 cash bonus. Get a $0.30 cash bonus when your login streak extends to 7 days.
Earn free daily rewards on Solitaire Cash just for logging in every day. Right away you'll get 30 gems, and you can earn additional cash bonuses on days 3 and 7.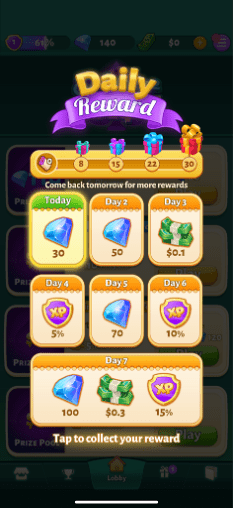 Referrals
Invite friends and earn $1 in bonus cash for each friend who joins.
Invite friends to play Solitaire Cash and earn bonus cash. Get $1 free for each friend who joins, and your friend will also get a free $1 bonus too.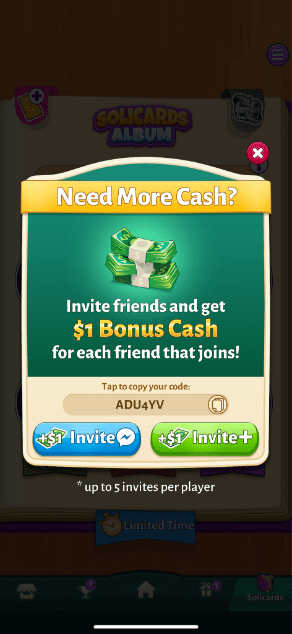 Watching Videos
Earn 10 gems for every watch, up to the daily maximum allowed. (It was limited to five videos per day when I last played.)
Earn 10 in free gems for watching an in-app video on Solitaire Cash. These videos (ads) are optional. You can watch up to 5 videos per day to earn bonus gems.
Learn More:
Earning Potential
While you can win prizes of $100 or more, it's unlikely you'll win that amount within one game, or on any given day.
If you are extremely skilled, you can probably earn an average of $3 to $10 – putting your monthly earning potential at around $90 to $300.
As stated earlier, this is a very fast-paced game of solitaire. A blink of an eye could mean the difference between 1st place and 4th.
Make sure you check out Solitaire Cash hacks in gamer forums and YouTube videos for tips on how to top the leaderboard. And above all, practice, practice, practice. Play as many free games as possible — both in the Solitaire Cash app and on your iPad or preferred gaming device.
Speed, accuracy, and the ability to quickly calculate the odds of a given card play are key.
If you need to be able to reliably earn $90 to $300 a month, or even more, Solitaire Cash is likely not your best bet. Mobile games that pay cash are fun, but not a predictable source of income.
How to Cash Out
It's easy to cash out your Solitaire Cash rewards from paid tournaments.
Rack up enough winnings to reach the $5 minimum redemption amount.
Cash out with Apple Pay or PayPal.
Once you've racked up enough rewards, you can cash out via your PayPal account. The minimum amount required to redeem your cash is $5. You can use either PayPal or Apple Pay if you decide to deposit money on a high-stakes tournament.
Pros and Cons of Solitaire Cash
Pros
Very well-regarded, popular game.
A modern, twist on the classic Solitaire card game.
Free practice rounds.
Suitable for players of all skill levels, beginner to expert. Players are grouped by skill level.
Win cash prizes of $1 to $139 — or more — in multiplayer
It's possible to earn enough gems ("virtual points") to enter and win cash games. Not just in the theoretical sense: it's possible to win enough gems (throughout a dozen or so free games) to be able to start playing and winning cash games.
Available for Android and iOS
Cons
Solitaire Cash is a gambling app. While it is skill-based, there is a real possibility of losing money.
Winning can be hard. Games are very rapid-paced. A few seconds of playtime can determine the difference between a winning cash prize or finishing last. Make sure you have solid WiFi and no distractions when playing. (Although each round only lasts around 60 seconds or fewer.)
Solitaire Cash Alternatives
If you're looking for some other Solitaire-style games, there are many options in the app store.
Pyramid Solitaire
Big Win Solitaire
You may also enjoy other popular, non-Solitaire cash game apps too. Many of these games pay PayPal, cash or Amazon gift cards.
Bingo Tour
myVEGAS Slots
Blackjack 21
Frequently Asked Questions
Here are some frequently asked questions about how Solitaire Cash works.
Does Solitaire Cash actually pay?
Yes, Solitaire Cash has paid out more than $1.5 million in real cash rewards to players. To date, the game has been downloaded more than 1 million times with an average 4.6-star rating (out of 5 stars) from over 242k players.
Is Solitaire Cash trustworthy?
Yes, Solitaire Cash is a very trustworthy app. This is evident based on the high player reviews in iTunes.
Review after review states that Solitaire Cash does pay, but they offer some caveats or advice to new players.
Practice regularly. This will improve your speed and skill. You're up against people playing several hours a day.
It's harder to win cash prizes in free roll tournaments. (For an entree fee of 1,200 gems, you play for a shot at $7.) 10 players are playing for a cash prize instead of your typical 6 players.
Do not enter tournaments with an entry fee of $3 or greater until you are consistently winning.
How do you win Solitaire Cash?
You win cash at Solitaire Cash by finishing in the top 3 (sometimes 4) cash tournaments. Prizes range from $5 to $139 with an entry fee of $1 to $15.
Here's a look at some of the cash game options you'll see in Solitaire Cash. You can choose how much you want to wager or how many players you want to play against. You'll also find many limited-time-only games.
The top 3 finishers win a prize. For some prize brackets, the 4th place finisher wins a small cash reward (less than the entry fee).
There are occasional heads-up "Cash Clan" games where you compete heads up (1 on 1) against another player. At the time of this article's publication, there was one head-to-head cash game option. For an entry fee of $6 and 220 gems, there is the option to compete for a $10 prize.
You can also win virtual points, called gems, for playing free games. Use gems for:
Partial entry fee for some paid games. (i.e., the Entry fee is $1.30 cash and 800 gems.)
Full entry fee for freeroll games. Compete against 9 other players for a shot at a cash prize. No cash is required to enter.
Free games in the "Gems Factory." Here, you can refine your Solitaire skills by competing against 5 other players. The top 3 finishers win a gem prize.
Is Solitaire Cash in the Google Play Store?
No, Solitaire Cash is not in the Google Play Store but you can download the game for your Android device directly on SolitaireCash.com or from the Samsung Galaxy Store.
How much money can you make playing Solitaire Cash?
The highest-paying prize pool is set at $139, but occasionally higher prize amounts are available.
More realistically, you can probably earn a few smaller pots and make $3 to $10 per day playing Solitaire Cash. And this is if you are fast, accurate, and highly practiced.
Does Solitaire Cash take money out of your account?
No, Solitaire Cash will not take money out of your personal finance account (i.e., debit card). The only cash Solitaire Cash will "take" from you is the amount you choose to deposit into your account balance.
If you do lose a tournament, Solitaire Cash will keep the money you lost. But that money comes from the amount you already deposited into your account.
Should You Play Solitaire Cash?
When it comes to cash game apps that pay, Solitaire Cash is the real deal. It's got high marks in the Galaxy and iTunes stores — with over 215,000 total reviewers singing the game's praises.
I've also played the game myself. I was impressed by the app's easy, user-friendly interface, the variety of prize pools and prize wagers and how there are multiple winners with each game instead of winner takes all.
As a skills-based and speed-based game, Solitaire Cash may not be for everyone. Completing online surveys or various online tasks, in exchange for free gift cards and cash, may be more your speed.
But if you already play Solitaire and other similar games anyway, it's worth giving Solitaire Cash a free try.