You've just aced level 83 of your favorite new game. And you're ready to claim that juicy $125 cash payout. But hold up. As with most cash-paying game apps, you need to request payment as a gift card.
Now it's a several-day wait until those funds are delivered to your inbox. But if you want those funds in your Cash App wallet or bank account, you may be out of luck — many rewards apps only offer gift cards to redeem your earnings.
Luckily there are some fun games that pay instantly to Cash App that we love, making it easy to earn free money.
11 Games That Pay Instantly to Cash App
Here are some fun games that pay instantly to Cash App that you can download and start playing today:
1. Solitaire Cube
Apple iOS:

4.6

 

/

Google Play:

3.2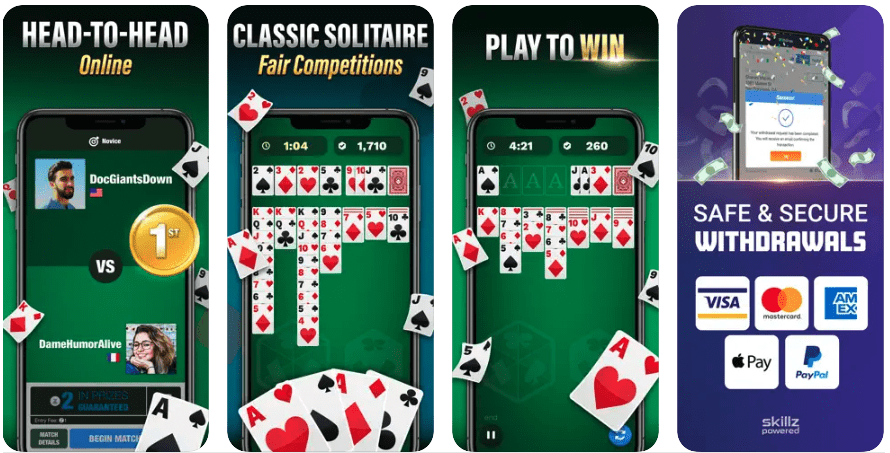 Solitaire Cube is a competitive, modern spin on the classic, solo-player card game. You probably won't hit a major jackpot, but winning smaller prize games for a $3 to $10 reward is completely reasonable.
Battle it out for cash with other players from around the globe in a head-to-head match. In order to ensure fair gameplay, you are both given the same starting layout of cards.
Win points by making sequences and clearing your stack. You can also earn bonus points for speed. At the end of the match, the player with the highest score wins.
You can also play free games offered as practice rounds. Android and iOS players love this game app.
Available on the iOS App Store and Galaxy Store
---
2. Dominoes Gold
Apple iOS:

4.7

 

/

Galaxy Store:

4.5
The Dominoes Gold app puts a digital modern spin on an old-school classic. Play free games or cash competitions, with the potential of winning a cash prize worth up to $7,500.
You can choose to play head-to-head matches or in bracket tournaments of up to four players.
Dominoes Gold does offer ultra-high top prizes, but your odds of pocketing a massive reward (i.e., over $500) are very slim. Realistically, most players can win around $3 to $10 a go when they sit down to play a few cash rounds.
Available on the iOS App Store and Galaxy Store
---
3. Bubble Cash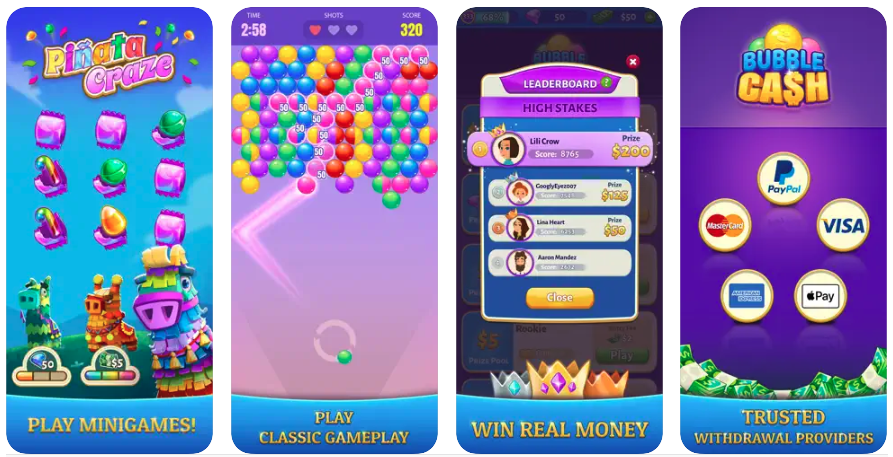 Bubble Cash is a fun, strategy game where you can win cash and gift cards for shooting down bubbles. You can win prizes of up to $60 if you're a skilled bubble burster.
Play free, practice rounds to get the feel for the game. When you're ready, advance to cash tournament-style play.
For fairness, players are grouped together in brackets based on their skill. The top three finishers win a cash prize, with the third-place finisher essentially winning back their wager to break even.
The more you wager, the more you stand to win. Play in tournaments with cash prizes ranging from $1 to $60.
Available on the iOS App Store and Galaxy Store
---
4. Cash'em All
50 million app store downloads mean they must be onto something good. Cash'em All is a gift card rewards app that connects you with fun games from today's top developers.
Similar to the popular app Kashkick, you can earn free gift cards for playing free games in the Cash'em All app. Explore the catalog of free games and download and play the ones that fit your interests.
Cash'em All tracks how many minutes you spend playing any of their featured games, and as you play you'll earn virtual prize coins.
Available on the Google Play
---
5. Cashyy
With 5 million app downloads in the Google Play Store, Cashyy is a massively fun and popular way to earn extra cash from your phone.
Cashyy itself is not one single game, rather it connects you to multiple different games that you can play to earn rewards. It's similar to other game-focused cash apps like Gamehag.
Look for games you love, and then sign up to accept and accomplish missions. You'll earn virtual gold coins for completing the missions (playing), and discover lots of new favorite games in the process.
It takes about 20,000 cash coins to cash out (the equivalent of 20 cents). If you play every day on your phone, you could realistically make $8 to $15 every month playing games on Cashyy.
This may not sound like much but consider that most games don't pay you anything. If you're going to game anyway, why not earn an extra $100 to $150 a year — or more — for your time and effort?
---
6. Mistplay
Make up to $50 a month discovering and playing fun, new games on Mistplay. This popular app has over 10 million downloads in the Google Play Store.
Similar to the well-known QuickReward app, on Mistplay you can earn extra money for trying new games and offers that fit your interests.
Mistplay connects you with a vast catalog of fun cash apps games like Blackout Bingo, Wheel of Fortune, Pool Payday, Solitaire Cash, and Brain Battle.
Earn units as you go for playing these free, featured games on your mobile device. Then redeem your units for free PayPal cash and Amazon gift cards.
You won't make money fast at Mistplay — player reviews suggest $25 to $100 is the max you might earn in a month — but Mistplay definitely does pay real money.
---
7. 21 Blitz
Apple iOS:

4.6

 

/

Google Play:

3.7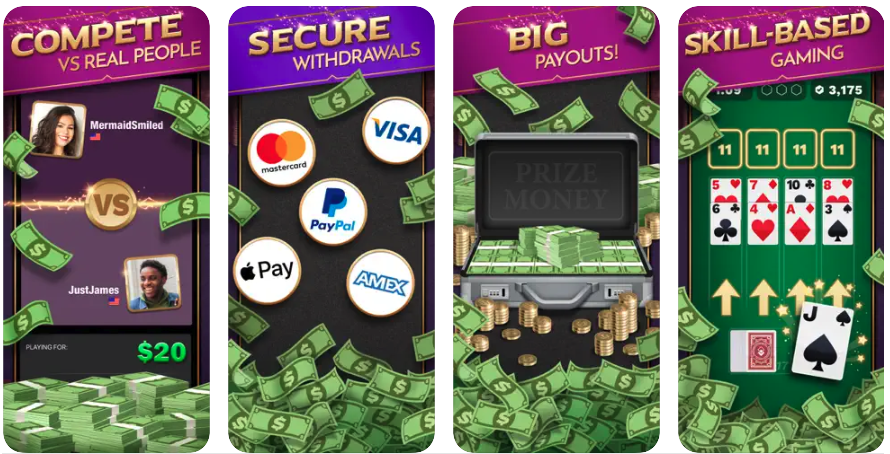 Earn $83 free cash in two minutes playing 21 Blitz.
21 Blitz is a fun game that blends together the excitement of Blackjack and the familiar, old-school fun of Solitaire. Win real money in head-to-head matches and in cash tournaments.
Winning $83 every two minutes is not sustainable. You can't do this for one hour straight to make $2,490. In fact, it's probably not realistic to win $83 for more than a few matches in a row, and you will need to pay an upfront wager. But many players can and do win that aspirational amount.
If you're not familiar with Blackjack or Solitaire, you can play some free, practice games to get your bearings. When you're cash gameplay ready, you can enter head-to-head matches that pay $1 to $83. And there are even huge, multiplayer tournaments for larger prizes.
Available on the iOS App Store and Galaxy Store
---
8. Spades Blitz
Apple iOS:

4.6

 

/

Galaxy Store:

4.0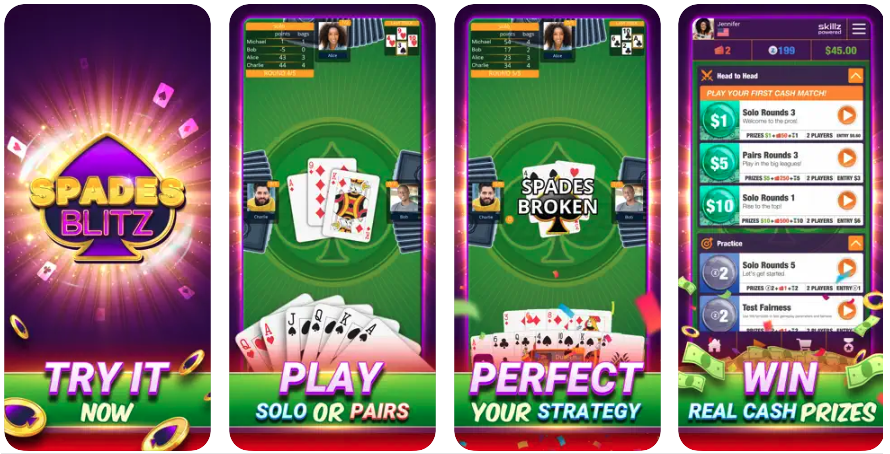 Spade Blitz is a fun, fast-paced game that will pay you up to $25 per game win.
Based on the popular, trick-taking card game, Spade Blitz gives you the chance to win real money and prizes for playing in head-to-head matches, multiplayer tournaments, and leagues.
There are no in-app ads, but you do have the option to watch videos every hour in order to earn free extra chips.
New players can win $1 to $5 per game in smaller cash prize pools. As you gain experience, you can unlock player leagues and tournaments with larger prizes.
One gamer review said you could potentially make up to $30 per week as a new player.
---
9. MyPoints
Apple iOS:

4.2

 

/

Google Play:

3.6
MyPoints is a shopping-based rewards app, but it also offers members other ways to earn cash like answering online surveys, searching the web, and playing games.
Similar to Mistplay or Qmee, you can earn points from MyPoints for trying new games featured in the MyPoints app or website.
Featured games can pay points worth the equivalent of 25 cents to $100 – or even more. The higher the reward, the more steps are involved in achieving it.
For example, for a $100 payout, you might have to install the free game and log in and play a certain number of times over the next 30 days.
Redeem your points for free gift cards or PayPal cash.
10. Swagbucks
Apple iOS:

4.4

 

/

Google Play:

4.2
Swagbucks offers its users a number of ways to get money by completing various activities in their mobile app or on the Swagbucks.com website, including taking surveys, searching the web, or shopping at featured cashback retailers.
With Swagbucks trivia games, you could earn up to $15 a month.
Play live trivia games every weekday, competing with players from around the globe for a shot at a cash prize worth up to $1,000. The prize is split among all winners who answer all 10 trivia questions correctly. Your typical share of winnings can range from 25 to 50 SB (or 25 to 50 cents).
You can also play one other trivia game per day at any time — not a live match — and earn up to 10 cents. These non-live rounds feature 10 questions from previous live game shows.
Trivia rewards are earned in SB, Swagbucks' virtual point currency. Cash out SB for free PayPal cash, gift cards, or Bitcoin.
11. InboxDollars
Apple iOS:

4.5

 

/

Google Play:

4.0
InboxDollars is a free reward site and app that will pay you real cash rewards for playing games. Offering around a dozen, arcade-style games that you can play on the desktop or mobile website. You can also play these featured games in the Android app.
You'll win free scratch cards for playing games. Scratch your virtual card to reveal a prize worth up to $10, $25, or $100 depending on which tier you choose to unlock. Rewards can range from a couple of cents to $100.
In addition to games, other ways to earn money online with InboxDollars include paid surveys, cashback shopping, daily polls, and other online activities related to mobile games and personal finance.
The app also offers a generous referral program. Earn a cash bonus upfront for every friend you invite, and then earn 30% of their qualified earnings for life. As long as you and your friend both remain active members, you will keep getting a 30% cut of your friend's earnings.
Cash out your rewards with a gift card to a popular store of your choice, a prepaid credit card, or a deposit made directly to your PayPal account.
Join InboxDollars now and get a free sign-up of $5.
Frequently Asked Questions
How do you receive money from games on Cash App?
Here's how you get money from these games into your Cash App wallet.
For featured Skillz games on this list, including Solitaire Cube or 21 Blitz, your winnings are paid directly to Cash App – or however you fund your game wagers.
If you funded your game account with a Visa card, then that is where your winnings will be applied. If you use your Cash App wallet, then any money you win from these games will be paid to your Cash App account.
How do you get cash into Cash App for games that pay winnings to PayPal?
Many gaming apps will not pay cash directly to Cash App; instead, they offer PayPal rewards which you can easily and freely transfer to your Cash App wallet.
Here's how it works:
Cash out your game prize earnings to your PayPal account. (If you don't have one, you can open a PayPal account in 60 seconds.)
Link your Cash App wallet to PayPal.
Send the money to Cash App in a couple of clicks.
It's that easy. You'll find that most cash games and rewards apps pay via PayPal, so it's worth taking a minute to link your Cash App wallet to a PayPal account.
PayPal funds can be sent to Cash App or anywhere else you want to transfer them, like to your bank debit card or Apple Pay.
Should You Play Games that Pay Instantly to Cash App?
You don't have to be a hardcore gamer to see the benefit of playing games that pay instantly to Cash App, PayPal, or even your bank account.
Because if you ever spend time online — and obviously you do, or you wouldn't be reading this article — you know that you've gone down the rabbit hole of exploring (wasting time on) all types of games. Whether you were just browsing the underbelly of the Internet, or combing through the millions of app listings in iTunes or Google Play, you're already a part of the gaming world.
From Boggle to Call of Duty — whatever the preferred game — there's almost certainly a cash game version of it online where you can win real money.
And if after reading this article you still don't know where to get started, check out this list of trusted games that really pay, or ask your friends and family what they're into these days.