Whether you play online with friends or you idle over Solitaire while watching TV, we all play games. And if you're spending any time on this endeavor, you might as well get paid for it.
For every game that exists, there is typically a cash version of it out there – and its makers are just itching to pay you for playing. So, we've listed the best apps to play games for free gift cards.
21 Apps to Earn Gift Cards by Playing Games
Here's a list of the best apps to earn free gift cards for playing games.
1. Blackout Bingo
Apple iOS:

4.5

 

/

Galaxy Store:

4.5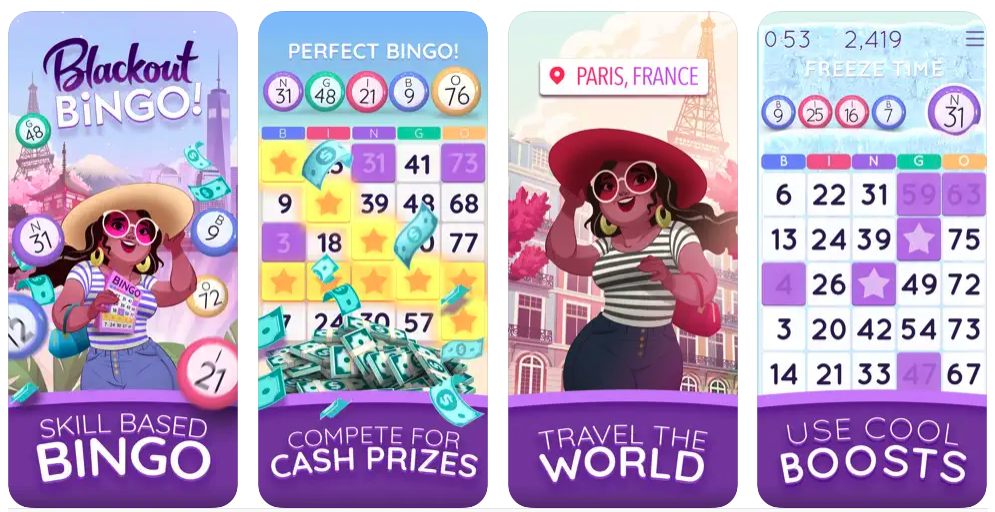 Blackout Bingo is one of the most engaging and well-designed games you'll find. It's an enjoyable way to play for cash prizes. You can play free practice rounds or cash money games.
It's like the classic Bingo game, but here you can win – and strategically deploy –  in-game boosters like more time, extra balls, or free daubs.
Compete head to head against other players (at the same skill level), with cash prizes ranging from a couple dollars to a couple hundred dollars. The higher your wager, the greater your potential reward.
Download Now:
---
2. Bingo Cash

Sometimes Bingo is about more than just luck, like this skills-based app version called Bingo Cash.
Play Bingo Cash games for free, practice rounds, or multiplayer tournaments for cash prizes. The top three finishers earn a reward. For fairness, all players have the same number called and player cards. But winning (outscoring) other players will require speed, precision, and strategy when deploying in-game boosters.
Players can cash out earnings via Apple Wallet or PayPal.
Download Now:
---
3. Solitaire Cash
Earn real cash prizes and gift cards by playing Solitaire Cash, a popular tournament-style version of the classic card game.
To win prizes, duke it out in multiplayer matches. Players are grouped into brackets by their skill level and win points for clearing the most cards. There are additional point bonuses for speed or clearing out the entire deck. The top 3 finishers with the most points win a cash prize. Cash earnings can be easily applied toward prepaid Visa cards and free gift cards to popular retailers.
You won't get rich, but you can win cash. Earning $3 to $4 a day is probably a realistic amount if you play consistently.
Download Now:
---
4. Bubble Cash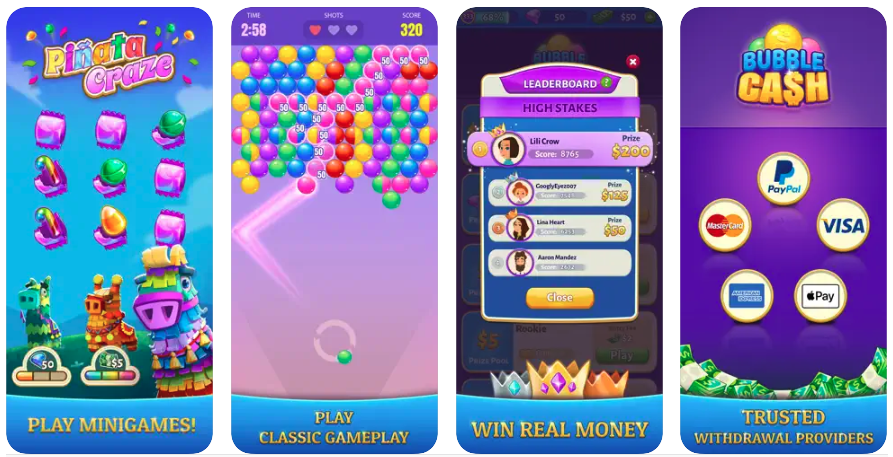 Bubble Cash is a fun, strategy game where you can win cash and gift cards for shooting up bubbles.
Compete against other players in multiplayer tournaments. Players are grouped together by skill, and the top three winners get a cash prize. Withdrawals are safe, easy, and fast.
Download Now:
---
5. Cash'em All

Cash'em All offers users a great way to earn free gift cards for discovering and playing fun, new games.
Unlike some of the other featured games on our list, Cash 'em All is not one specific game. Cash'em All is a content aggregator, that connects you with many different games so you can explore and find the ones you most enjoy playing.
As you spend time playing each game (you will need to download apps to your mobile device), Cash'em All will track how much time you spend playing and award coins for your playtime. Redeem these coins for gift cards or PayPal.
Download Now:
---
6. Solitaire Cube
Apple iOS: 4.6

/

Google Play: 3.0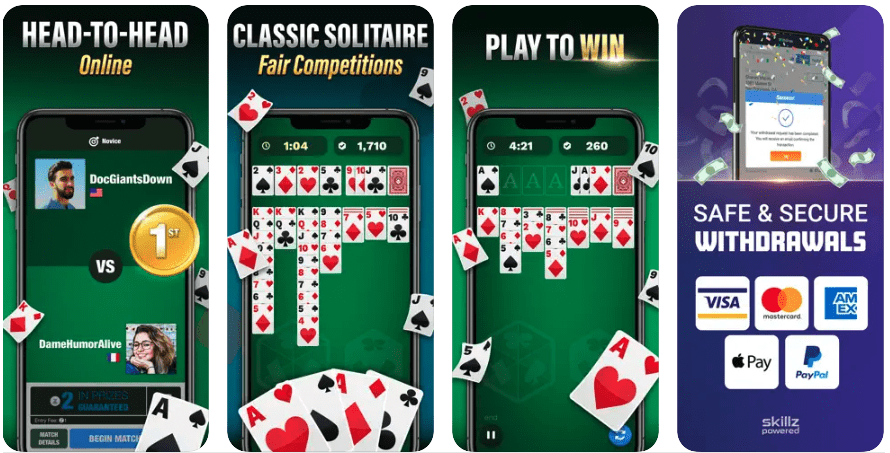 Solitaire Cube is a modern take on the classic Klondike Solitaire game. Play against another player (dealt the same hand) in head-to-head matches to win free cash prizes. Free games are also offered.
Win points by clearing the most cards and earning time bonuses. The quicker you clear cards, the more points you'll sweep up. The player with the most points wins.
Download Now:
---
7. 21 Blitz
Apple iOS:

4.6

 

/

Google Play: 3.7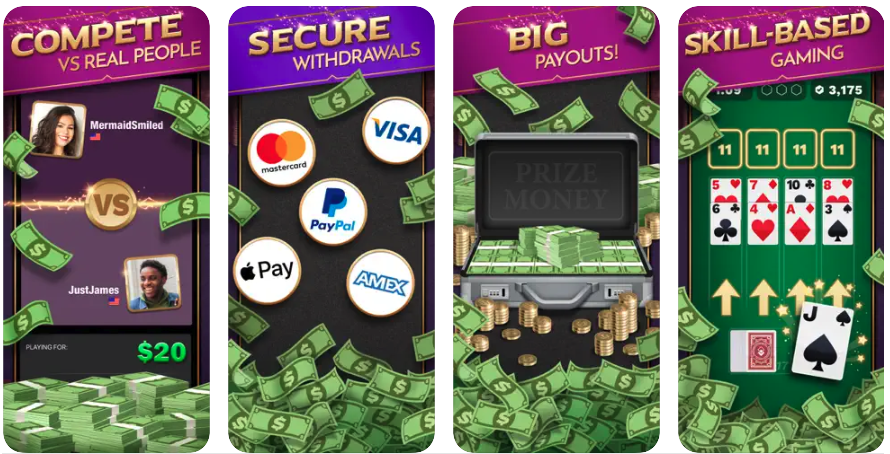 21 Blitz bills itself as a fun and entertaining game for "aspiring card counters." Practice your Blackjack skills for free (practice rounds) and then switch over to tournament games when you're ready to start playing for cash.
Each game has one deck (52 cards), with the goal to finish the deck before the clock runs out. Find the best combos (to reach 21) and pick up speed bonuses to earn the most points and win the game.
It's easy to cash out your winnings via PayPal or the credit card used to fund your 21 Blitz game account.
Download Now:
---
8. Big Buck Hunter
Apple iOS:

4.7

 

/

Galaxy Store:

4.5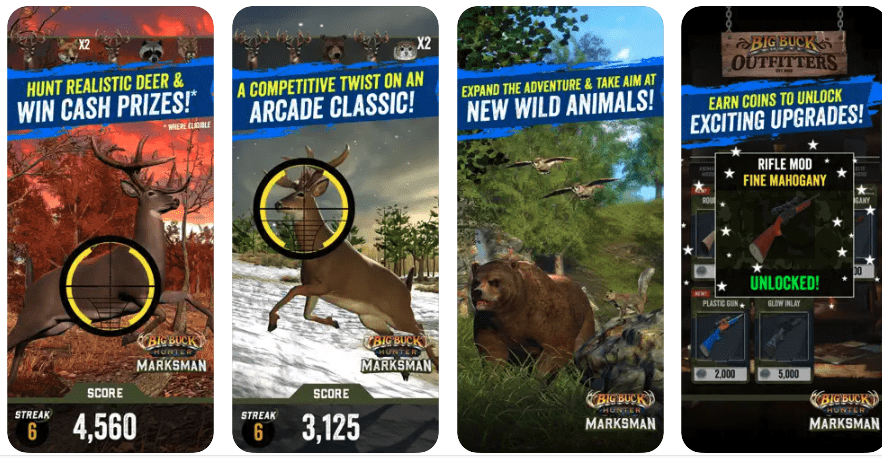 Yes! The world's favorite video hunting game is available as a fun app on your phone.
You've probably already played this iconic game in bars or restaurants, but now you can bring your sharp-shooting skills to the small screen.
Play for cash prizes in multiplayer tournaments, or try less competitive head-to-head challenges. You can also play free matches.
---
9. Dominoes Gold
Apple iOS:

4.7

 

/

Galaxy Store:

4.5

Dominoes Gold is the same classic board game, but in this digital version, you can play games for real cash prizes.
Play free practice games, in head-to-head matches, or challenge your friends. There are also bracket tournaments (of four players) that you can enter for a chance at higher rewards. While the potential is there to earn thousands of dollars, realistically, most skilled players will win $3 to $5 at a go when they sit down to play on their phones.
Download Now:
---
10. Pool Payday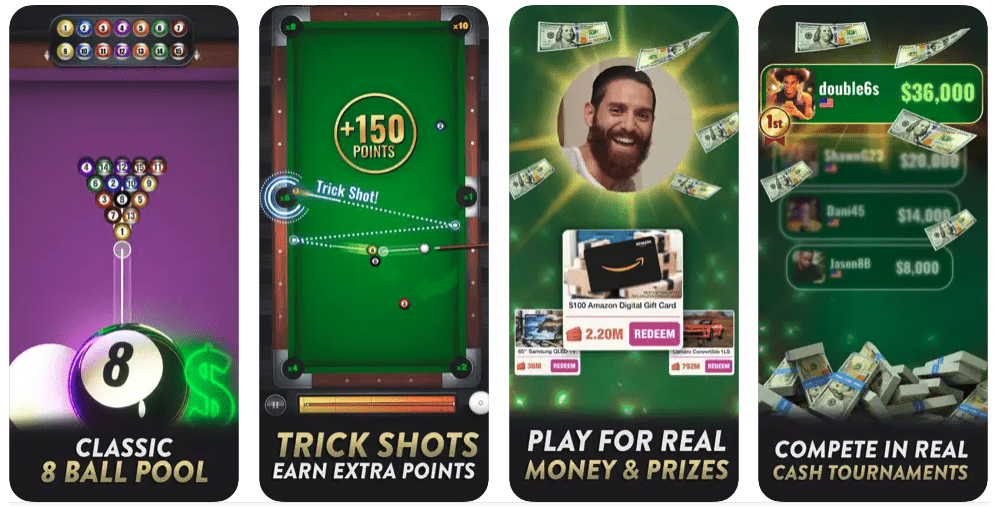 Pool Payday is a fun game for players from all around the world to play head-to-head in billiard games.
You can play free games for fun, cash games for prizes (paid to PayPal or Apple Pay), or try both.
Free practice rounds can help you hone your skills at speed, positioning, angles, trick shots, and just dipping your toes in until you feel ready to wager real money.
Prize winnings range from $1 to $50. The higher the entry fee, the higher the potential reward.
Download Now:
---
11. Bubble Cube 2
Apple iOS:

4.7

 

/

Google Play:

3.6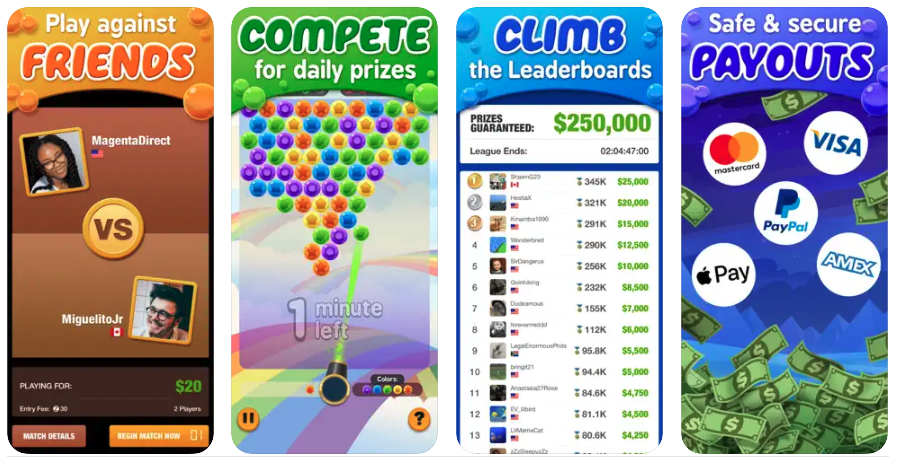 Bubble Cube 2 is one of the most strangely satisfying games you'll find anywhere. Shoot, match, and pop bubbles to clear boards and win cash prizes.
Each game round only takes one to two minutes to clear, and it's an enjoyable user experience. You can play for free for as long as you want without having to continually sit through annoying ads.
You can win cash for playing in head-to-head matches or multiplayer tournaments, and test your skills against players from around the globe. Withdraw earnings to use toward free gift cards.
---
12. Cashyy

Cashyy offers players a free and easy way to earn free gift cards for playing games. The app is completely free and offers a streamlined, straightforward user flow.
Discover free games
Accept and accomplish missions.
Win gold virtual coins for completing missions, and redeem your coins for free PayPal cash.
You can use your PayPal earnings to top off your bank account (with a funds transfer), or to purchase a gift card.
Download Now:
---
13. Mistplay

Mistplay is perhaps the most well-known gaming rewards app featured on our list. Earn gift cards for discovering new games and new apps featured on Mistplay.
The setup is simple: based on your interests, Mistplay will show new mobile games they think you'll love. Play the free games, earning units as you go. Then redeem those units for Amazon gift cards.
14. Money Well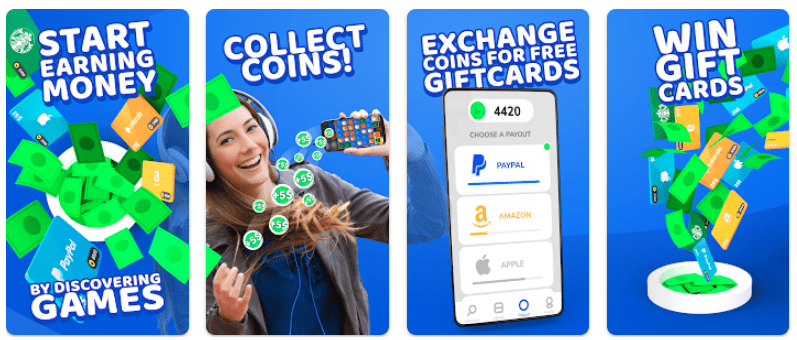 Money Well is a widely available (in most countries) rewards app that pays you PayPal for playing fun, new games.
How it works: earn tickets for playing featured games. You can earn roughly 40 to 50 tickets for every minute of gameplay. You can also earn tickets for inviting friends; each referral is worth 250 tickets.
Once you've amassed enough tickets, you can cash out via PayPal. Those PayPal funds can be used to buy gift cards or transferred directly to your bank account, Apple Wallet, or Cash App.
Download Now:
---
15. Spades Blitz
Apple iOS:

4.6

 

/

Galaxy Store:

4.0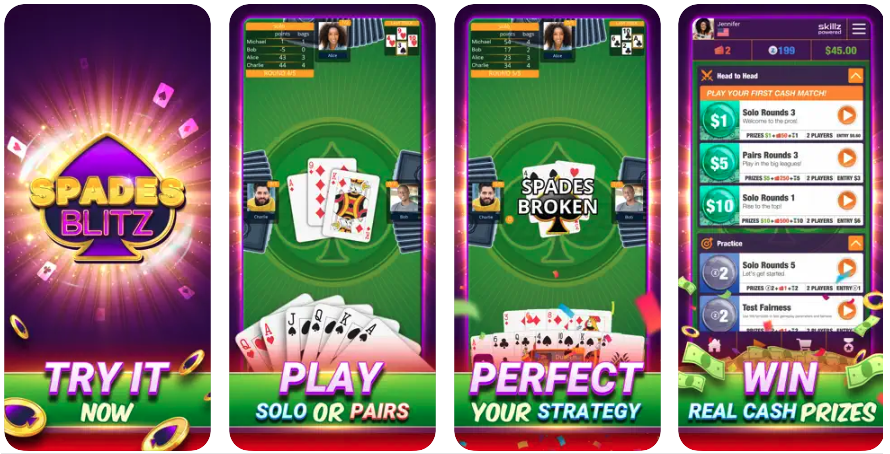 Spade Blitz is a fun, fast-paced game for people who want the chance to play for real money and avoid annoying in-app ads. In order to earn extra chips, you can choose to watch videos (sponsored content) every hour.
Play Spades Blitz in tournaments against people from around the world, playing head-to-head or in multiplayer matches.
The payout structure is similar to other Skillz games where you can win tickets or cash.
Download Now:
---
16. Rewarded Play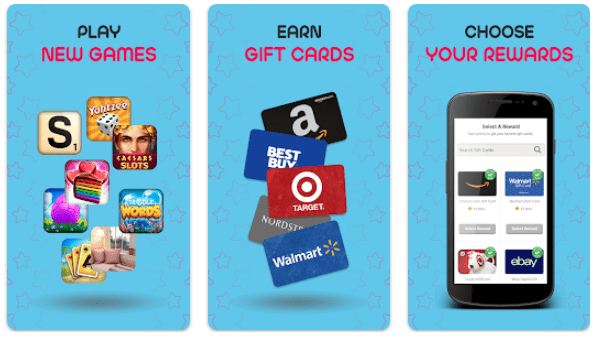 Rewarded Play makes it easy to win gift cards to popular stores like Best Buy or Target just by playing popular video games that you love.
Popular games in the Rewarded Play app include Wheel of Fortune, World Series of Poker (WSOP), Harry Potter, Mahjong, and World Alchemy.
Choose the games that you want to play. As you meet certain gamer goals (i.e., reach a certain stage or collect enough virtual coins), you earn points. Once you've earned enough points, you can redeem them for free gift cards. The minimum cashout is 45,000 points for a $5 gift card.
17. Board Kings
Board Kings is an addictively fun multiplayer board game. Create and upgrade your game board and travel to your friends' boards to topple their towers. Build, upgrade, steal, and destroy—it's like Risk and Civilization combined.
Playing is as easy as rolling the virtual dice. And as you build your real estate empire, you'll unlock special boosters, power-ups, power cards and cash prizes. Find Board Kings in the app store for Apple or Android.
---
18. Solitaire Smash
Earn up to $100 a month for playing in head-to-head Solitaire matches and in multiplayer tournaments. Solitaire Smash is arguably the most popular Solitaire-style game in the app store, with an average 4.6 (out of 5) star rating in the iTunes store.
You can wager small amounts of cash (or larger ones) in every game; the higher the wager, the greater the earning potential. You probably won't win $10,000+ a year at Solitaire like the app's top players, but anyone with decent skills at Solitaire could reasonably make a few dollars a day playing less competitive matches.
---
19. InboxDollars
Apple iOS:

4.5

 

/

Google Play:

4.0

Known as a survey site, InboxDollars offers a host of other ways for you to earn money online—including reading emails and playing games.
Earn scratch-off tickets for playing free, arcade-style games directly on InboxDollars.com or in the Android app in the Google Play Store.
And right now, new members can earn a free $5 bonus for joining InboxDollars.
20. Swagbucks
Apple iOS:

4.4

 

/

Google Play:

4.3

Swagbucks is a popular rewards app that will pay you for taking surveys, searching the web, answering daily trivia, cash back shopping, and playing featured mobile games. It's quite similar to the point-based rewards app, MyPoints.
Earn cash prizes ranging from twenty-five cents to $125 for playing Swagbucks' featured, free games. To earn the reward, you will need to complete a specific task within the game like playing every day for a set number of days in a row, reaching a certain level, or making in-app purchases.
With a large library of content (mobile web, app, and PC), you're bound to find some of your favorite games among Swagbucks' offerings.
Once you've reached at least $3 in earnings, you can cash out your rewards for PayPal cash or a gift card to popular stores like Walmart, Target, or Amazon.
21. Yatzy
Yatzy is a Yahtzee-inspired dice game that lets you roll for bragging rights and real money in large, multiplayer tournaments or head-to-head matches.
It's like the original game of chance, but with added twists and strategery to make the game even more exciting. Earn and deploy a variety of different bonuses to defeat your opponent.
Frequently Asked Questions
Can you earn gift cards by playing games?
Yes! Consumers can earn gift cards, PayPal, and other prizes for playing cash app games like 21 Blitz, Bubble Cash, and other games outlined on this list.
For less than a dollar, you can typically enter a cash tournament (multiplayer or head-to-head play) to compete for a small cash prize (i.e, $2). There are also larger pots, where you can wager $100 or more. The larger the bet, the higher the payout.
Before wagering, it's wise to hone your skills in free practice matches. But when you do play a cash game, you'll be paired against someone at the same skill level. They will also have the same starting hand (dice, cards, game board) to ensure fairness.
You can redeem any winnings by PayPal cash, gift card, or by the same method you used to fund your bets. Each game will offer its own different ways for you to cash out.
What apps give you real gift cards?
A number of apps will give you real gift cards for completing different activities online.
Popular reward apps that will pay you for playing games and completing other online activities, in addition to the ones featured on our top 21 list, include Kashkick, Gamehag, Upromise, and Qmee.