If you've got an Apple device and you're a gaming fanatic — or you just enjoy playing the odd game or two — then you're all set to win some cash by playing iOS games for money.
The iTunes store is full of all sorts of fun apps and games that pay money. From classic games like Bubble Shooter or Klondike Solitaire to chart-topping app-store hits, there are hundreds of iOS games for money that pay real cash and free gift cards.
Among these gaming options, we've narrowed it down to the top iOS apps across a string of popular categories, including action, casino, arcade games — and more.
15+ iPhone Games to Win Money
Here are the best iOS games for money that you can start playing right now:
1. Blitz – Win Cash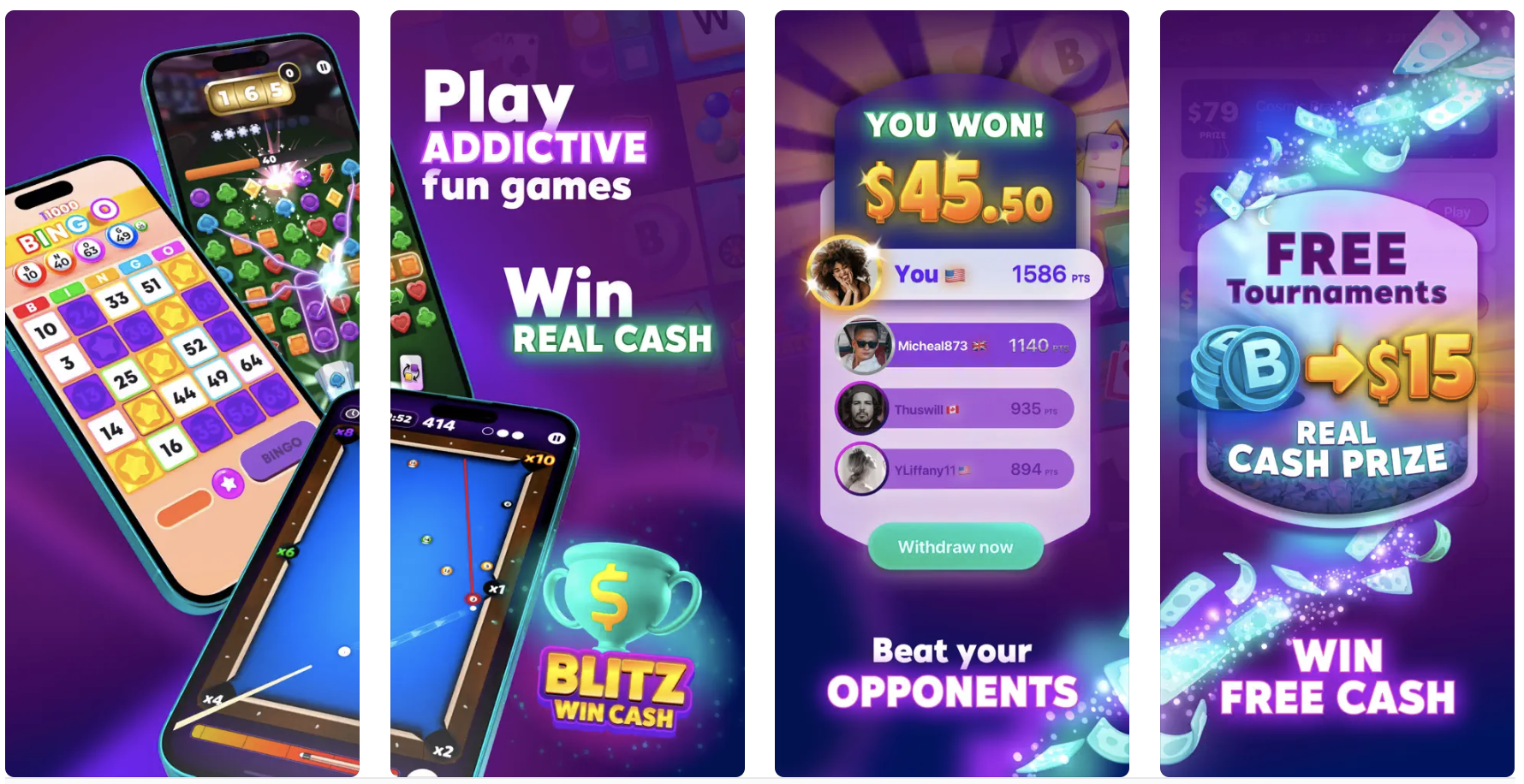 Blitz is a fun multi-game cash app for casual gamers or hardcore enthusiasts. It boasts a small but mighty collection of real money games which include:
Bubble Shooter
Pool
Match3
Blocks
Solitaire (Klondike or classic version)
Bingo
21 Blackjack
Dominoes
Solitaire Tri Peaks
The whole premise is to play games, have fun, and win extra money while you're at it. You test your skills against other players from around the globe. Play daily or weekly challenges and compete in multiplayer or head-to-head tournaments.
The level of risk — and of reward — is quite low compared to many other cash app games. The most you can win is a $15 cash prize for a $4 entry fee. And most of the game prize pools are for much lower stakes.
Cash out your earnings through Venmo, Apple Pay, PayPal, or a direct deposit.
Download Now:
---
2. Bingo Cash
Developed by Papaya Gaming, Bingo Cash is another modern twist on a retro game. Play cash tournament Bingo games directly from your phone, duking it out for real money prizes.
Unlike Blackout Bingo, with Bingo Cash you can play in 4-player to 10-player matches. In cash matches, typically it's the top 3 players who win a prize. In some instances, the top 2 or top 4 finishers get an award. If you're not ready to wager cash, you can play as many free practice games as you'd like. The app offers unlimited free games.
While the game has all the classic Bingo elements, it has a smoother and more modern design. The layout and graphics are similar to other Papaya Games like Bubble Cash or 21 Cash.
In addition to cash prizes, you can win gems, virtual cards, and tickets. Exchange these app-specific rewards for special items in the Bingo Cash store, and other in-game advantages. You can also win trophies, a top spot on game leaderboards, and free daily gifts and bonuses.
How much you can win (per game) depends on how much you wager. Prize payouts range from a couple of dollars up to $100. (The top prize pots are usually $60 to $125.)
PayPal is the only payout method to cash out, but PayPal funds can easily be converted into cash, gift cards, or other forms of currency.
Download Now:
---
3. Solitaire Cash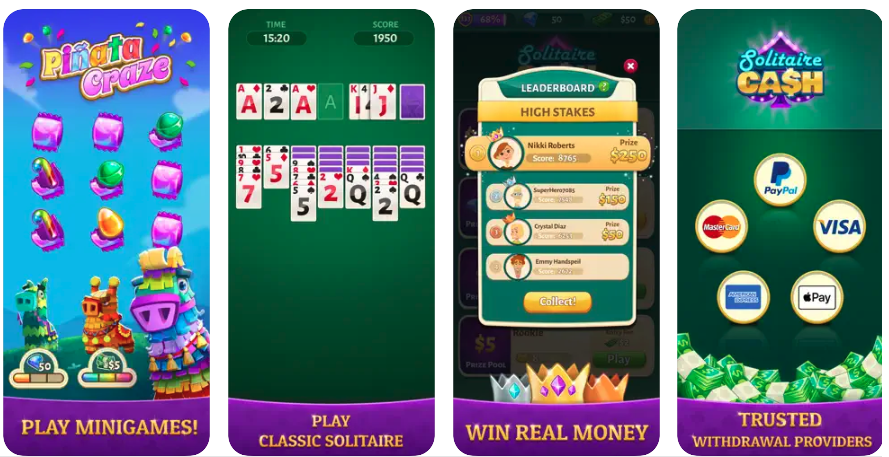 Next up on our list is the classic Solitaire game. You may think of it as a game for one, but the Solitaire Cash app has figured out a way to put a cash tournament spin on this old-school, 18th-century game.
The app features free games, practice games, and even cash tournaments with no entry fee.
In paid or unpaid games, you play against an opponent in a head-to-head game. The match-up pits together two players of similar ability to ensure fairness. Each player is given the same deck of cards (with cards in the same order) and the same starting board.
In Solitaire Cash, your goal is to win the most points. You do want to clear all of the cards, but you earn points for each card you clear, along with speed and accuracy. It's possible to clear the entire board and lose or to only clear a handful of cards and still win. You're not playing against the deck; you just need to outplay your opponent.
Cash out your earnings via PayPal or Apple Pay. You must have a minimum balance of $5 to cash out.
Download Now:
---
4. Pool Payday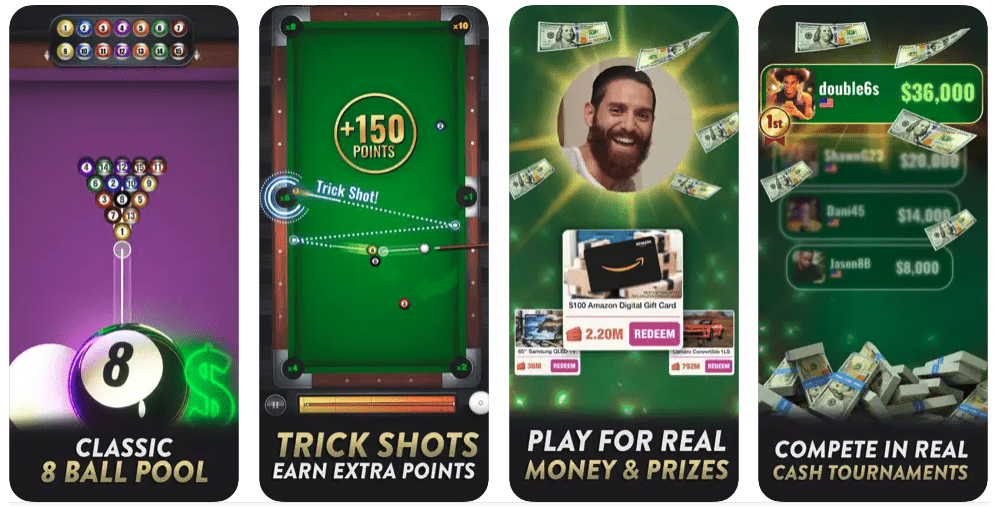 When playing Skillz Pool Payday, you can play in two different game modes: real-time or offline. With real-time gameplay, you and your opponent take turns making shots and scoring points.
With the offline mode, it's a solo-player game and your goal is to rack up the most points. The highest score wins.
Cash winnings can be redeemed for PayPal, Apple Pay, or other reward options.
Download Now:
---
5. Bubble Cash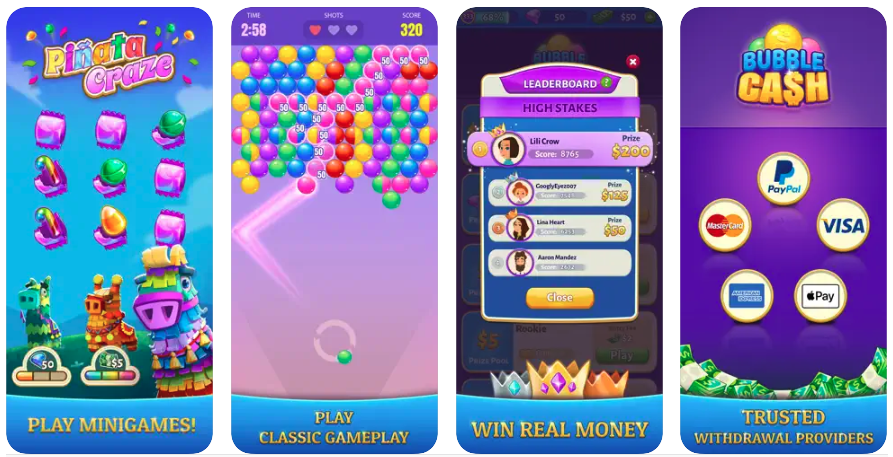 Bubble Cash is an exciting bubble-popping game developed by Papaya Gaming. Ranked number five for casino games in the iTunes store.
To play, you just need to clear the bubbles. Match three or more colors in a row to shoot and clear. Earn points for speed and precision. Strategy — clearing as many bubbles as possible with one shot — is key.
You can play free or practice rounds, or enter cash tournaments. In either type of gameplay, you'll battle it out against other players in matches of 2 to 10 players. For head-to-head games, the first-place finisher wins. For games with more players, there are multiple winners.
In addition to cash prizes, you can win virtual gems — the game's in-app currency. Non-cash games pay virtual gems. It's possible to win enough gems to enter cash tournaments, although it would take a few hours or more of winning gameplay to earn enough to enter a cash game that accepts gems for the entry fee.
I have played Bubble Cash and won enough gems to enter and win cash prizes games. Bubble Cash is one of the few cash game apps where you can realistically win money without having to wager any of your own cash.
Most prize pools pay out $7 to $99. Realistically, you could probably average $1 to $3 a day in cash earnings through Bubble Cash.
Cash out your earnings via PayPal.
Download Now:
---
6. Blackout Bingo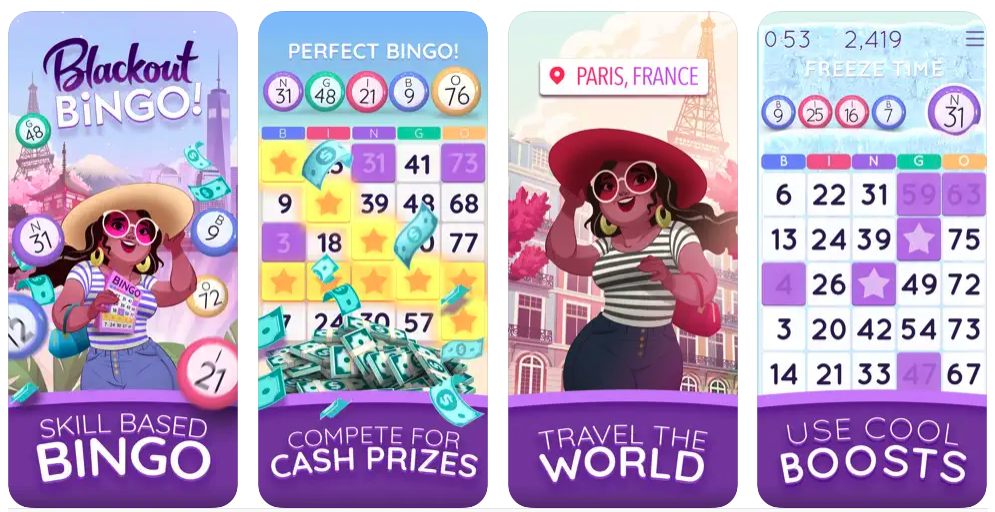 Blackout Bingo is one of my favorite apps because it's addictively fun, has great graphics, and taps into the old-school nostalgia of Bingo.
Instead of trying to be the one lucky winner amid a crowd of dozens of players, you just need to beat out one other player in a head-to-head game.
Each game is a fast-paced match that lasts 90 seconds to 2 minutes. You and your opponent will both get the same Bingo card and have the same numbers called. The goal is to win the most points, with points awarded for speed, accuracy, scoring a Bingo (with extra points for double or triple Bingos), or getting a coverall or blackout board.
As you make daubs (marking off numbers), you'll earn special game boosters that help you win extra points. Boosters include extra gameplay time or free numbers.
There are free games (for virtual points and prize tickets) or cash wager games. You select the prize pool you want to compete for, with cash prizes starting at a couple of dollars and going up to $100+.
You can withdraw your earnings for cash, a deposit to your PayPal account, or Amazon gift cards.
Download Now:
---
7. Solitaire Cube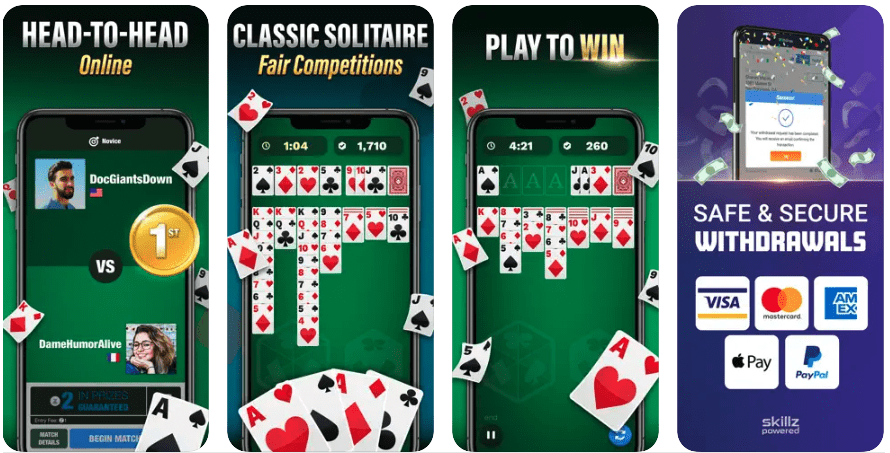 Solitaire Cube is a mobile gaming app that puts a fun, competitive spin on the classic one-person card game. The game is created by Tether Studios, a studio famous for a long list of hit titles which include Bubble Cube, Word Race, 21 Blitz, and Yatzy Royale.
With Solitaire Cube, you can play free games or cash tournament games. For either type of game, you'll be matched against players of similar skill level. The winner is the player with the most points and the top finishers in a multiplayer game can claim a cash prize.
You win points for speed, each card you play on the board, or each card you clear to its home cell. The object of the game is to clear the entire board as quickly and accurately as possible.
It's possible to clear every card and still come in last if other players are faster. Or it's possible to not win the game and still come in first place if you are able to clear the most cards.
You can cash out your prize winnings via PayPal once you have a minimum balance of $10.
Download Now:
---
8. 21 Blitz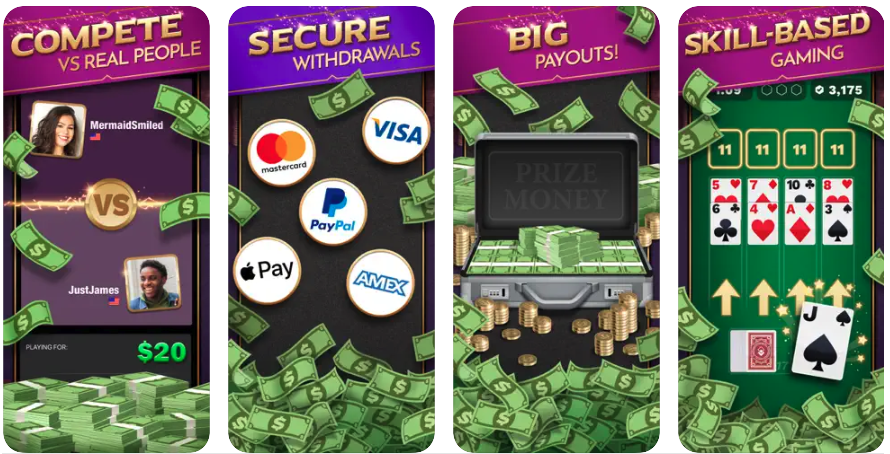 21 Blitz blends Solitaire and Blackjack. It's a great, safe way to practice counting cards and get your game skills Vegas-ready.
You can play free games or cash tournament games. With either style, you can win tickets and Z coins (virtual reward points). Z coins are needed to play free games or practice rounds.
For cash games or free rounds, you are matched against players of similar skill level. Game types include practice matches (to win Z coins, tickets, or medals), head-to-head matches (to win cash, tickets, and medals), and multi-player brackets (to win cash, tickets, or medals).
There are occasional tournament events too. And beyond cash or tickets, there can be physical prize rewards too.
The game is fast-paced and exciting. The goal is to reach 21 with each round. Most of them end within 3 minutes.
You can cash out your game winnings once you've reached at least $10. Redemption options include Apple Pay, prepaid credit cards, or PayPal.
Download Now:
---
9. Dominoes Gold
You can play the classic tile game from your phone or iPad and win cash rewards. It's an insanely entertaining way to enjoy Dominoes.
Both you and your opponent play against the computer, and you're each trying to outplay the computer and come away with the highest score. To ensure fairness, you and your opponent will play at the same difficulty level and have the same draw of tiles. The goal is to get the highest score before the timer runs out.
There are also daily tournaments for a chance to win more great prizes.
Dominoes Gold features the popular variation of the game Fives. (Which is also known as Muggins, All Fives, Doer Di, and Fives Up.)
Your game winnings are credited to you using the same method used to fund the account — commonly by credit card or PayPal. In some instances, a paper check may be issued.
There is no minimum to cash out your earnings, but there is a $1.50 processing fee for withdrawals of less than $10.
Download Now:
---
10. MyPoints
MyPoints is known as a point-based shopping reward program, but the app packs a much bigger punch. You can earn cash and gift card rewards on MyPoints for using coupons, trying free samples, taking paid surveys, searching the web, or playing games.
You'll earn points for completing different activities, and the points can be redeemed for a near-limitless library of prize options.
The MyPoints app for iOS primarily offers paid surveys and daily polls, but there are two ways to play featured games and earn rewards directly from your iOS device.
Go to MyPoints.com on your desktop or laptop machine, look over the game offerings on the Deals page, and when you find a game you want to play you can have a link to that game texted directly to your phone. Then, you can install and play the game on your iPhone and earn the associated reward.
Go to MyPoints.com on your iPhone. Visit the mobile website through your web browser like Chrome or Safari.
The game description will clearly tell you what you need to do to earn the associated reward. The higher the payout, the more you'll need to do (within the app) to receive it.
You accrue points for playing games and completing other in-app activities. There is no set conversion of points to dollars, but generally, it's about 4 to 5.5 points to $1 USD.
11. Yatzy Cash
Yatzy Cash offers a rewarding way to play the classic Yahtzee dice game. Roll head-to-head in competitions and tournaments for a shot at cash rewards and other real-world prizes.
Yatzy Cash consists of 13 rounds. With each round, you roll five dice up to 3 times to match the dice patterns in the 13 slots. Each pattern can be filled only once and it is worth a set number of points. The player with the highest point total wins.
There are additional variations to the game that can make it harder and also more fun. This includes a variety of limited-time bonuses to increase your score and special bonuses for certain patterns. To win, you'll need a little luck with the dice and a lot of strategy in how you pursue different combos and special boosters.
For most games, there's the potential to win a few extra dollars. But there are some higher-paying games and even the occasional tournament that pays out $1,000 or more.
Cash out your earnings to PayPal.
Download Now:
---
12. Dice With Buddies
Dice With Buddies is another addictively fun dice-based game. It's a bit like Yahtzee, Yatzy Cash, or Farkle — but with some added twists. Dice With Buddies brings a fun board game experience into the mix.
The graphics are bright, engaging, and fun, and the overall gaming experience is intuitive, and simple to use.
Challenge opponents in a variety of game modes, including daily tournaments. And you can play this game — from the same player account — on your iPhone or iPad device.
In addition to rolling the dice to make typical Yahtzee combinations — three-of-a-kind, small and large straights, or full house — you can also win bonus rolls, point multipliers, and in-game scratchers.
There are in-app purchases offered but it's free to play. Compete through 10 leagues of gameplay to win fun prizes.
Download Now:
---
13. Swagbucks LIVE Daily Trivia 💰 $10 Bonus💰
If you're bummed out that HQ Trivia is gone, you may dig Swagbucks LIVE Daily Trivia. It's a live daily trivia game (Mondays – Thursdays at 8p EST and on Fridays at 3P EST) that offers you a chance at a $1,000+ prize pot if you answer all 10 daily questions correctly.
The prize pot is split among all game winners, and your share of the purse will usually range from $0.15 to $1. Usually, it's on the lower end but it's still fun to earn a small amount, not to mention the fun of battling wits with other trivia buffs from around the globe.
Any game prize winnings will be awarded as SB points. It's 1 SB to one penny or 100 SB to $1 USD.
SB is the virtual currency that the Swagbucks rewards app uses. The Swagbucks rewards app pays users for taking surveys, searching the web, using coupons, shopping online, and completing other various online tasks. The LIVE Daily Trivia app is designed to help more people discover Swagbucks and to keep their current members engaged and continually returning to the surveys app.
As such, you'll need to redeem your trivia earnings through the regular Swagbucks app (available in iTunes) or on Swagbucks.com. Redeem your earnings for PayPal cash, cryptocurrency, or a gift card to popular retailers like Amazon, Target, Best Buy, or Walmart.
14. Wheel of Fortune
Television's most popular word game is also a popular game app for Apple devices. Anyone can spin the wheel and buy a vowel from Pat Sajak when they play the iconic wheel game on their phone.
Test your skills against knowledge buffs from around the world, duking it out against thousands of other players for a shot at a huge prize. You'll play thousands of all-new word puzzles created by the same TV show team, and fresh, new games are continually released.
For each game, you have five minutes to solve the puzzle. You can play solo or in multiplayer tournaments, or even challenge specifically family and friends. For further social interaction, you can create special puzzles to stump your friends or send gift boxes to other players.
Download Now:
---
15. Big Fish Casino
A slot machine lover's dream, Big Fish Casino has over 100 virtual slot machines you can play in a Las Vegas-style setting. And as with real-world Las Vegas, you can get lucky and win real cash.
When you sign up as a new player, you'll be awarded 100,000 free chips to play slots and table games, including Black Jack, Roulette, Buffalo Slots, or Texas Hold'em Poker.
Among the slot games offered, there are a number of variations: scatter slots, progressive slots, jackpot slots, or classic slots. Slot machine game titles include Kodiak Wilds, Wrath of Kong, Aloha Fortunes, and Thunder Surge. Two new slot games are added every month.
Beyond getting a lucky spin, you can win more chips with a free daily bonus spin and join daily tournaments.
Download Now:
---
16. myVEGAS Slots
Another Vegas-inspired casino game, myVegas Slots gives players a shot at some real-world prizes. Winnings include free casino poker chips, free food and beverages, and free or discounted stays at Las Vegas resorts including Luxor, MGM, Bellagio, NYNY, and Excalibur.
It's free to play myVEGAS Slots, although in-app purchases are offered. As a welcome bonus, you'll start with 3 million chips free, and every two hours you can claim free bonus chips too.
You'll also collect loyalty points to enjoy additional real-life Las Vegas resort amenities like spas and gift shops.
Download Now:
---
17. InboxDollars
Known for its surveys and PaidEmails, InboxDollars also has games too. Members can earn cash prizes for playing featured games.
Within the Games section of the InboxDollars.com website, you can play some classic arcade titles and earn XP points toward free prize scratch-off tickets. These scratch-off tickets reveal a prize of up to $100 — there's one $100 winner every day.
In addition to these arcade games that you play for scratch-off tickets, there are a number of other games on the InboxDollars Offers page.
Here, you can earn a cash reward for playing the game and completing a specific in-app game action. There are dozens of games in the InboxDollars Offers section, and the titles are continually updated.
Once you've reached at least $5 in earnings (or $10 for your first cashout), you can redeem your earnings. Payout options include PayPal, store gift card, or a prepaid Mastercard.
Frequently Asked Questions
Here are some popular FAQs related to playing iOS games for money.
Can you win real money on iPhone games?
Absolutely! There are hundreds of free apps that will pay you real money for playing games. We've covered 20 of the best real money game apps in this article, but you can discover more iOS games for money by searching for cash games within the iTunes store.
While there are many real money iPhone games, you won't be able to quit your day job. Realistically, you won't be able to average more than a few dollars a day — even with the best gaming apps.
Still, a few dollars a day could add up to several hundred dollars every year or more. If you're already playing games, you might as well get paid for it.
What games can I play to win real money on Cash App on my iPhone?
Bubble Cash and Solitaire Cube are a couple of games that will pay out winnings to Cash App on your iPhone. Mistplay is commonly known for paying directly to Cash App, but unfortunately, MistPlay is for Android devices only. (You can find it in the Samsung Galaxy or Google Play Store.)
But for any iPhone game that pays cash or PayPal, you can access those rewards in your Cash App account. You would just need to transfer them to your account.
What is the easiest iOS game app to win money?
Our pick for the easiest iOS game for money is Blackout Bingo. The user interface is clean, simple, and intuitive. The app runs smoothly (with very few glitches). And virtually everyone already knows how to play Bingo. There are added nuances in the app game, but they are pretty straightforward and easy to catch onto.
You can place a wager for as little as $0.60 (for a $1 prize pot) and prize earnings can top $100 per match. Rounds last a couple of minutes or less.
Of course, just because it is relatively easy to win a cash prize doesn't mean it's easy to keep winning indefinitely. As you progress in the game, you'll face tougher and tougher opponents and it will be harder to win. To come out on top, you need to win more than you lose. A distraction-free location with fast Wi-Fi is key.
What are the best free games for my iPhone?
Based on current iTunes app game charts, here are the top three games for each game category.
Action: Roblox, Subway Surfers, Bridge Race
Adventure: Harry Potter, Coin Master, Only Up
Board: Monopoly Go, Parking Jam 3D, Chess
Card: Uno, Blitz – Win Cash, Memes Challenge: Dank Memes
Casino: Solitaire Cash, Solitaire, Solitaire Clash
Casual: Happy Hospital: ASMR Doctor, Eatventure, Royal Match
Puzzle: Land of Sweet Bonanza, Twisted Tangle, Fishdom
Racing: Slow Mo' Run, Car Driving School Simulator, Street Kart #1 Racing Game
Role-Playing: Age of Apes, Evony, BitLife
Simulation: Chrome Valley Customs, Gardenscapes, Idle Bank Tycoon: Money Game
Sports: 8 Ball Pool, FIFA Football, MADFUT 23
Strategy: Woodoku, Tetris, Stormshot
Trivia: Brain Test: Tricky Puzzles, Water Sort Puzzle: Get Colour, Quizzland
Word: Wordscapes, Wordle, Crostic Crossword Puzzles
How much can you make playing iOS games for money on your phone?
While there are some exceptionally high cash prizes you can legitimately win, those payouts are unlikely.
For most players, it's probably realistic to average $1 to $5 a day in earnings from some of the featured card, word, and puzzle games.
It will take patience and discipline — this means quitting while you're ahead and not chasing after lost winnings.
Which are the Best iOS Games for Money for You?
There are many iOS games for money that offer you a chance to have fun and boost your bank account.
You won't get rich playing games, but you could think of it as a side hustle that pays you $30 to $100 a month if you are consistent and strategic in your approach.
For the time it could take you to clear this amount of money, there are many other higher-paying side hustles and gigs you could be doing instead.
But if you're already playing on your iPhone anyway, why not earn a few bucks while you're at it? Whatever game title or genre you're into, there's bound to be a similar version of the game in iTunes where you can win actual cash.