One of my favorite things to get paid for is my opinion. Many businesses care about their consumers' views and conduct frequent market research.
Not only do you get to express your opinion and influence a whole variety of products, features, and big business decisions – but you can also get paid for it.
Survey platforms are where the action is at. All you have to do is create an account, answer some questions about yourself, and complete surveys.
There are many online survey platforms these days with Branded Surveys being one of the most popular ones.
What is Branded Surveys?
Branded Surveys is a platform that pays you for completing online surveys and other tasks.
The company started out in 2012 as Mintvine and rebranded itself as Branded Surveys in 2017.
They are a marketing research company that pays you for your opinion through their user-friendly and easy-to-use website and a great number of surveys available.
https://www.youtube.com/embed/AUy3V7o8Ycg
Is Branded Surveys Legit?
Branded Surveys is a legitimate and reliable survey platform that has been around for quite some time now.
Trustpilot has rated the company at 4.1 out of 5 with over 81.8k customer reviews.
The common trend of positive reviews focuses on the numerous survey options available. The common trend of negative reviews focuses on being kicked out of the surveys for filling up too quickly, which I did run into at times during our review.
But overall, I had a positive experience and confidence that you will as well.
How Does Branded Surveys Work?
Branded Surveys pays you for completing surveys, as you've probably already guessed.
This is their main feature, but they also offer other earning opportunities, which can be redeemed for cash or gift cards.
How To Earn Points on Branded Surveys:
Branded Surveys Mobile App
New for 2023, Branded launched their Branded Surveys Mobile app on both the Apple App Store and Google Play Store.
It functions almost identically to their desktop and mobile browser sites.
Instead of checking emails, you can receive survey notifications directly on your phone.
Also, if you are an Apple user, you can register and log in securely using your iCloud credentials.
Branded Elite Program
Branded Surveys also have badges that work like a loyalty program so that you can earn more points.
There are Three Badge Levels:
🥉  Bronze: Complete 2+ surveys within one month to get Bronze Badge Status.
🥈  Silver: To move from Bronze to Silver badge status, you will need to complete 10+ surveys within one month.
🥇  Gold: To move from Silver to Gold badge status, you will need complete 25+ surveys within one month.
You can move up the levels by collecting credits. The credits are collected after completing surveys and other tasks. Getting badges will unlock extra features and the ability to earn more points.
I think this was a great feature for MyPoints to add, it makes you feel rewarded beyond the points for doing more to bump up to silver or gold status.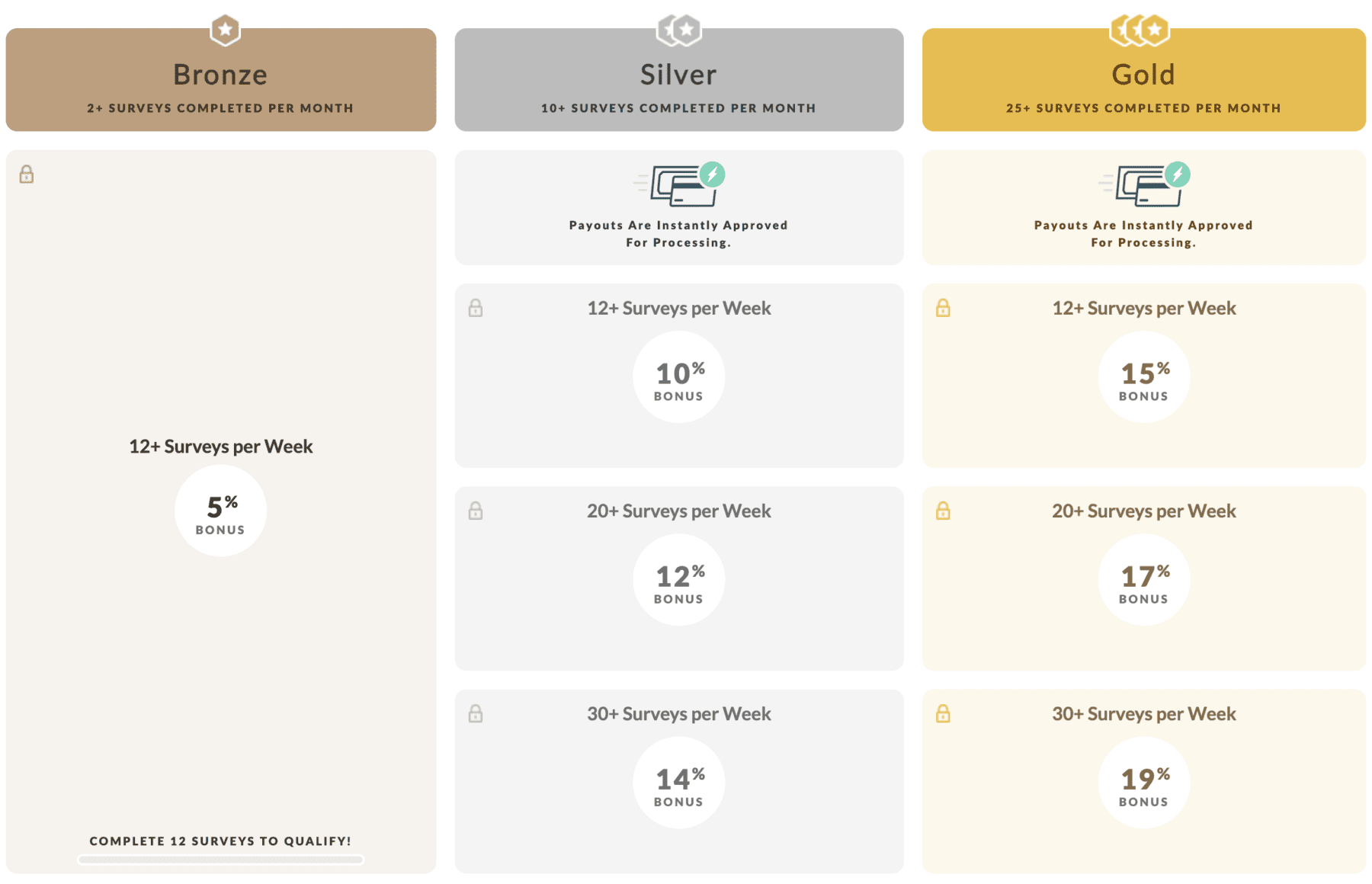 Branded Surveys Branded Elite Program
How Much Are Branded Surveys Points Worth?
By completing surveys, you collect points, which can later be converted into cash or gift cards. 1 point is equal to 1 cent, so if you have 100 points, this will equal $1.
The minimum amount of points that can be redeemed is 500. Once you have enough points you can get a free gift card from a number of restaurants and retailers.
You can also withdraw cash through PayPal and Bank Transfer.
How To Cash Out
500 points on Branded Surveys translates to $5. This is the minimum amount of points you will need to be able to cash out.
One survey can earn you up to 300 points, and you can expect to get 1 or 2 surveys daily, so it is not difficult to collect 500 points.
You are given three payout options to redeem your Branded Survey points:
Bank Transfer: If you want to get paid quickly, you can choose Bank Transfer and will receive your payout via direct deposit to your bank account within 48 hours.
Free Gift Cards: Branded Surveys is partnered with numerous retailers to provide you with great free gift card options such as Amazon and Google Play just to name a few.
Donations: If you do not really need the extra cash and are feeling like giving, you can choose a charity to donate your earnings.
Getting Started
Residents of the US, UK, and Canada can join Branded Surveys at Surveys.GoBranded.com and start earning money.
You can create an account using your Facebook account or an email address and it only takes a matter of seconds to start participating in surveys. Simply enter your name, gender, zip code, country, and birthdate, and you are done!
Once you have created your profile you will be rewarded with a 50-point sign-up bonus!
Once completed, your dashboard will have survey options available for you, a daily poll that you can participate in, and details on how to earn extra points by referring friends and family!
When you are ready you can take about 5 minutes to fill out your extended profile and you will get another 50 points for doing so!
My Experience Using Branded Surveys for 2.5 Hours
I want to be clear and say, you will not get rich by taking surveys.
Taking surveys is a great task to do in your spare time when you are watching TV or on a long car ride and scrolling on social media – why not participate in surveys and rack up points to trade in for cash or free gift cards?
So let's get started – here is what I made after using Branded Surveys for 2.5 hours (not in one sitting – off and on for a couple of days).
1. Signed Up: 50 Points
So once I signed up – I immediately got 50 points. 🎉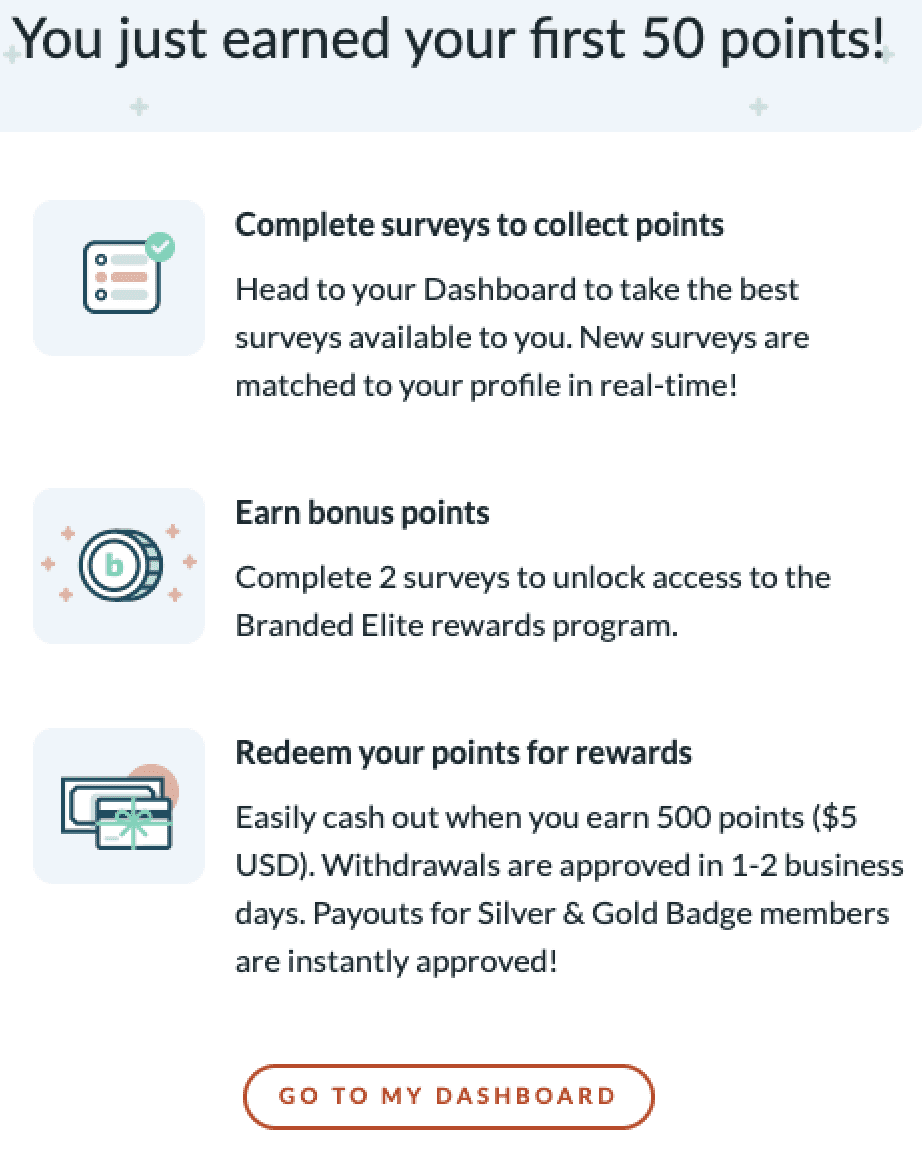 Branded Surveys Sign-up Bonus
2. Completed Extended Profile: 50 Points
Then I was prompted to fill out my extended profile and got another 50 points – easy $1 right there. 🎉
Branded Surveys Extended Profile Bonus Points
3. Start Completing Online Surveys: Points Varied
Once that was done, I was served "best surveys" and I could see how much each survey was worth and the time it might take me to finish.
Branded Surveys Best Surveys List
In my experience, it never took me as long to take the survey as it said it would.
For instance, it might say it would take 16 minutes, but it might actually take me around 10 minutes, so don't let a higher expected time deter you from participating in the survey.
In total, I clicked on 27 surveys to participate in, and out of those I did not qualify for 12 – though I was still given a couple of points just for clicking on the link – so not a total waste of time.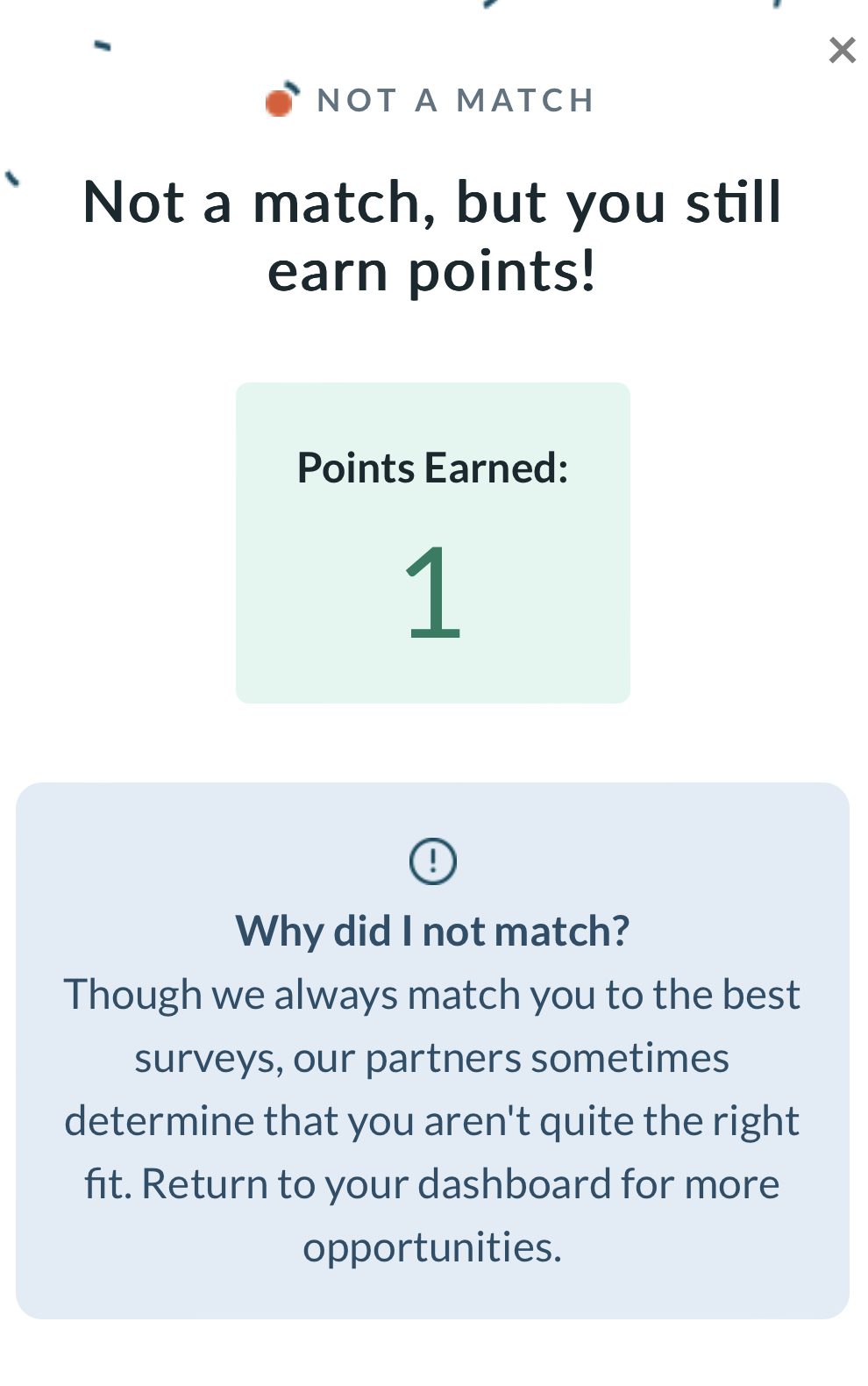 Branded Surveys - Did Not Qualify
4. Participated in Daily Poll: 5 Points Daily
I was also prompted to participate in the daily poll, and earned 5 points, which is just a quick question that I was given 3 answers to choose from, here is an example daily poll question:

Branded Surveys Daily Poll Question
My Total Earnings: 712 Points or $7.12
So after about 2.5 hours of completing my profile, taking 15 surveys, and answering a couple of daily polls, I am ready to cash out $7.12.

Branded Surveys Earnings after 2.5 Hours
Not a huge amount of money, but, I like to let my points add up and cash out as one larger gift card toward Amazon to go toward our purchases there.
A friend of mine uses several different survey platforms and lets them all stack up until November of each year when she cashes them out for amazon gift cards to go toward her kid's Christmas gifts.
If you really want to dig in and see if Branded Surveys is really worth your time, you can view all your activities in your dashboard at any time and figure up how much you are making on average per survey, here's a screenshot of my dashboard:
Branded Surveys My Points Dashboard
Security
Branded Surveys value your security and take all steps possible to ensure your data is safe with them.
They not only have firewalls but also use secure server software to protect data from unauthorized access or destruction.
If there is any data breach, Branded Surveys will inform you so you can take the necessary steps to protect your information.
If you have any concerns about your data security, you can find an easy-to-read privacy policy on Branded Surveys' website or get in touch with their customer support team.
Customer Support
Branded Surveys offers a Knowledge Base page on their website. This is a help section where you can find a lot of information that can help you solve any issue you might come across.
If you've had no luck resolving your issue using the Knowledge Base, you can always send them an email, and their customer support team will get right to it.
Pros and Cons
Pros:
Pays more than most other survey platforms
Can redeem points as cash through PayPal or Direct Deposit
A huge selection of gift cards is available
With three levels of badges, your earnings increase with time
User-friendly website
Cons:
Can be difficult to qualify for paid surveys
PayPal transfers can take up to 3 weeks
Frequently Asked Questions
Can Branded Surveys be trusted?
Yes, Branded Surveys is a legitimate and trustworthy survey platform that has been around for quite some time now. Trustpilot has Branded Surveys rated at 4.1 out of 5 with over 81.8k customer reviews.
Does Branded Surveys actually pay you?
Yes, Branded Surveys rewards you with points for taking surveys and completing other tasks. Once you earn 500 points, you can start cashing out real money.
How much is 1,000 Branded Survey points worth?
1,000 Branded Survey points are worth $10.
Is Branded Surveys free?
Yes, Branded Surveys is free to sign-up for, and start taking surveys to earn points redeemable for PayPal Cash or free gift cards.
Is Branded Surveys a scam?
No, Branded Surveys is not a scam. They are a trusted survey site that you can use to earn some extra cash!
Alternatives
If you want to maximize your earnings by answering surveys on many different online survey sites, here are some other great options for you to try out.
MyPoints
Swagbucks
LifePoints
Survey Junkie
InboxDollars
Is Branded Surveys Worth It?
Branded Surveys is a legit survey platform with a few different ways to earn money. They have competitive rewards and some cashout options making it worth your spare time.
It can be a great way to make extra money online without too much hassle.
If you prefer to earn money in different ways, such as getting paid to watch videos, play games, or read emails, then Branded Survey might not be the best option for you (but there are plenty of other alternatives).